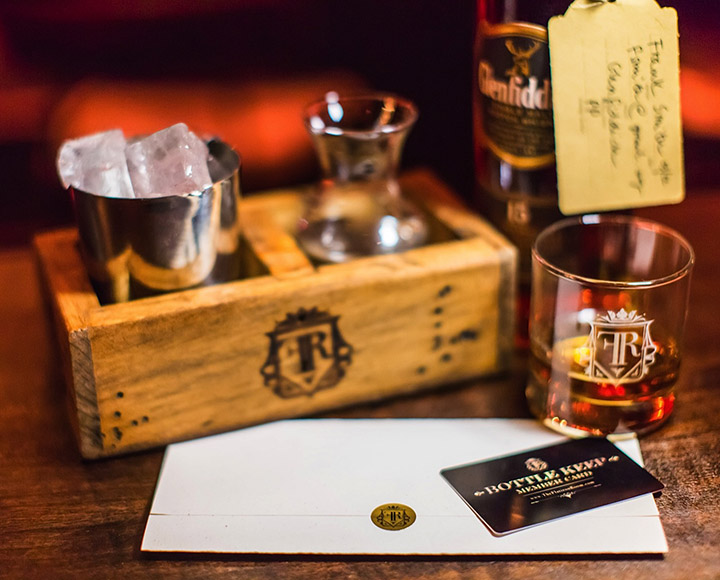 Taking hospitality to a new level, many cocktail bars around the country are installing "bottle keep" programs where guests have the option to buy an entire bottle of liquor from the menu, which is stored in a locker, special cabinet or behind the scenes for occasional, exclusive use. Think of it as your frequent flier card, but for whiskey.
For Flatiron Room in New York City (pictured above) the idea comes from overseas izakayas—casual Japanese bars that offer similar programs as a show of hospitality. Owner Tommy Tardie was drawn to the idea of creating an atmosphere where guests felt a sense of ownership over their bar experience. Since opening with the system in place in 2012, Flatiron has sold over 2,500 bottles.
While it sounds exclusive, the program is executed very democratically. About 85 percent of the whiskey served by the glass is available to purchase (the other 15 percent are other kinds of whiskey like white dog that are not deemed as suitable for sipping), and there are no hidden fees—just the price of the bottle plus tax and gratuity. At the end of the day, the cost of buying a bottle to enjoy over a long period of time equals less than buying whiskey by the glass, making the program accessible to a wide variety of guests.
But while its easy to get in on the action at Flatiron, that doesn't mean the experience feels any less special. Bottles are presented to guests upon request in a manner similar to that of bottle service, with special glassware, a decanter or water, ice and a free bar snacks.
"Guests love it," Tardie says. "How great is it to arrive with a friend and have a bottle with your name on it waiting for you at the table. It really doesn't get much cooler than that."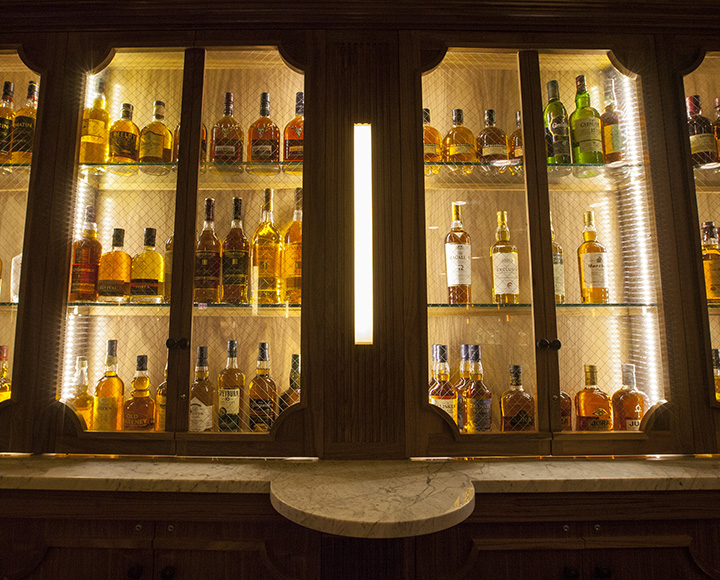 Meanwhile, Chicago's Franklin Room (pictured above) decided to make their bottle program even more exclusive than Flatiron's. Instead of offering every brand of whiskey to buy by the bottle, the management limits the list of available options to rare and hard-to-find whiskies, only keeping a small handful of 10 or so options in house at a time, which are not available to purchase by the glass. Owner Mike Schatzman explains this creates more incentive for guests to participate instead of buying a bottle from the local liquor store—the selections at Franklin are commodities that can't be found easily elsewhere.
At Steak and Whisky in Hermosa Beach, the approach is similarly kept intentionally small and focused on hard-to-find bottles. In this case, the storage system is composed of a series of a mere 10 lockers that are individually assigned and equipped to hold multiple bottles at a time, a feature that director of operations for Blackhouse Hospitality Group (Steak and Whisky's parent company) Scott Young says is a perk for the guest who doesn't want to have his or her options limited to a single bottle. Each locker is rented on an annual basis with the imposition of a $500 annual fee and $500 minimum purchase rate— a move that makes it clear the restaurant's "whiskey lockers" aren't for everyone.
But for the few looking to score a coveted case behind the bar for their bottles, Young says the program is working splendidly. "The pros are about giving our guests the best possible experience, and this allows them a lot of flexibility and a feeling of comfort when they come to dine," he says. It also keep guests coming back as loyal customers, a boon for the bar itself. "We assume these locker holders will dine with us more frequently as they have some of their favorite whiskies and spirits in that locker."