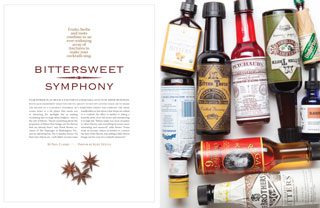 Star power is as much a factor in cocktails as it is in show business, with each ingredient selected for its ability to occupy center stage, or to share the billing in a flavorful ensemble. But sometimes credit for carrying the show comes down to a bit player that excels not at attracting the spotlight but at making everything else on stage shine brighter—that is the role of bitters. "There's something about the properties of bitters that brings out the flavors that are already there," says Derek Brown, co-owner of The Passenger in Washington, D.C., and its adjoining bar, The Columbia Room. On their own, bitters are—well, bitter, in some cases insufferably so; but when a few drops are added to a cocktail, the effect is similar to taking a scratchy print of an old movie and remastering it in high-def. "Bitters make you more receptive to other flavors, and everything becomes more interesting and nuanced," adds Brown "Some work as accents, others as binders to connect the dots of the flavors. Just adding a little bitters brings out the crux of a cocktail's character."
What Bitters Are
Bitters are concentrated tinctures combining herbs, spices and botanicals, such as cardamom, aniseed and dried orange peel, their flavors typically (but not always) expressed in high-proof alcohol, with a bracing bitterness from gentian, quassia bark, dandelion or wormwood. Bitter is an evolutionary alarm signal sent by nature that a plant is potentially dangerous—but sometimes the risk comes with rewards. "Whenever a bitter flavor hits your tongue, it lights up your brain and sends you one of two messages: 'This could kill you,' or 'This could be fun,' " Brown says.
The bitters family tree includes European digestive bitters that are consumed by the glass, and high-octane patent medicines that were hawked with dubious health claims. Bitters entered the boozy vernacular in 1806, when an early definition of "cocktail" included bitters as one of the key components. Over the following decades, many styles entered circulation, with brands such as Boker's, Abbott's, Stoughton's and Drake's Plantation Bitters deployed in countless cocktails, along with two brands that survive today—Angostura and Peychaud's. In addition to commercial brands, barkeepers across the country commonly prepared their own house styles of bitters. But by the end of the late 20th century, bitters were a forgotten extra in the grand show of mixology. "There was that crusty bottle of Angostura on every bar's shelf, and who knew how long that had been there," Brown says. "Peychaud's Bitters were even less available."
Today that situation has dramatically changed. The modern bitters selection includes re-creations of vintage recipes and contemporary takes on classic styles, as well as bitters from a new generation of producers who are as likely to reach for hot chiles, roasted cacao nibs, celery seed or lavender flowers as they are for tradtional ingredients, making the bitters available to today's bartenders an embarrassment of riches. "Almost any flavor of bitters is available online or is distributed locally," says Brown, who uses a dozen styles of bitters at The Passenger, and more than 30 styles at the Columbia Room, many of which are made locally or crafted in house. "I'm pretty enthusiastic about how it's changed."
Aromatic Bitters
For cocktails made with aged spirits, such as whiskey or brandy, or robust ingredients, such as sweet vermouth, the best bitters are usually from the class known as "aromatic." Most aromatic bitters have familiar spice flavors—cinnamon, cloves and cardamom, along with vanilla and leather notes if they're oak-aged—that share common ground with aged spirits in classics like a Manhattan or Old Fashioned. "A lot of the flavors in aromatic bitters are found in whiskey and vermouth," says Giuseppe Gonzalez, co-owner of Painkiller, a tiki bar in Manhattan. Gonzalez says that when these full-flavored ingredients meet in a mixing glass, each surrenders some of its character, but by adding aromatic bitters, those subtle nuances are restored. "There's a natural marriage of flavors between the ingredients, and the bitters bring everything together," he says. "They bump up the flavor of the whiskey to where it should be, and it enhances the flavors that are already there."
The longtime regent of aromatic bitters is Angostura, produced since 1824 from a secret recipe and packaged with a densely worded paper label that seems too big for the bottle. Recently plagued by distribution problems, Angostura is usually widely available, and until recently it was the only aromatic bitters sold in most regions of the country. Similarly venerable is Peychaud's Bitters, a softer, more floral style introduced in New Orleans around 1830. Instead of the usual winter-spice profile, Peychaud's has a rich anise-laden flavor that works exceptionally well in New Orleans classics, such as the Sazerac and Vieux Carré, as well as with Scotch whisky in such drinks as the Flying Scotsman.
The past few years have seen an aromatic bonanza, as brands such as Fee Bros. Old-Fashion Aromatic Bitters (and another Fee's style, aged in used whiskey barrels) have become more widely available. Bitters experienced a further boost starting in 2006, when German bartenders Stephan Berg and Alexander Hauck launched The Bitter Truth with a line that included spice-rich aromatic bitters and Jerry Thomas Decanter Bitters, based on a recipe from the 19th-century bartender. "In the old days they had so many different types of aromatic bitters," Berg says. "We wanted to extend the understanding of these kinds of bitters, and we thought it wouldn't hurt if we had a second style so people could make their choice, and to give some credit to the most famous bartender of the 19th century."
Adding to the reappearance of vintage styles of aromatic bitters, last year Scottish bartender Adam Elmegirab introduced a re-creation of Boker's Bitters, a brand that originally debuted in 1828 and was key to such drinks as the Japanese Cocktail and the Martinez, but which has been out of production since the 1920s.
While aromatic bitters are synonymous with 19th-century classic cocktails, they're also an essential component in exotic drinks, such as those from tiki pioneer Donn Beach, who combined Angostura with Pernod as a secret signature in such drinks as the Test Pilot and the Zombie. At the tiki-themed Painkiller, Gonzalez gives a Queen's Park Swizzle an aromatic boost by dashing Angostura on top of the drink. Such an ardent advocate for bitters that he developed the Trinidad Sour—a concept-warping drink that's based on a full ounce of Angostura—Gonzalez says that even in complex exotic drinks made with multiple rums and tropical juices, bitters can be essential to centering a drink's flavor. "Especially in a drink with three rums, cinnamon syrup, grenadine, absinthe and falernum," he says, "you need one ingredient that can bring everything together."
Citrus Bitters
Sometime during the 19th-century bitters boom, aromatic bitters were joined by the citrusy character of orange bitters. Drinks accented with orange were nothing new—European liqueurs and aperitif wines, which utilized the dried peel of bitter orange, were often added to cocktails to lend gravitas and complexity. But orange bitters were like a condensed version of these liqueurs, enhancing the bright citrus snap and astringent bite with a spicy character from ingredients such as cardamom and coriander.
Almost defunct as a style only a few years, ago, orange bitters are now available from several producers. For several years, Fee Bros. kept the style alive with their West Indian Orange Bitters, which has a soft, citrusy flavor. Then in 2005 they were joined by Regans' Orange Bitters No. 6, a crisp and spicy bitters developed by bartender and drinks writer Gary Regan. The Bitter Truth introduced an orange bitters in 2006, and in 2008 Angostura added to its product line with an orange bitters that has an assertive natural-orange flavor and an impressively complex depth.
While aromatic bitters share many flavor characteristics with aged spirits, such as whiskey, orange bitters seem tailor-made for the airy herbaceousness of gin (it was a staple ingredient in Martinis during the cocktail's first five decades). Orange bitters also have a particular affinity for herbal liqueurs, such as Chartreuse, and appear in such drinks as the gin-based Bijou and the intensely floral Alaska Cocktail. While the spice notes of aromatic bitters often make them a better accent in drinks made with bourbon or rye, Brown says orange bitters help balance the heaviness of Scotch whisky when used in cocktails like the Rob Roy.
Recently, orange has been joined by other citrus flavors in the bitters category, including grapefruit versions from Fee Bros. and Bittermens Bitters. The Bittermens grapefruit bitters use an ingredient familiar to craft-beer drinkers: Pacific Northwest hops. "The hops give the bitters a nice, green, vegetal taste, but also some flavor tenacity," says co-founder Avery Glasser. "If you think about a hoppy Northwest IPA, that flavor hangs in your mouth for a while, much longer than if you drink grapefruit juice." In addition to such drinks as the gin-based Charles Lindbergh from Boston bartender Jackson Cannon, Glasser says a favored use for these bitters is to dash them into a gin and tonic along with a splash of maraschino liqueur.
The New Frontier
The craft-cocktail revival has been accompanied by a flood of new spirits and flavors, some requiring a re-imagining of bitters. While living in San Francisco in 2007, Glasser and his wife, Janet, had the idea of creating a tequila-friendly bitters for a Mexico-born bartender at Bacar restaurant. Free-associating their way toward a flavor, the Glassers settled on a style with the rich, spicy character of molé. "I combined classic bitter theory with new flavors," Avery says. "Classic bitters have cinchona and angelica and gentian, which are standard European digestive bitters components; but we also used Mexican-style cacao, Mexican cinnamon and hot pepper. I don't think anyone's used hot pepper flakes in a classic bitters recipe."
While developing what became Bittermens Xocolatl Mole Bitters, the Glassers became part of a growing number of producers who are creating new styles. In Vermont, Urban Moonshine makes bitters with the richness of maple syrup; Maine-based Sweetgrass Farm Winery & Distillery makes brightly flavored cranberry and blueberry bitters; Jamaican Bitters based on rum and flavored with Caribbean spices are made by Milwaukee-based Bittercube, from bartenders Nicholas Kosevich and Ira Koplowitz; and Boudreau's Bitters, from Seattle bartender Jamie Boudreau, features a bright and lush Cherry Bitters.
Also in Seattle, bartender Miles Thomas has been making Scrappy's Bitters since 2008. Thomas now sells styles ranging from a classic orange to lavender, chocolate and cardamom. While his emphasis is on bitters that feature a single flavor, each style requires the use of multiple ingredients such as grains of paradise, angelica root, horehound and mace. "Most of the time, one flavor has multiple components, so something like cardamom can taste like a couple of different things," he says.
Other novel flavors continue to appear on the bar. The Bitter Truth released a celery bitters in 2008 that quickly became a favorite in savory gin and tequila cocktails. This year the company introduced a Creole Bitters that has an anise-laden richness. This summer, the Glassers introduced two new styles of Bittermens Bitters: a citrus- and ginger-accented Elemakule Tiki Bitters made for tropical-style rum cocktails; and Boston Bittahs, flavored with citrus and chamomile and designed to work with gin.
For Brown, the array of available bitters has opened a new frontier of flavor. "You can look at drinks analytically and come up with new flavor combinations that are excellent," he says. "Now you can ask, 'What are the best bitters for this cocktail?' rather than, 'What are the only bitters available for this cocktail?' "