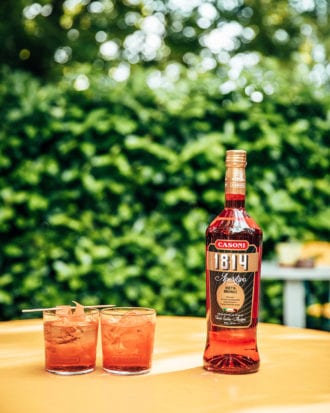 The world of Italian liqueurs is vast, but perhaps none are as iconic as the red aperitivos that define many a Negroni, Americano and spritz. A category defined as alcohol macerated with botanicals (typically including bitter orange peel and gentian root), then sweetened with sugar, most of these liqueurs clock in around the 20-28% ABV range, and no two versions taste exactly alike. Here are 10 worth getting to know.
For many years, the only reference points for red aperitivos in the U.S. were Campari and Aperol, which are both more popular than ever, but today's shelves are bursting with lesser-known options imported from all over Italy. As with many Italian recipes, slight variations exist among the formulas, depending on where the liqueurs originate, but each expression offers a familiar bittersweet balance of herbs, spices and other botanicals.
Aperitivo Cappelletti
Antica Erboristeria Cappelletti have made an array of amari and aperitivi in Aldeno, Italy since 1909. At 17% ABV, the rich red aperitivo is a stunner, with intense depth and complexity thanks to its base of aromatized wine. With natural coloring from carmine (the original ingredient used to color Campari), it has an elegant balance of ripe berry flavor and whispers of bitterness that shine through a velvety texture. Keep it in the fridge after opening to preserve the flavors, and try mixing it with Lambrusco for a delicious spritz or pair it with tequila to add bitterness to the classic Paloma.
Aperitivo Select
Favored in its home of Venice as the aperitivo of choice for spritzes (which are commonly garnished with an olive), Aperitivo Select is 17.5% ABV with a well-rounded bitterness and slightly earthy flavors thanks to the addition of rhubarb root. 29 other botanicals, including juniper, make up the recipe, which dates back to 1920. It's a full-bodied aperitivo with fresh red strawberry and raspberry notes that make it a good match for an Americano or a classic Prosecco-based spritz.
Casoni Aperitivo 1814
From the distillery founded in 1814 in Finale Emilia, Modena, Casoni Aperitivo 1814 is made with neutral grain spirits that go through a cold-infusion of both sweet and bitter orange, gentian, quinine and other secret herbs. Based on a recipe from the early 1900s, the aperitivo became available in the U.S. last year. It has a pretty light rose-colored hue and a relatively thin body thanks to the lower 15% ABV, but it brings a candied sweetness to cocktails like the Paper Plane.
Contratto Bitter & Aperitif 
Known for their vermouths that date back to the 1890s, Contratto also makes two products suited for aperitivo hour. Called Bitter and Aperitif, both recipes are made with an Italian brandy base, both endure a cold maceration process for the botanical infusion, and both use natural coloring from carrot and red beet extracts for the color. Aperitif is the lighter of the two (13.5% ABV) with a prominent fresh orange/tangerine flavor and soft sweetness that lends itself to the spritz format. Botanicals in the Aperitif include mint, safflower, sage and licorice. The Bitter has a darker magenta color and a bold bitterness thanks to botanicals like nettle, wormwood and cardamom, balanced out by brighter flavors like hibiscus and rhubarb. At 22% ABV, the Bitter is also higher in alcohol and mixes beautifully with gin and sweet vermouth in a Negroni.
Galliano L'Aperitivo
Best known for their iconic golden herbal liqueur, Galliano debuted L'Aperitivo in the U.S. in 2017. The ruby-red aperitif combines 50 ingredients, including Mediterranean citrus (bitter orange, bergamot and tangerine) and a range of herbs and spices, such as cardamom, juniper, sage and anise. Expect a lightweight and mildly bitter flavor that pings with black pepper spice and finishes with a bright punch of grapefruit—a perfect complement to soda or sparkling wine.
Luxardo Red Bitter
Hailing from the makers of the famed maraschino liqueur, Luxardo's bitter was first created in 1885 and has been in the U.S. since 2010. Made with a neutral grain spirit as the base and infused with botanicals like sweet oranges, bitter oranges, rhubarb, mint, marjoram, thyme, it's robust with ribbons of syrupy sweetness harmonizing with a pleasingly bitter backbone. Well suited for a refreshing shakerato.
Martini Riserva Speciale Bitter
Released on the heels of Riserva Speciale Vermouths Rubino and Ambrato, the iconic vermouth company launched this red bitter in 2017. Slightly more earthy and herbaceous than others thanks to the use of a few botanicals not commonly listed on aperitivo bottles (like columba, saffron and angostura bark), the newest addition to the Martini portfolio is made with neutral grain spirits and natural coloring.
Meletti 1870
From the Meletti distillery in Ascoli Piceno, Meletti 1870 is a 25% ABV aperitivo made by blending three separate distillates (one of sweet orange, one of bitter orange, and a spice and herb infusion that includes gentian, coriander, cinnamon, clove). The current iteration came about in the 90's and was based on a historical recipe previously produced in the 1950's. Colored artificially, Meletti has a tangy personality that rounds out with a cinnamon-like dryness, making it a good match for drinks like Dante's Negroni Frappe.
Nardini Bitter
Known for their homegrown grappas, the Nardini distillery in the Veneto region of Italy launched their traditional red bitter at the end of the 19th century. Only recently available in the U.S., this bitter is made with neutral grain spirit infused with orange, gentian and Roman absynthe. At 24% ABV, it's a bold aperitivo with loads of citrus personality, supported by a distinctly herbaceous character. Nardini also makes a similar product called Rosso, which is not yet available in the U.S.
Rinomato Aperitivo Deciso
Produced in Asti as a project spearheaded by Giancarlo Mancino, this aperitivo uses a sugar beet distillate that's macerated for a month with peppermint, bitter orange, rhubarb, myrrh, angelica, vanilla, licorice, turmeric root and other botanicals. With a deep ruby-red color, it's bursting with fruity berry aromas overlaying the requisite medicinal/herbal ones. In the glass, it's citrusy up front with a boldly bitter finish. Try it with tonic water for an alternative to the typical spritz.
---
Did you enjoy this article? Get more of the best of liquid culture when you sign up for a print or digital subscription to Imbibe Magazine. Click here for special savings!