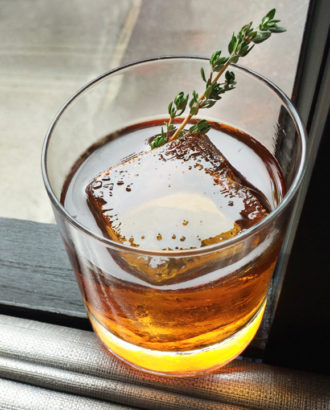 In the spirit of embracing Jägermeister as an under-appreciated ingredient that can work magic in cocktails, Travis Tober at VOX Table in Austin used the bitter spirit's slightly sweeter counterpart,  Jägermeister Spice in this sultry, herbal mix.
"I've always been a huge fan of Jägermeister and feel it's often brushed aside in cocktail bars," Tober says. "I used the Spice for its subtle, less viscous flavor. It still allows the thyme and artichoke (Cynar) flavors to come through. Plus, it's fun to see people's faces when you tell them this subtle, well-balanced cocktail has Jäger in it."
Read more about the rise of the German liqueur here. 
2 oz. Jägermeister Spice
1 oz. thyme-infused Cocchi Americano
½ oz. Cynar
Tools: mixing glass, barspoon, strainer
Glass: rocks
Garnish: thyme sprig
Combine ingredients in a mixing glass with ice. Stir until chilled. Strain into a rocks glass with a single large ice cube. Garnish with thyme sprig.
Thyme-Infused Cocchi Americano: Add 30 grams of fresh thyme to a 750 mL. bottle of Cocchi. Combine in a closed container and let sit for 24 hours. Strain the herbs out of the liquid and store in a jar for up to 2 weeks.
Travis Tober, VOX Table, Austin, Texas