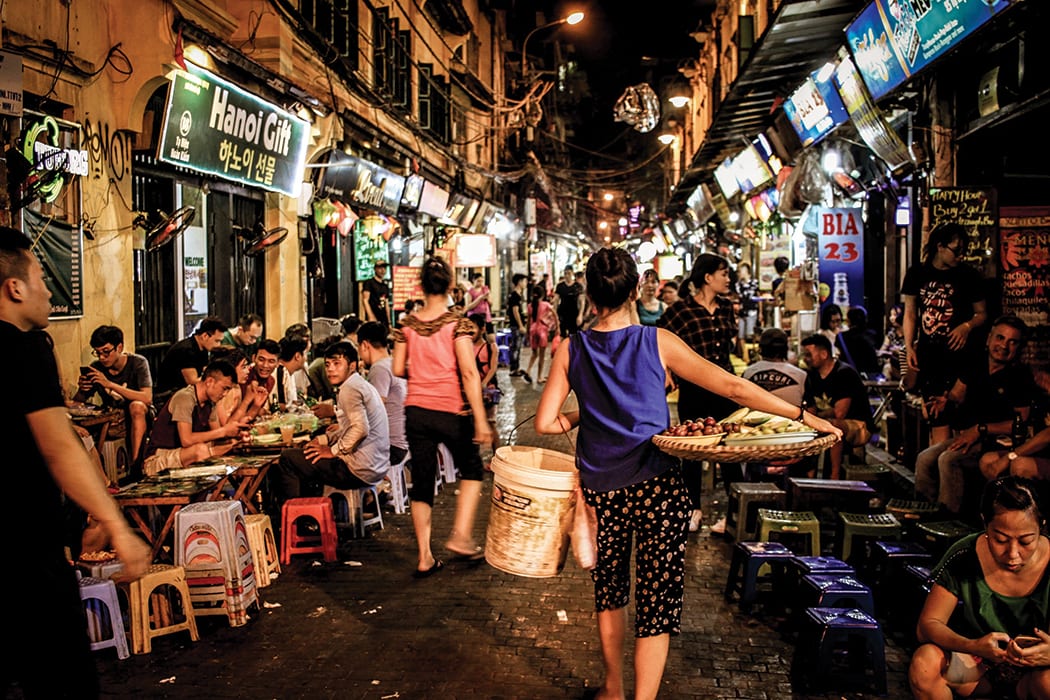 We were on a mission of sorts, having arrived in Hanoi the night before with just enough energy to find some dinner before collapsing onto the squeaky mattress at our Airbnb. But now it was a new day and the sun was glaring in the afternoon sky, the temperature hovering near 100 in competition with the humidity. We wound our way through the narrow streets of the city's Old Quarter on foot, dodging scooter traffic, bike taxis and vendors carrying fragrant baskets of báhn cam, deep-fried sesame balls filled with sweet mung bean.
We'd spent all morning wandering between temples and markets, buoyed with a caffeine buzz from small, strong cups of Vietnamese coffee, as sweet and thick as a melted Hershey bar. But now it was midday and my feet were tired and swollen from the heat, my clothes limp and damp with sweat. We wandered with a goal but no specific destination. Finally, we saw the words we were looking for on a weather-beaten banner: bia hơi.
I'd arrived in Vietnam the previous week and met up with a friend who'd been traveling around Southeast Asia for a month, in Ho Chi Minh City. We spent a few days exploring the metropolis and met for dinner one night with another friend who'd been living in Vietnam for just over a year, teaching German. We mentioned we were heading north to Hanoi, and her one recommendation was to drink lots of bia hơi. "You'll see it," she said. "It's everywhere."
It translates literally as "gas beer," but bia hơi essentially means "fresh beer," referring to nonbranded draft beer. While the prominent regional beers sold throughout Vietnam—like Tiger, 333 and Saigon—are found mostly in bottles and cans, bia hơi is a holdover from the 1960s. The state-run Hanoi Beverage Company (Habeco) was producing high-quality, popular beers and shipping them throughout the country. During the war, a shortage of materials to make glass bottles meant that distributing beer in kegs was simply more economical. As it turns out, people loved the fresh taste of the bia hơi, and it's remained an integral part of the drinks culture ever since.
Today, bia hơi is found all over the country, but is most prominent in Hanoi, where it originated. It's still produced primarily by Habeco in the north, Sabeco in the south, and Vietnam Brewery, a joint venture with Heineken Asia Pacific. But the branding is irrelevant and, in most cases, nonexistent. The kegs of fresh-brewed, unpasteurized beer are delivered daily to restaurants and street vendors and are usually consumed that same day.
We passed an elderly woman sitting in a doorway, a keg and a stack of plastic cups beside her. Farther down the road, a jovial fellow with his own keg and a collection of small plastic chairs in front of a bank vestibule would call out "Hello beer! Hello beer!" to passing tourists. The going rate is usually between 3,000 and 7,000 VDN—about 25 cents.
It's far from the only thing on offer. European-style microbreweries have long taken root in Ho Chi Minh City and beyond, and the craft beer movement has been fully embraced with players like Pasteur Street Brewing pouring experimental pints of coconut Berliner Weisse and selling cans of Jasmine IPA.
But the accessibility of bia hơi, its nostalgic connotation as the people's beer and, certainly, its popularity among tourists, keep the kegs of fresh beer rolling. We ducked off the main road into an alleyway and sat down at a small plastic table, the sort that kindergartners might use for arts and crafts, complete with colorful matching stools. Our knees bumped the edge of the table.
We ordered two beers and some fried shrimp rolls, then watched as the young boy who took our order poured from a tap installed in the side of a chest freezer, pumping the beer with a foot pump like you might use on an inflatable raft. Our beers arrived in scuffed plastic steins, perfectly crisp and blessedly cold. I took a long gulp and felt my internal temperature begin to lower, reveling in that moment when a beverage is so perfectly suited to its circumstances as to be transcendent. We each gleefully downed two more mugs.
When I was a kid, one of my favorite books was Natalie Babbitt's The Search for Delicious, in which a kingdom is on the brink of civil war when no one can agree on what food should be listed in the new dictionary as the official definition of the word. That is, until the people of the kingdom have their only source of water taken away and soon discover that the true meaning of "delicious" is a cool drink of water when you are very, very thirsty.
Or, depending on the circumstances, perhaps a nice cold beer.
---
Did you enjoy this article? Get more of the best of liquid culture when you sign up for a print or digital subscription to Imbibe Magazine. Click here for special savings!