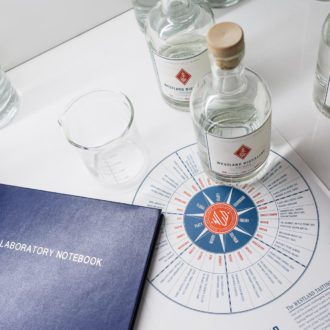 The Pacific Northwest's notoriously gloomy weather provides some benefits for those who live there. In addition to transforming the great outdoors into a massive, verdant playground, the moody climate and steady rain also nurture a deep appreciation for whiskey. Over the past decade, dozens of new distillers in Washington and Oregon have turned their attention to crafting bourbons, single malts and other whiskeys. While many of these young spirits are still slumbering in barrels, some are starting to show up in bars throughout the region. Here are a few we recommend checking out.
Westland American Single Malt Whiskey
Westland Distillery, Seattle
As a tip of the proverbial hat to the region's beer culture, Westland uses five types of roasted and kilned barley malt (much of it grown in Washington) and a Belgian brewer's yeast to produce a whiskey in the spirit of the delicate honeyed malts from Speyside.
Westward Oregon Straight Malt Whiskey
House Spirits Distillery, Portland 
Northwest-grown barley is fermented with ale yeast and the spirit is produced via two passes through a pot still before aging in American oak barrels. The result is a singular whiskey with a rich, deep bourbon-like aroma, but a dry, elegant flavor evocative of the whiskeys from Ireland and Scotland. An excellent sipper by the campfire.
McCarthy's Oregon Single Malt Whiskey
Clear Creek Distillery, Portland
Most other Northwest single malts have profiles that are soft and mild; McCarthy's, designed in the Islay style, is a big, smoky bruiser of a whiskey that calls to mind such legendary libations as Lagavullin and Bowmore. Peated Scottish barley goes into the whiskey, which is aged in sherry casks and in barrels made of Oregon oak; the result is a robust bonfire of a slow-sipper that pushes the parameters of what a Northwest whiskey can be.
2Bar Spirits Bourbon Whiskey
2Bar Spirits, Seattle
A recent addition to the Northwest whiskey team, this soft, subtle bourbon is one to keep an eye on. Made entirely from Washington- and Oregon-grown corn, wheat and barley, 2Bar's bourbon is gentle and lightly sweet, with a grassy character that speaks to its youth coupled with a vanilla-tinged quality from its short time in oak barrels.
Fremont Mischief Whiskey
Fremont Mischief Distillery, Seattle
Grassy and dry, with a rich toffee tone, this immensely approachable whiskey has a high rye content and is aged in once-used bourbon barrels. The spirit has touches of spicy warmth brushed with vanilla and brown butter; the distillery winks an eye at mischief, but there's no joking around with this whiskey.