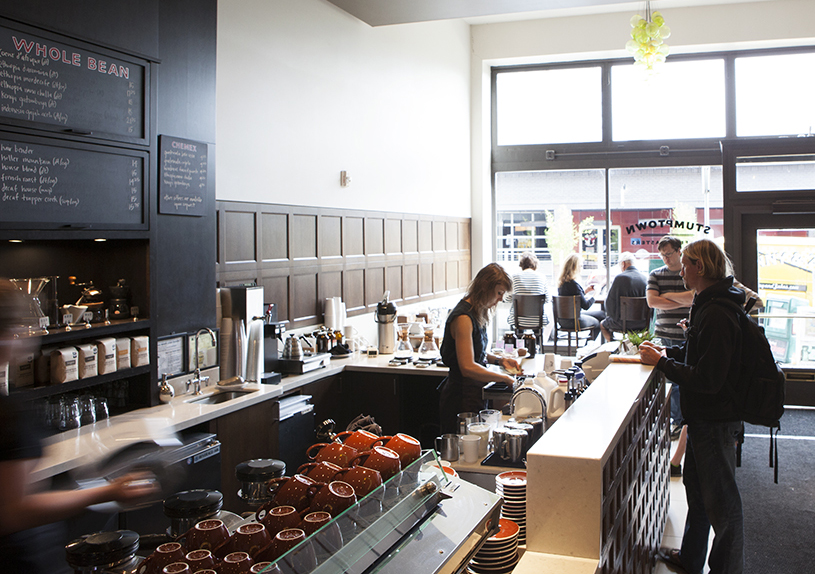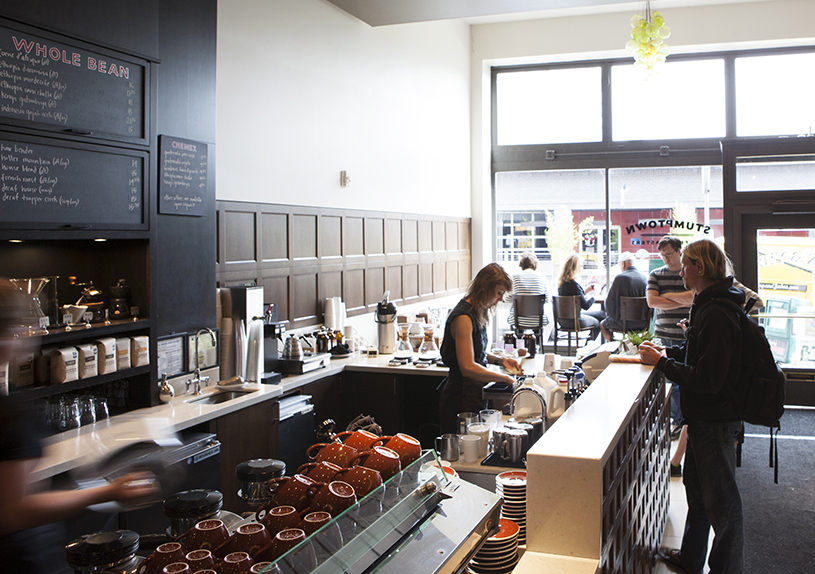 Good coffee is a one of the first things many travelers set out to find. Luckily, hotels are consistently upping their coffee games, making the search much easier. "People are developing a taste for better coffee, and anyone who's ever stayed in a hotel knows you shouldn't have to walk several miles away to get a good cup," says Stumptown's Matt Lounsbury. "Hotels have gotten savvier to this. They know if they want to keep people inside the hotel, they have to provide a better experience." Hitting the travel circuit soon? Make sure you land a stay at one of these spots.
Ace Hotel + Stumptown 
Setting the bar for quality coffee in a hotel environment since 2006, two Ace Hotel locations now have adjacent Stumptown Coffee cafés to serve guests (Portland and NYC), with a third slated for the New Orleans outpost scheduled to open in February. Grab a cup after checking in, and settle into the comfortable lobby spaces to plan your itinerary.
The Freehand Hotel | Hostel, Chicago + Cafe Integral
Located in the foyer of Chicago's newest Freehand (sister location to the flagship in Miami), Café Integral is a small but serious coffee outpost serving local teas and single-origin coffees. The café opens for the early-bird crowd, so start your morning with a "hit and run" combo of espresso shot and coffee-to-go, or the red catuaí flight, a trio of espresso, macchiato and cold-brew coffee. Then, when the café area closes at 6 p.m., mosey over to the lobby's Broken Shaker bar, where the talented team often works  coffee into a variety of cocktails.
The Godfrey Hotel, Boston + George Howell 
The second location of the Godfrey Hotel, set to open mid-December, will have on-site George Howell Coffee café that's accessible from both the lobby and the main street. Partnering with the venerable coffee company was a way to offer high-quality hospitality to guests and Bostonians alike, says general manager Larry Casillo. "The space that George Howell Coffee occupies on the first floor of The Godfrey Hotel Boston is very high-profile, heavily-foot-trafficked street frontage. When we set about finding the perfect partner, we knew that the product or service needed to be of the highest quality, it needed to be able to service downtown locals and hotel guests alike, and it needed to have a strong connection to Boston. For us, George Howell Coffee was the only choice."
The High Line Hotel, NYC + Intelligentsia
For it's eight location—and first in New York City—Intelligentsia pegged the eye-catching High Line Hotel. Open since 2013, the coffee company set up shop in two spots on site for maximum service opportunities. The first, a petite yet dapper café serving a full menu (including a great selection of teas) is nestled in a nook of the lobby. The second, a refurbished 1963 Citroen coffee truck called "the minibar," is located outside in the courtyard, serving a small selection of pourover and espresso.
The Lombardy Hotel, NYC + Ninth Street Espresso
A small, unfussy collection of traditional espresso drinks anchor the menu at Ninth Street Espresso's fourth location, nestled in a half-underground space of the Lombardy Hotel. The counter offers take-out orders only with just a few seats to perch on in the café itself, perfect for grabbing on the way to a meeting or sightseeing. The hotel does its part to encourages guests to partake, offering a coffee and pastry voucher that's good for every day they're checked in.