Lucy Burningham doesn't own a brewery, make beer professionally or even serve beer for a living. But she likes to drink beer—a lot. And that was motivation enough for her to become a certified cicerone. "I think over the years, as a journalist, I always felt like a generalist, where you dip into so many topics, learn a little bit and then you're out," she says. "So I started to wonder what would happen if I went deeper with something that I loved, and there was no doubt in my mind that thing would be beer."  Now on the other side of a year spent making flash cards, touring hop farms, cleaning draft lines, visiting breweries in Belgium, homebrewing and drinking plenty of beer, Burningham is a certified cicerone, and her new book, My Beer Year (publishing on October 25), details her journey.
Imbibe: You've been writing about beer for many years now, which requires a good deal of knowledge. Was there a moment that finally spurred you to take the step to becoming a certified cicerone?
Lucy Burningham: I started writing about beer when I moved to Portland from Salt Lake City in 2005. Salt Lake City is not really a mecca for beer, so when I moved to Portland, I was fascinated by this culture of beer where people knew the names of brewers and talked about IBUs. That's when I first got hooked. I had heard about the cicerone program for a long time, so it was always in the back of my head. It was the "I should run a marathon someday," kind of thing. I started to wonder what it would be like to be on the other side—to be a bit more in the realm of the industry, to see things from the perspective of brewers and have that intimate knowledge of beer, instead of just observing it from the outside.
What does it take to become a certified cicerone?
There's a written part of the exam and a tasting part. You get a score for each section and they combine the scores into your final. A lot of the tasting portion focuses on off-flavors, and learning those as someone who doesn't professionally serve beer is a challenge. I had to find ways to start tasting these flavors and talking to people about where they come from without being behind a bar. It's not super sexy, but you just have to taste the beers over and over—and the bad beers, at that—until you start to perceive them and identify and name them. The test also covers history, like beer styles. They want people who come out of the cicerone program to be able to accurately identify what they're drinking. Is this pale ale the right color? Does it have the right amount of carbonation? What's different from an American version versus one you would find in England? You really analytically look at the beers. I think it was somewhere around 125 styles. So for that I did a lot of reading and a lot of flash cards, which isn't as fun as drinking a bunch of beer. But sometimes I could combine the two; beer and flash cards can go together.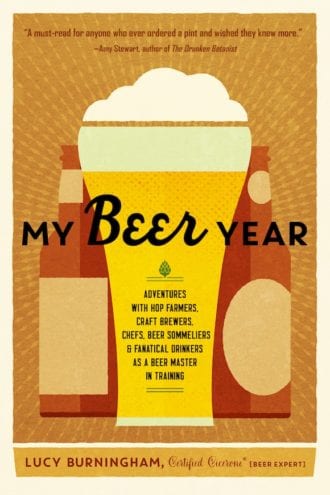 Are there styles of beer that you discovered you just don't like at all?
I don't love imperial IPAs. I do love hoppy beers, but I feel like so few imperials are done well with balance and restraint, and aren't just hitting you over the head with bitterness. I love the Imperial IPAs at Great Notion, though. I am still so grateful that brewers are willing to experiment. Like, what happens when I make a smoked gose with tangerines? Someone has to try that, right? I might not like it, but thanks brewers!
Did the knowledge gained from doing things like homebrewing and cleaning tap lines give you a different sort of appreciation for beer?
I appreciate beer so much more than I used to, from the ingredients, to the brewing to the service. To get this beautiful beer into this glass is not something we should take for granted. I mean, the temperature is right, the glass was clean, you can taste the fresh hops—it's a work of art. I think that's what I was hoping to get when I started this process—taking something I love and finding out if I can appreciate it even more. There were moments where studying was so hard and not fun, like taking a Saturday afternoon to make flash cards, or going into the brewery at Hair of the Dog on Sunday night when everyone else is watching the Super Bowl while I'm cold and wet and smelling like stale beer. And sometimes the rigor of having to really deconstruct every beer is something you can't un-train. I definitely got into a mode where every beer I had was an exercise in learning. And my husband is the one who noticed most, because at some point he said, "You know, we used to just drink beer, for fun." I realized I was taking some of the fun out of it, but the appreciation that came from knowledge gained ended up balancing out.
When did you know you wanted to turn the experience into a book?
I got my certification first, and then I started writing. I knew during the process that I would write about it in some capacity, and I took crazy notes all the time. I tried to put the journalism aside because what I really wanted was the experience of going deeper into the topic. But to do that I relied on my journalism skills, which meant notebooks everywhere I went. I would like to go back to Belgium and just be a total beer-nerd tourist and not bring any notebooks.