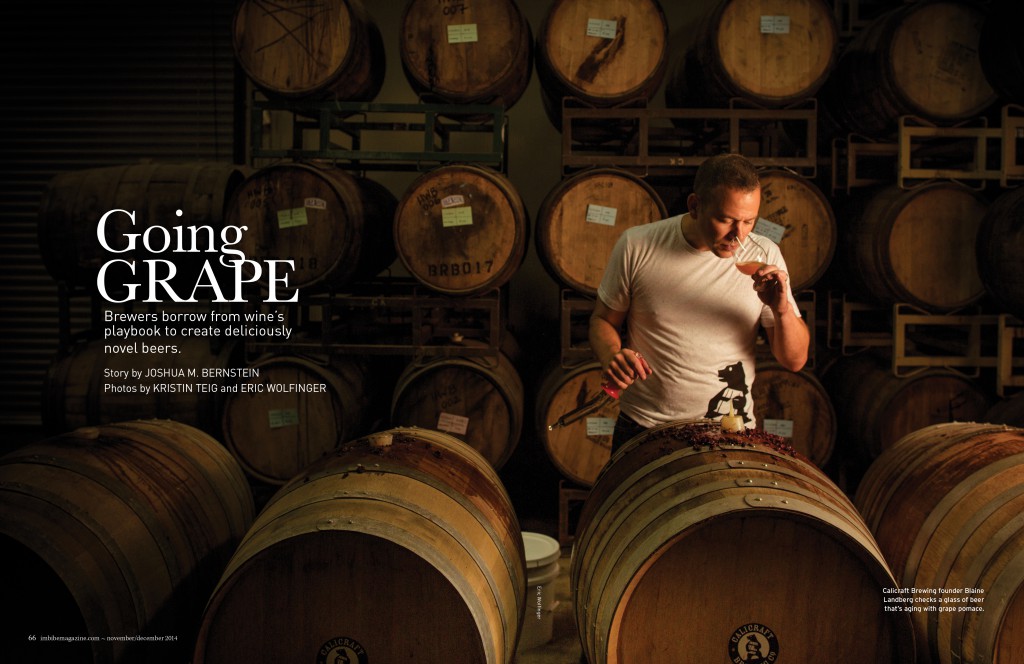 One dark day back in 1997, Blaine Landberg ran into a roadblock in his dorm room. As a 19-year-old student at the University of California, Berkeley, Landberg had bought a homebrew kit to clone Duvel, a strong golden ale from Belgium. Instead of adding Belgian candi sugar—a fermentable used by Belgian brewers to elevate alcohol content without augmenting the beer's body—he used honey. The result was excessively sweet. "I knew nothing about yeast health," says Landberg.
Seeking a solution, he found an article touting Champagne yeast's talent at kick-starting fermentation and drying out beer. Landberg pitched wine yeast into his mistake. Upon re-sampling, "the beer tasted better than anything I'd ever had," recalls Landberg, who coined it the Buzzerkeley Brewing Virgin Ale.
While school officials soon shuttered the illicit brewery, Landberg sensed he'd discovered a flavorful new world. He slipped the idea into his back pocket, dreaming of eventually opening a brewery. After a decade-plus detour at Honest Tea (he was a founding employee), Landberg founded Calicraft Brewing in Walnut Creek in 2012. It uses California-sourced ingredients like malts, hops and honey, which headline in a fruity, zesty ale fermented with Champagne yeast. It's dorm-born Buzzerkeley, the effervescent intersection of beer and wine.
Generally speaking, barley and grapes have never been best friends. They keep to themselves on their respective journeys into beer and wine, attracting fans that can be equally divisive. To bridge that chasm, brewers first borrowed old wine barrels. Lately, they've dipped deeper into winemakers' tool kit by adding grapes—be it juice, fruit or the blend of skins, seeds, stems and pressed juice known as "must"—to beer, and fermenting with wine yeasts, creating hybrids that defy neat categorization.
Grapes are fermentable fuel for Dogfish Head's Noble Rot and Sixty-One IPA, which is made with Syrah must. In Colorado,Odell's Jaunt includes Riesling grape juice, and Maine-based Allagash uses freshly harvested grapes in its Belgian-style Victor and Victoria ales. Yeast-wise, Brooklyn Brewery finishes its Sorachi Ace saison with Champagne yeast, and Massachusetts'Enlightenment Ales follows the méthode champenoise to makes its effervescent Brut. And echoing winemaker's marketing as well as their methodology, breweries such as The Rare Barrel, Crooked Stave and The Bruery have created winery-style clubs that guarantee members exclusive beer.
Ape for Grapes
From oranges to apples, lemons to limes, and strawberries, watermelons and cherries, the fruits favored by brewers could fill a grocery aisle. What about grapes? Those were for winemakers, went the thinking. But as brewers continue to seek an edge in the taste department, they've begun uniting the bine and vine.
For Dogfish Head founder and president Sam Calagione, the call of the vine came in 1996, not long after he opened his Delaware brewpub. The winter season was mellow, and Calagione started daydreaming about the ideal beer pairing for wood-grilled steak. During research, robust Cabernets kept appearing. Were grapes key? On a whim, Calagione whipped up a beer with partially dehydrated green raisins. "I reverse-engineered a perfect beer to pair with a steak," recalls Calagione of the rich, fruit-forward Raison D'Etre.
Grapes quickly became Calagione's muse. The mead-wine amalgam Midas Touch contained Muscat grapes, as did Chateau Jiahu, a sake-like fusion derived from fermented evidence uncovered in 9,000-year-old Chinese pottery. "Our ancestors were combining wine and beer since the birth of civilization," Calagione says.
Getting warmed up, Dogfish Head rolled out Red & White in 2007, a witbier fermented with Pinot Noir juice, and Noble Rot in 2011. It's infused with fungus-infected Viognier grapes (the namesake "noble rot"). "Legally, it's the most grapes you can put in a beer and still call it beer," Calagione says of the recipe, which contains 49.9 percent grapes.
A single splash of wine inspired Dogfish Head's latest hybrid. While drinking with friends, Calagione spilled some red wine into his 60 Minute IPA. It was fruity, complex and fabulously bitter. To re-create the blend, Dogfish spent a year experimenting with varietals before settling on Syrah, the key to the Sixty-One IPA. "The bright-red color puts people into the mind of wine," says Calagione, who notes that Sixty-One has become one of Dogfish's fastest-growing brands since its 2013 release.
At Odell, quality assurance and quality control manager Eli Kolodny never gave much thought to wine. That changed during a trip to western Colorado's hop fields, when another agricultural product caught his eye. "I didn't even realize that we could grow grapes in Colorado," recalls Kolodny.
His brain buzzed. How could he incorporate grapes into beer? The answer was Amuste, a rich imperial porter blended with Tempranillo must and aged in red-wine barrels. Kolodny's second act was Jaunt, a pale ale punched up with Colorado-grown Riesling grapes and aged on oak staves. Both beers were hybrids—both in beverage form and consumer approach. "They made it into wine stores around town where they didn't normally sell beer," Kolodny says.
Wine shops would be a happy home for Cascade Brewing's tangy The Vine, which is refermented with the juice of white-wine grapes, or Captain Lawrence's funky Rosso e Marrone, made with Merlot and Zinfandel grapes. Same goes for Lover Beer's tart and fruity BeerBera that stars Italian Barbera grape must; Cerveza de Tempranillo and Bière de Merlot from Austin's Jester King Brewery, made with mature sour beers that are refermented with wine grapes; as well as Allagash's vinous Victor and Victoria, which respectively feature Cabernet Franc and Chardonnay grapes. "Many wine drinkers are set on only being wine drinkers," says brewmaster Jason Perkins. "Beers like Victor and Victoria are another way to draw them in."
Bugging Out
It's no accident that brewers primarily favor ale and lager yeast for fermentation. These ravenous critters are adept at devouring the complex and simple sugars in wort (the grain broth that becomes beer) and converting them into alcohol.
Not so wine yeast, which favors simple sugars—like the ones found in grapes. Added to wort, "out of the gates, the yeast will charge like crazy with fermentation, then slow down," says Allagash's Perkins. Wine yeast will eventually consume complex sugars—but, like chewing salt-water taffy with missing molars, "It'll just take a long, long, long time," Perkins says. To avoid tying up fermentation tanks, Perkins sourced a particularly assertive yeast strain, and to ease its workload each beer contains about 30 percent grapes. (Even then, Perkins must occasionally pitch ale yeast to polish off the job.) Then, prior to bottling, he'll add Champagne yeast as a final touch, giving the beer an elegant fizz. Additionally, Perkins likes finishing sour beers with Champagne yeast. "It adds a nice, clean flavor," he says. "Champagne yeast can handle a harsh environment."
It can also create a harsh environment. Toss a mixed bag of beer yeasts into wort and, more or less, they'll harmoniously coexist. Add wine yeast, and it'll act like a horror-movie psychopath in a sorority house. "Most wine-yeast strains are killers," saysCalicraft's Landberg, who notes that they produce toxins lethal to brewing yeast. Overlook the murderous streak, and "these strains create a world of flavors that are vastly different from what's found in beer," says Landberg, who also had an epiphany: He lived in California wine country, surrounded by progressive wine and beer drinkers who enjoyed both beverages interchangeably. "I wanted to draw elements of the wine industry into beer," he says. "That meant going beyond sours. What's beyond sour?"
The answer was Champagne yeast–fueled Buzzerkeley. Landberg figured out the finicky fermentation and whittled production to around three to three-and-a-half weeks, which sounds nice until you realize that it's nearly 40 percent longer than the average ale yeast. For Landberg, waiting is the price of meeting his goal. "The beer reaches across the aisle," says Landberg, who is also aging Buzzerkeley in pomace-filled wine barrels. Landberg classifies his boundary-blurrers as "sparkling ales," an appellation that raises hackles. "Beer judges tell me, 'You can't call this sparkling ale! That category doesn't exist.' "
Another newly minted category is bière de Champagne. Much like the fizzy wine, these beers (alternately known as bière brut) undergo multiple lengthy fermentations; the bottles are also slowly rotated to collect yeast in the narrow necks, before being frozen to drive the yeast out under pressure, similar to the remuage and dégorgement process followed by winemakers. Belgian breweries Bosteels and Malheur pioneered this Champagne-inspired practice 12 years ago, which impressed Boston's Ben Howe. One day Howe, then an assistant brewer at Cambridge Brewing, received a bottle of Bosteels' DeuS from his boss. "It was just awesome," recalls Howe, who decided to re-create the style.
Brewed for Barack Obama's 2008 inauguration, "Inaugur-ale" was proceeding according to plan until Howe tried freezing the bottlenecks with liquid nitrogen. "About six bottles in, they started blowing up," Howe recalls. "It was too cold."
Undeterred, he refined his technique, finding success by dipping the necks into dry ice mixed with high-proof grain alcohol (the freezing point is lower). By 2012, Howe had opened Enlightenment Ales—America's first brewery specializing in bière de Champagne. His flagship is the bubbly Brut, which begins life as a Belgian-style strong ale before following the méthode champenoise, with Champagne yeast leading the re-fermentation charge. Like Champagne, Brut is suited to celebrations. "There's a huge demand around the holidays," Howe says, adding that he loves pouring Brut at store tastings. "Wine drinkers often say, 'Oh, no, I don't drink beer,' " he says—but if he convinces them to sample Brut, "half of the time they'd say, 'Wait, this is beer?' "
Membership Has Its Privileges
Wine is a product of patience. To cover costs while waiting (and waiting) to release vintages, many wineries operate club programs: buy a membership now, and you'll later receive bottles and perks. For breweries creating time-intensive barrel-aged and sour or funky beers, club programs can provide crucial capital.
When Denver's Chad Yakobson debuted Crooked Stave in 2011, he knew that his wild yeast–driven beers required extra time to achieve desired flavors. To help revenue flow, he launched the Cellar Reserve Membership program. Enrollees received glassware, discounts and, eventually, beer. "The Cellar Reserve membership is a big the reason we're still around," Yakobson says. "It's taking another part of the wine industry and applying it to the brewing world."
The idea is spreading. In Florida, Cigar City's El Catador Club provides members with barrel-aged beers, while Hill Farmstead's Collected Works guarantees members a dozen barrel-aged beers. Prefer to pucker? Join Massachusetts-based Night Shift's Barrel Society or the Founders Club from Berkeley's all-sour Rare Barrel. Instead of instant cash, the goal was to benefit the future bottom line. "We're supply constrained, so we must maximize the dollars we got from each bottle," says cofounder Alex Wallash of the club, which launched last fall.
Winery-style direct-to-consumer sales eliminate middlemen's hefty cut, while helping members forge deeper bonds with the brewery, not just its beer. "We get to know our customers better, develop relationships and get feedback," Wallash says. Moreover for members, "clubs are a stress-free way to get beer without waiting in line."
A crazy queue led California's The Bruery to establish a club program. In 2009, The Bruery released its Black Tuesday imperial stout. Customers waited upward of seven hours to buy a bottle, with many angrily leaving empty-handed. "We didn't have a system in place to process our customers in a quick and efficient way," says founder and CEO Patrick Rue. "There had to be a better way." To ease the next year's purchasing pain, The Bruery pre-sold the stout online and allocated purchasing rights to members of the newly formed Reserve Society.
Since its launch, the Reserve Society (it gives members access to exclusive beers, special growler fills and party invites) has expanded to include three tiers, including the invitation-only Hoarders Society. Beyond community building, Rue says, these club programs can give breweries a leg up in an increasingly crowded market. "The more breweries can sell through their own retail programs, the easier it'll be to reach profitability at a relatively small size," Rue says.
As America's brewery count tops 3,000, many of them pint-size, this is an excellent plan. Little guys like Queens' Transmitter Brewing, Vermont's Burlington Beer and Denver's Trve Brewing have all implemented clubs. That's to be expected—craft brewers are magpies, grabbing bits and bobs from different industries and making them their own. It happened with bourbon barrels, as Goose Island helped launch an entire category of oak-aged beers. By blending wine principles and ingredients with craft beer, brewers are creating a flavorful new universe and maybe, just maybe, getting people to think that there's a place for both these beverages in people's lives.
Underscoring that idea, Dogfish Head's Calagione was recently visiting a general store in Maine. On the shelf, he saw that his beer-wine hybrids, such as Midas Touch, were stacked beside the wine, while Sixty-One sat in the beer fridge. "We learned that Sixty-One gets bought more by beer drinkers who like wine, while Midas Touch and Noble Rot get bought by wine drinkers who like beer," the owner replied.
Calagione was flabbergasted. "It showed me how far we've come that a general store in rural coastal Maine has a clientele that is telling its owner to put certain beers on the wine shelves without our influence," he says.