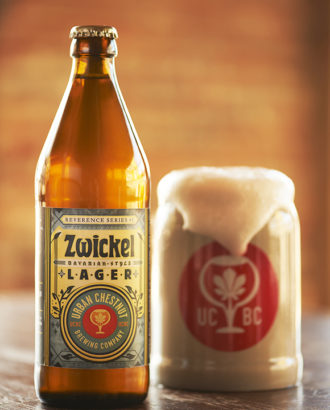 Fans of light lagers, pale ales and hefeweizens, listen up. Zwickelbier could be the ideal candidate for slaying the summer doldrums this season.
Refreshingly sessionable, the traditional German style (also referred to as Kellerbier) has all the crisp, clean elements of a fresh pils, but because it's unfiltered, there's a slightly hazy appearance and a touch more yeasty intrigue. Think of it like a hybrid of a cloudy hefe and a slightly bitter pale ale.
The key to a great zwickel is a delicate balance of flavors between the yeast, aromatic hops and malts. No single element should stand out—a factor brewers like Gordon Biersch's Dan Gordon cites as falling into a much larger movement towards drinkers embracing craft lagers over heavy-hitting hoppy brews like IPAs. "Pilsners and lagers in general are getting some overdue love from the craft brewing crowd, and nobody's more excited about that than I am," he says. "For the longest time, it was all about super-hoppy IPAs, which meant that a generation or two had no idea how fantastic lager style beers could be."
The brewery recently released their first bottled version of the beer, which was previously only available to brewery visitors (and pulled directly from the tank, no less). Gordon says his favorite thing about the brew is the "pinpoint fine bitterness created by the aroma hops."
While you won't see every brewery tackling the style, the ones that do seem to have great success. Take Urban Chestnut Brewing Company in St. Louis, which first brewed the style in 2011 when its doors first opened. Today, it's surpassed all other styles as the best selling year round offering. Brewmaster Florian Kuplent describes their version as Bavarian Helles-style, with "very subtle hop aroma, bready malt notes, slightly sweet, fast finish with very clean hop bitterness."
The other perk to zwickel—and one that is particularly notable as we enter warmer summer months—is the style is typically low-ABV. At Westbrook Brewing in Mt. Pleasant, South Carolina, Morgan and Edward Westbrook made a traditional interpretation inspired by Morgan's German grandmother. She says it might be awhile for all brewers to jump on board with the "simple, just cut the grass and am going to hang out and enjoy the last bit of this Sunday afternoon kind of beer," but she believes that's zwickel's strongest virtue, and the brewery is ready to revisit the style should there be more demand.