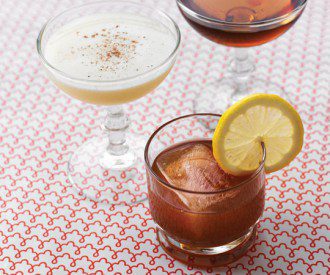 The cocktail is a 200-year-old invention. Punch? Much older. It flowed from fountains at 17th-century colonial galas; it was bought by the bowl at taverns in unincorporated New England. And, if you were lucky, it was made with Batavia Arrack—a clear, sugar- and rice-based Javanese spirit with a rough otherworldly bite.
Back in the 1600s, when the Indonesian island of Java was known as Batavia and was part of the Dutch East Indies, the exotic spirit flowed far and wide, but in recent times, U.S. imports of Batavia Arrack were scarce. In 2007, however, in response to demand from bartenders looking to re-create historic punches, specialty spirits importer Eric Seed of Haus Alpenz stoked the U.S. supply. "Given that the product hadn't been imported in generations, we had considerable trouble getting it classified," says Seed, who consulted with cocktail historian and Imbibe contributor David Wondrich to settle on a brand, van Oosten.
Its Javanese origins pre-date the arrival of the Dutch in the islands at the start of the 17th century. To date, it's the only Batavia Arrack sold in the U.S., and it was chosen over more than two dozen that Seed and Wondrich sampled, based on its aromatic qualities and amenability to classic punches. "It's one of the oldest spirits out there, but it's effectively a new spirit for people Stateside," says Seed.
On its own, Batavia Arrack is hot and astringent with a bite so strong it lingers for minutes. "It's not the kind of thing you would consider shooting straight," says Seed. "It's a bit rough." But in cocktails, it can be the perfect counter to ingredients such as citrus, spice and sugar—the stuff of colonial punches. "On its own, much like working with vanilla, if you taste it straight it doesn't make sense as to why it's useful," Seed says. "But Batavia Arrack, even in simple drinks like a basic Daisy, can be extraordinary."
Bartenders like Max Toste of Boston's
Deep Ellum
have embraced the spirit's smoky spice. Toste is fond of pitting Batavia Arrack against Chartreuse, such as in his Western Passage. "I like when you can take interesting ingredients and put them together in a way that makes them taste better than they normally do," he says. "[Batavia Arrack drinks] are heavy on the aromatics but not particularly sweet—not overly complex or clever."