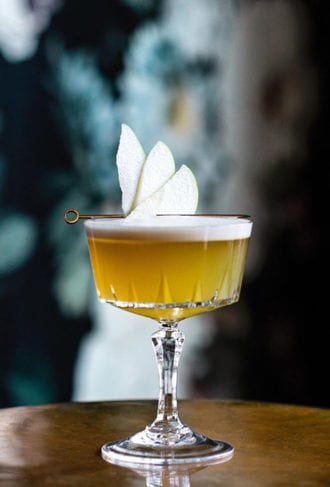 The tart juiciness of fresh granny smith apples contrasts the oaky vanilla notes of apple brandy in this seasonal rum cocktail.
1½ oz. aged rum (Cloyes uses Bacardi 8)
½ oz. apple brandy
¾ oz. apple syrup
¾ oz. fresh lemon juice
¾ oz. egg white (pasteurized, if you like)
Club soda, to top
Tools: shaker, strainer, fine strainer
Glass: cocktail or coupe
Garnish: granny smith apple fan
Combine the first 5 ingredients in a shaker and dry shake (no ice). Add ice and shake again to chill. Double strain into a glass, top with soda and garnish.
Apple syrup: Cut one granny smith apple into chunks and juice. Combine with equal parts sugar by weight. Blend briefly to emulsify.
Taylor Cloyes, Here and Now, Los Angeles
---
Did you enjoy this recipe? Sign up for our newsletter and get weekly recipes and articles in your inbox.