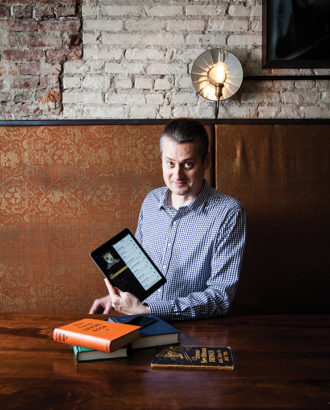 Talk to any of the grand elders of the American cocktail renaissance about their early experiences, and there is usually a point in any story where Martin Doudoroff shows up. In the first week of your new cocktail bar's life, he's one of the first through the door.
He's the guy who finds you in an obscure online chat room devoted to mixed drinks. He's the near-stranger who invites you to a private tasting of hard-to-find vermouths or absinthes. He's that rare customer who, in the late '90s and early '00s—long before "stump the bartender" became common— could speak knowledgeably about obscure cocktails and ingredients. "Martin kind of wandered about, because he's always around," says Julie Reiner, who remembers Doudoroff not only as an early patron of the Flatiron Lounge, her trailblazing Manhattan boite that opened in 2003, but C3, the Greenwich Village bar where she slung then- inventive infusions prior to Flatiron. "He's kind of strangely in the industry, but not really."
Doudoroff is fine with his peculiar outsider/insider status. He makes a decent living as a tech guy, and he feels no need to enter the booze business, which he views with some suspicion. Lately, however, he has inched closer to being a working cog in the cocktail machine. Beginning in 2008, he combined his twin areas of expertise—technology and cocktails—with "Cocktails," one of the apps featured the day the iTunes App Store launched. Several apps followed, and in the spring of 2014, he released the first in the current crop of products created in partnership with some of the biggest names in the cocktail world.
First came Beachbum Berry's Total Tiki, a collaboration with tiki historian and bar owner Jeff Berry, which compiles, in digital form, 250 tropical recipes from the Ankle Breaker to the Zombie. Next came Martin's Index, Doudoroff 's ludicrously ambitious attempt to "anthologize every single recipe that is unique and of some justifiable interest," beginning with those found in Jerry Thomas' 1862 work How to Mix Drinks, or The Bon-Vivant's Companion. (So far, he's up to the 1930s). In January, he put out Gaz Regan's 101 Best New Cocktails, an app version of the annual almanac of notable new potions that Regan began in 2011. And March brought the most high-profile app to date: a digital companion to Jim Meehan's PDT Cocktail Book, including nearly every PDT original and classic that has been served at the Manhattan bar since it opened in 2007, each recipe recently retested. A punch app in partnership with cocktail historian David Wondrich launches soon.
"Several people in the tech world had previously pitched doing a tiki app, but I didn't know them and I didn't know anything about apps," explains Berry. "But I did know Martin, and Martin knew cocktails, and Martin knew apps. When he suggested we do an app together, it was kind of a no-brainer."
If you're new to the cocktail demimonde, the name Martin Doudoroff might provoke nothing more than a question mark. But if you're a long-hauler, you know the moniker, the lean-as-a-barspoon profile and the friendly, didactic drawl. Doudoroff is one of the handful of civilian influencers unique to the early days of the cocktail revival, manic hobbyists whose enthusiasm and industry steadily inched drinks education along. There was Robert Hess, the Microsoft exec, who, in founding Drinkboy, created a formative Internet forum where cocktail geeks could meet and exchange intel. There was Ted Haigh, the Hollywood graphic designer who adopted the title "Dr. Cocktail," and collected extinct spirits, using them to reconstruct old cocktails (a hobby that eventually led to his influential 2004 tome, Vintage Spirits and Forgotten Cocktails).
Martin knew the other two—he was a frequent voice on the Drinkboy forum, and collaborated with Haigh on the Internet Cocktail Database, an early online reference guide to bygone libations and elixirs. Unlike Hess and Haigh, who maintained public profiles, Doudoroff largely kept to the shadowy corners of the bar—but he was definitely in the bar. Anyone in New York who attempted anything adventurous in the line of cocktails soon found Martin staring at them from across a glass. Before Audrey Saunders opened Pegu Club, and became widely celebrated as a drinks doyenne, he had already seen her work at Blackbird, Beacon and Tonic. "I could go there and sit at the bar, and there was no competition," recalls Doudoroff of those days. "I could irritate Audrey for two hours."
He did the same when Flatiron opened. "He tended to arrive early in the evening," remembers Katie Stipe, an early bartender at Flatiron, "and we would have time to indulge in conversation about cocktail history, defunct spirits and readapting old recipes."
Doudoroff made for a good, one-man test kitchen. "I would just throw at him whatever I was tinkering with," says Phil Ward, another former Flatiron barkeep, now at Mayahuel and Long Island Bar. "It was like my quiz for the week."
Sometimes his visits did more than just improve a drink in development. "Every time there was a new cocktail bar, he would take me there," says Romee de Goriainoff, an old friend. Inspired by their visits to Flatiron and Milk & Honey, de Goriainoff returned to France to open the Experimental Cocktail Club, sparking Paris' cocktail-bar boom. "Martin is really the starting point for us. He opened the doors." (As David Wondrich observes, "He's a catalyst, really. He brings people together.")
Bartenders never worried that Doudoroff would soft- pedal his reactions to their work. Though considered good company, he lacks that internal switch that causes others to occasionally hold their tongue. If you follow his Twitter feed, you're accustomed to this outspokenness. "Revisiting the Savoy Cocktail Book in detail for the first time in over a decade," read one tweet. "So many awful recipes in here."
"He has a strong opinion on just about everything," says Berry. "Movies, books, booze, food, paintings, buildings, people. If Martin doesn't have a deeply analytical critical take on it, it's probably a cat. He likes cats."
On two occasions, he's felt strongly enough that the world needed better information that he created entire websites to correct the situation: Vermouth 101 and Old-Fashioned 101. ("A few minutes of reading that will elevate your good taste and cement your mixological foundations," declares the latter.)
He's not even that easy on himself. Though he has spent plenty of time and money creating his apps, he has no illusions that cocktail apps will make his name or fortune. "The math of these things has always been pretty brutal," he says. "These are niche products. You're never going to sell in the millions. And they're expensive to develop, which makes the whole enterprise dubious from a business standpoint."
In other words, after all these years, Doudoroff remains a purist with a passion, not a pro with a plan. And while the apps may constitute this steadfast cocktail soldier's "last hurrah" in cocktail research, he still enjoys the work—and the conversation. "I get feedback from people who find the ingredient inventory to be less straightforward than they would like," he says of his apps. "They'd like it to be all neat and tidy. There is nothing neat and tidy about cocktails. And if you make it neat and tidy, it's a kind of dumbing down. You're creating problems. You're making broken drinks."
That sounds like he's grousing. He's not. "I've got these picky customers," he continues, "and they send me corrections and they complain about how things are grouped." He smiles. "It's really great."
This article first appeared in the July/August 2015 print edition.