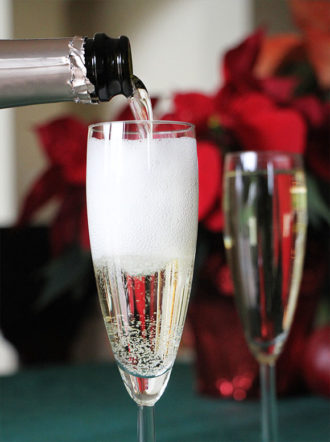 During the holidays, few wines set a festive tone as well as bubbly, but the world of sparkling wine extends far beyond Champagne. We caught up with Andy Myers, master sommelier and wine director for chef José Andres' ThinkFoodGroup, to find out which Champagne alternatives he recommends for the season.
"Let's face it—Champagne is awesome and reigns strong as the self-declared king of sparkling wine, but that doesn't mean there aren't other amazing, effervescent options out there that are delicious, festive and food-friendly," says Myers, adding that Champagne alternatives can also be much more wallet-friendly. "I tend to get my every-day bubbly wine via lesser-known sparkling appellations from around the world because I'm quite cheap when it comes to buying wine, and most of these are way less expensive than real-deal Champagne." Here are Myers' top picks for this season's sparkling wines.
Cava
"If there is one thing I've learned from my Spanish sommelier friends it's that Cava should be drunk at all times for all occasions," says Myers. "It's more a way of life than a wine. Usually a bit lighter and less complex than Champagne (that's not a bad thing) Cava is the ultimate quaffable, dry sparkling wine made from nerd approved varietals with names like Xarel-lo!"
Bottle Pick: Can Feixes "Huguet" Gran Reserva Cava. "Very crisp and a little lemony with the slightest hint of almonds, this goes down way too easily and is delightful with all the first courses in most meals," says Myers.
Tasmanian Sparkling Wine (aka Methode Tasmanoise)
"Yes, I said Tasmania," says Myers. "It's that little island just south of Australia (I only mention it because everyone asks me). On a recent visit I was blown away by the Tassie sparklers. They were crisp, sophisticated and completely refreshing. They are based on Chardonnay and Pinot Noir just like Champagne, so they make great wines to impress even your wine savviest of friends."
Bottle Pick: 2007 Jansz "Late Disgorged" Vintage. "This is some super-sophisticated, classy wine!" says Myers. "Late Disgorged means the wine was aged longer than usual on its lees (that's wine nerd speak for old, spent yeast cells) to develop more nutty, biscuity, deliciousness. First time I tasted this wine I thought I was drinking high-grade, aged Champagne. Just stunning."
Vouvray Petillant Brut
"Vouvray is a small village in the greater Touraine region of France's Loire Valley famous for producing the world's best Chenin Blanc wines," says Myers. "Chenin tastes a bit like rich apple cider scented with honeysuckle and chamomile. Depending on the style, there are various degrees of sweetness to be found. With Vouvray Petillant you get bubbles plus wonderful, dark exotic aromatics to boot."
Bottle Pick: 2011 Domaine Huet, Vouvray Petillant. "It's like drinking lightly bruised yellow apples with toasted five spice and chamomile tea," says Myers. "It's so good I tend to get a bit cranky about sharing too much of it with anyone."
Moscato d'Asti
"Once one of the greatest, easiest, most playful and refreshing wines in the world, Moscato has been largely abandoned by the sommelier community thanks to the terrible decision to mass market icky flavored Moscato wines," says Myers. "Moscato d'Asti is a low-alcohol, semi-sparkling, semi-sweet wine from northwest Italy. It's like drinking bubbly peach preserves. I use it as an aperitif or a dessert all by itself. So tasty, why did anyone flavor this already gorgeous wine? That's like putting pineapple on pizza—not a good idea no matter what you say."
Bottle Pick: La Spinetta "Bricco Quaglia" Moscato d' Asti. "This is such an easy drinking wine," says Myers. "It reminds me of sunshine on that first day when you realize it's going to be spring soon. I don't always need to worry too much about wine; sometimes I just want to smile with a glass in my hand. This is the wine for those moments."
Lambrusco
"Lambrusco is the name of a grape and a wine made in Northern Central Italy in Emilia-Romagna (ok, one sub-region isn't in Emilia-Romagna, but that's  nerd stuff that you don't really need to know)," says Myers. "It's a sparkling, red wine, which blows people's minds because it got a terrible name back in the day for being cheap, sweet nonsense. Proper Lambrusco is dry, rustic and full of dark red and black fruits. Lambrusco is a great sparkling wine for game bird dishes and cured meats. I love this stuff, because it has a ton of power behind its flavors and works in those places where I might otherwise be a bit nervous about pouring bubbles."
Bottle Pick: Medici Ermete Reggiano Lambrusco. "This is so yummy," says Myers. "Rich, fruity and intense yet completely dry. It's as beautiful to look at as it is to drink with the hue of a pristine ruby. As rustic as this wine is there is a grace and elegance inside that I just love."