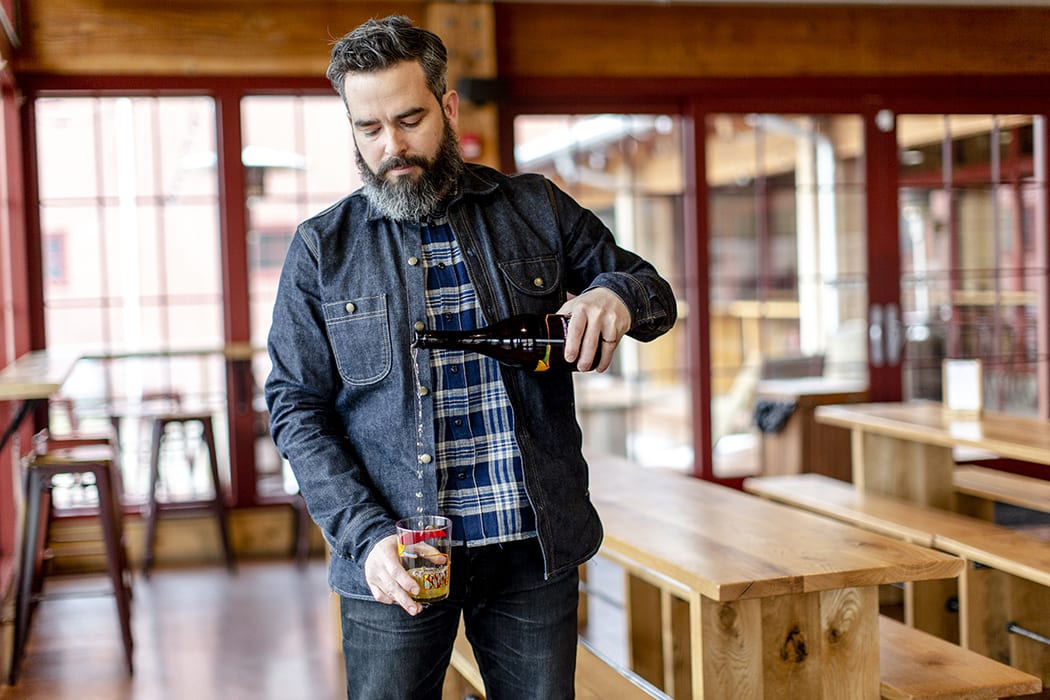 Spanish cider, aka sidra, is one of the world's most celebrated styles of hard apple cider. Hailing from two regions in northern Spain—Asturias and Basque Country—it's often fermented with wild yeast and left unfiltered, lending a somewhat funky personality to the high-acidity beverage (akin to some natural wines or tepache). Earthy, tart and typically sans carbonation, sidra's personality is wildly different than the sweeter, more fruit-forward ciders commonly found in the United States, which why many American producers are looking to the style for inspiration.
At this year's CiderCon, the annual conference for all things cider, sidra was one of the most discussed topics, with producers like Angry Orchard, ANXO and Tilted Shed sharing stories of experimentation. "Seven or eight years ago I didn't drink [sidra in America] because it wasn't fresh," Angry Orchard cider maker Ryan Burk said during a panel discussion. "Taking a trip over to Asturias really opened my eyes. It's so engrained in the culture there, so you can't help but want to be part of it."
Indeed, specific traditions surround sidra's consumption in Spain, which is partly why other producers like FinnRiver, Woodbox, Reverend Nat's and Son of Man (one of our Imbibe 75 People to Watch this year) have been inspired by the category. "The way we drink it, where we drink it—it's a whole concept," says Eduardo Coto, manager of Spanish import and distribution company Guerrilla Imports. Sidra is an everyday drink in Spain, usually accompanied by tapas in social settings and thrown from arm's length into a glass to invigorate the liquid. Pours are guzzled quickly to experience the cider at its peak flavor and effervescence. "The cider throw is not a show," Coto adds. "You have to pour it and drink it within 20 seconds to get the carbonation. It's fresh and more alive that way."
The presentation of sidra is partly what inspired Sam Fitz of ANXO in Washington, DC. "Sidra has the ability to captivate and entertain people in a way that other beverages don't have," he says. "There's a feeling and an excitement you don't get with other alcohol." When opening ANXO in 2016, Fitz planned to make one Basque-style sidra every year, but by the time he opened the cidery a year later, the programming expanded to make more ciders inspired by the style (bone-dry but still very American in interpretation, he says). Fitz's Sidra Natural will get a name change to Sidra Verde this summer, when they'll start packaging it in cans. "We're making a concerted effort to make something that's authentic and fresh," says Fitz. "We want still, dry, tannic, fresh cider in a can to be something that's celebrated here, and we think pouring long-pours out of a can might really get people into it!"
In an effort to expand his commitment to the Spanish style of cider even more, Fitz recently planted 25 USDA-approved Spanish apple trees to grow fruit for future batches of the cider. "I consulted with two orchard-based cideries in Spain about their favorite varietals and selected those," he says. "My hope is that a few of them will grow well in our region and we can then focus on those in coming years. Sidra Verde eventually should be made with a mix of Spanish, acid-forward apples and French bittersweet ones, which is what they frequently use in Spain." The goal, he says, is to make cider that's closer in flavor to those made in sidra's homeland, but without appropriating Spanish culture or disenfranchising its producers.
In California, Titled Shed also looks to a variety of historical cider styles for inspiration, while using fruit to connect the beverage locally. In 2013, they made their first Spanish-style cider, called Inclinado (Spanish for tilted), with local heritage apples that are fermented with natural, wild yeast and aged in neutral French oak barrels. "We're trying to shape an idea that cider is a meaningful way to connect the world," says Tilted Shed co-founder Ellen Cavalli. "We mimicked [sidra] with full respect to pay homage and raise awareness of this incredible culture that's bright and lively and convivial. We love this culture and want to make it part of the future of cider for the people we meet."
For Ryan Burk, it's about making cider within the framework of Asturian tradition, but with an American twist. Burk's foray into sidra was during his time at Virtue Cider, when in 2013 he released Sidra de Nava. Now he's refining the fourth vintage of Angry Orchard's first Spanish-style cider called Edu. Named after Eduardo Coto, Burk's friend and gateway to his understanding of the intricacies of sidra production, Edu is made with a blend of bittersweet and sharp apples, fermented in oak and chestnut casks and rested on lees for several months before being packaged. "It's certainly about paying homage to our friends in Spain and the historic cider culture there, but it's also about driving the story of cider and food at the table for drinkers here in the States," Burk says. "Part of exploring Spanish sidra and experimenting with a range of innovative techniques and quality ingredients is to allow drinkers to explore the unique varieties and flavor profiles of global cider."
To harness the same spirit of freshness he discovered during visits to Spain, Burk eventually wants to have a large stock in a barrel that can be bottled fresh all the time. "What we miss as Americans is that the beauty of the drink is the freshness of the drink," he says. "It's bottled from barrelhouse to bar. I never thought it would be something we make a ton of or would be popular, but people love it and they're excited about it."
---
Did you enjoy this article? Get more of the best of liquid culture when you sign up for a print or digital subscription to Imbibe Magazine. Click here for special savings!