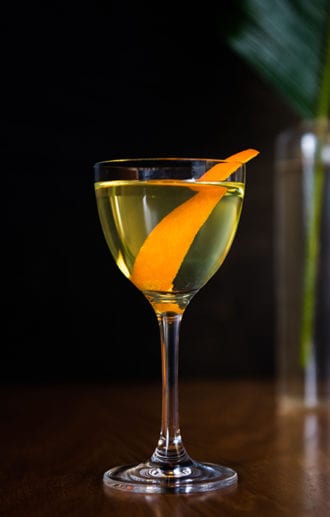 A soft spot for Chartreuse led the team at OAK at fourteenth to the Alaska cocktail recipe. In this variation on the classic, a touch of blanc vermouth softens the mix of gin and Chartreuse.
2 oz. gin (OAK uses Monkey 47)
¾ oz. yellow Chartreuse
¼ oz. blanc vermouth
1 dash orange bitters
Tools: mixing glass, strainer
Glass: Nick & Nora
Garnish: orange twist
Add all of the ingredients to an ice-filled mixing glass and stir until chilled. Strain into a chilled glass and garnish.
Scott Ruggiero, OAK at fourteenth, Boulder, Colorado
---
Did you enjoy this recipe? Sign up for our newsletter and get weekly recipes and articles in your inbox.