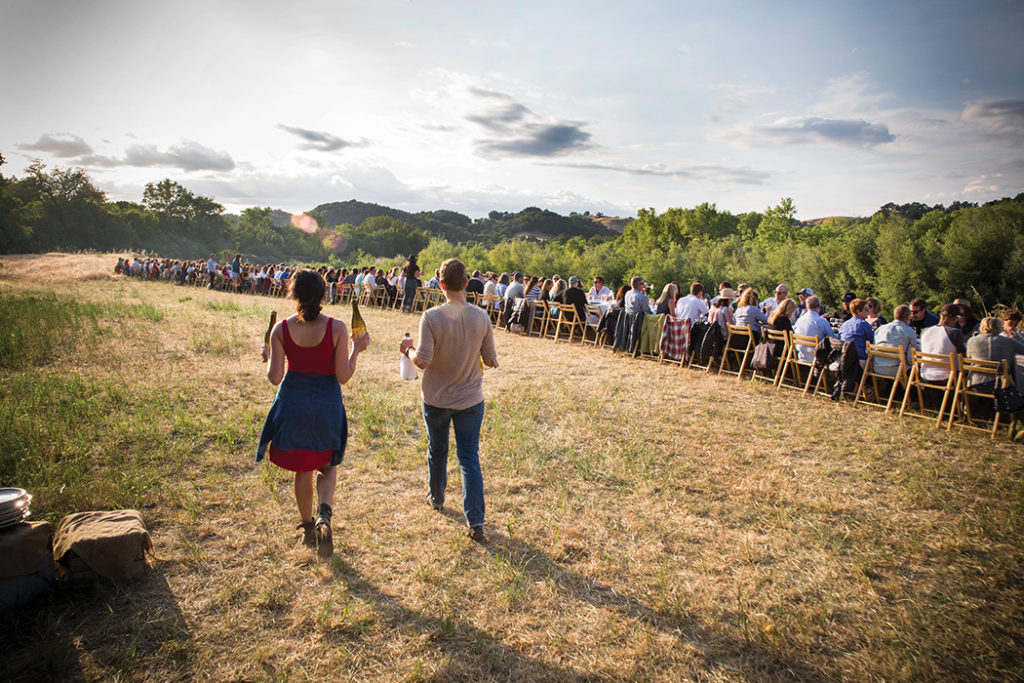 Our recipe for a perfect summer night? Great food, wine and company, all served in a beautiful outdoor setting. In our July/August 2015 issue, writer Alia Akkam explores the outdoor wining and dining trend popping up on farms and in vineyards around the country. Curious to check one out? Here are a few field-to-fork dinners happening this summer.
Big Table Farm
This bucolic Oregon winery is a fully functioning farm, complete with hogs, cattle and horses. Summer dinners take place at a long, family-style table under the canopy of trees in the shade of the century-old farmhouse and winery-barn. Rotating guests chefs prepare the meal, while Big Table's oft hard-to-come-by wines are poured freely throughout the night.
Dinners in the Field
Pairing wineries, cider houses and farms across Oregon, this ongoing dinner series features six-course meals served alongside specialty sips from the evening's drinks host. Running through summer, fall and into winter, the dinners offer an opportunity to eat and drink seasonal harvests long after summer has past.
J Vineyards
Sonoma bubbles and Pinot Noir producer hosts summer suppers amid its cool-climate Russian River vines, featuring locally sourced flavors prepared by the estates own executive chef.
Jordan Winery
From sunset suppers to starlight dinners, this Healdsburg, California, winery hosts a stunning series of summer events anchored around their in-house chef, spectacular wines and undeniably gorgeous grounds.
Outstanding in the Field
Stunning, wine- and food-fueled productions hosted at farms and wineries across the country, this culinary caravan even recently expanded into Japan. Book your tickets early, as they rightfully sell out fast.
Paumanok Vineyards
Seasonal, summer events at this Long Island estate range from its annual sell-out lamb roast—nephew Philippe Massoud of New York City's Mediterranean Ilili restaurant preps the feast—to alfresco evenings with Outstanding in the Field.
Plate & Pitchfork
This summertime series hits the trifecta of outdoor dinings—renowned chefs, world-class wineries and pastoral farms all served in a succession of events that run throug July and August. Because the food, wine and farm changes each week, no two dinners are exactly alike.