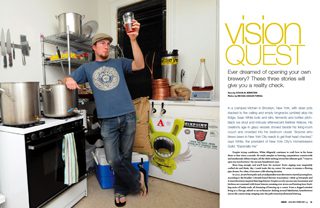 In a cramped kitchen in Brooklyn, New York, with silver pots stacked to the ceiling and empty longnecks jumbled atop his fridge, Sean White boils and stirs, ferments and bottles pitch-black rye stout and riotously effervescent Berliner Weisse. His creations age in glass vessels shoved beside his living-room couch and crowded into his bedroom closet. "Anyone who brews beers in New York City needs to get their head checked," says White, the president of New York City's Homebrewers Guild. "Especially me."
Despite trying conditions, White diligently continues to craft beer in his home three or four times a month. He mails samples to brewing competitions countrywide and assiduously refines recipes, all the while inching toward his ultimate goal. "I want to open my own brewery," the six-year homebrewer says.
Brew long enough, and you'll have the moment: You're sipping your exquisitely crafted ale and think, Hey, I could make this my career. For some, it remains a fleeting pipe dream. For other, it becomes a life-altering decision.
In 2007, 48 new brewpubs and 46 independent microbreweries started pouring beer, according to the Boulder, Colorado-based Brewers Association—while 35 brewpubs and 16 microbreweries emptied their kegs forever. Despite a rocky success rate, basements and kitchens are crammed with home brewers sweating over stoves and hoisting knee-buckling sacks of barley malt, all dreaming of brewing up a career. From a dogged scientist living in a Chicago suburb to an ex-financier dashing around Manhattan, homebrewers across the country keep stepping onto the path toward professional brewing.
THE FAMILY GUY
By day, Joe Formanek is a food-research scientist, devising ingredients and additives that enhance savory flavors or alter meat textures. By night, Formanek, 43, tinkers with brew kettles and yeasts, malted grains and hops, to create his birthright. "I have beer in my blood," he says. "I'm a full-blooded Bohemian."
Working out of the basement in his two-story home in Bolingbrook, Illinois, Formanek is one of America's most-decorated amateur beer makers. He's a seven-time Midwest Home Brewer of the Year, and he's won 23 American Homebrewers Association medals—his crisp, effervescent pilsner, strong Scotch ale and potent Russian imperial stout all won silver in 2008's AHA competition. "You can't win them all," says Formanek, whose secret is pushing styles to their extreme, without creating extreme beers. "When I brew an American ale, it will be hoppier. If I brew a Scottish ale, it will be maltier. I accentuate characteristics, while still creating a drinkable beer."
Formanek's brewing endeavors began while he was a University of Minnesota undergrad majoring in, fittingly, microbiology. He put his studies to the test by brewing with a buddy. "My batches were drinkable," Formanek says, "but not much else." He stopped brewing until he was in graduate school at the University of Illinois. There, he co-founded the Boneyard Union of Zymurgical Zealots and began fashioning hop-fueled IPAs and American pale ales. He apprenticed at breweries. Like any good scientist, he experimented wildly, devising banana porters and imperial cherry stouts and playing around with peat-smoked malt.
"Joe's always willing to push the boundaries," says Dr. John Isenhour, ex-brewmaster at Champaign, Illinois's Joe's Brewery, where Formanek apprenticed. "And because he has professional cooking experience"—Formanek once ran a Minnesota restaurant—"he understands how flavors go together. He's mastered both the science and art of brewing."
With his two daughters, Hannah and Veronica, still in elementary school, Formanek keeps his hobby on a tight leash. "I mostly brew fall through spring," he says, adding that he uses a simple setup of a couple plastic buckets, garden hose, carboy and fridge. "On a Friday night I'll sparge"—rinse fermentable materials from grains—"but I spend my weekend with my family."
Furthering the familial bond, Formanek names beers after relatives. His Hannah's Macadamia Nut Mead helped him win 2004's AHA Meadmaker of the Year; Little Cathy's Blonde Ale is named after for his wife; and the clean, malty, assertively hopped Veronica's America Pale Ale is so popular it's often served at Formanek's local brewhouse, Govnor's Pub, where his recipes are occasionally brewed. When Veronica's on tap, Dad will swing by for a pint or two. "Waitresses look at you kind of funny when you tell them the beer is named after your daughter," he says.
While Formanek is currently content to keep homebrewing a pastime, he hopes to eventually open a brewpub—"after I retire and have enough [money] saved up," says Formanek, laughing. "As far as a money-making concern, a brewery is probably not a great retirement plan."
THE MOONLIGHTER
Chris Post was the quintessential slacker. "I was not working—ahem—as hard as I could've been," says Post, 40, of clock-punching for a British investment firm. "My boss was in London. No one had a clue what I was doing—least of all myself."
But the England native, who first moved to America in 1996, had a hankering for beer, especially his home country's cask ales, as well as American microbrews. He started tinkering with brewing at his weekend home in western Massachusetts, "marveling at the sense of achievement at having crafted something through a combination of art, science and tradition." This is far more rewarding than working for a business firm, he thought. To hone his skills, he enrolled in brewing courses and, while supposedly handling investments, volunteered at Manhattan's Chelsea Brewing Company. "I'd be having pricing discussions on the phone when a keg would drop. They'd go, 'What's that noise?' " Post says, laughing as he recalls his answer: " 'Trading floor. It's crazy.' "
After Post lost his job in April 2006, he became a cellarman and assistant brewer at Brooklyn's Greenpoint Beer Works, with his eye toward opening his own operation. By year's end, he felt he had the knowledge to launch Nomad Brewing with an eBay-bought brewing system. "It was only used 17 times before the brewpub [that owned it] went out of business," Post says. The equipment remained in storage while Post searched industrial North Adams, Massachusetts, for Nomad's home, settling on a hulking mill's high-ceilinged engine room. "I saw our future there," Post says.
Unfortunately, the owners were reluctant to grant a 10-year lease, especially since the structure required multimillion-dollar roof repairs. Following "six painful months of negotiations," Post was offered a five-year lease, barely enough time to launch Nomad. He was ready to hit pause when, soon after the mill deal disappeared, he spotted a 3,400-square-foot former auto-parts store for sale in nearby Pittsfield. Nomad had a location. "I had no doubt that Chris would press on," says Al Duvall, who will be a Nomad brewer once the company launches. "He has no fear of setting off on his own with his dreams."
Now, a year later, Post bounces between Brooklyn—where he has a wife, newborn baby and a gig managing employment recruiters—and Pittsfield. He and his partners are upgrading electrical wiring, assembling "the jigsaw puzzle of brewing equipment," arranging distribution deals (both local and in New York City) and polishing recipes. Next summer Nomad should open for business, producing cask-conditioned beers such as barleywines, saisons and an American pale ale, made bitter with brewery-grown hops.
For Post, actually making beer should signal a return to normalcy. "I've barely brewed a drop this year," he says, as the time-sapping strain of opening Nomad has curtailed his brewing. "I'm looking forward to getting back to homebrewing—but on a commercial scale."
THE INDEPENDENT
Jamie Floyd cringes when recalling his first fermentation. Using mainly apple juice and brewer's yeast, he and a high school pal crafted hard cider. "It was disgusting," recalls Floyd, 36, the founder of Eugene, Oregon's Ninkasi Brewing, "but it worked."
For Floyd, the power of transformation was intoxicating. While attending the University of Oregon, he and a friend often commandeered their cooperative house's kitchen to make beer, "And we probably drank as much as we made," Floyd laughs.
After graduating, he started flipping burgers at Steelhead Brewing Company and gaining valuable beer-making knowledge, bringing in his homebrew samples and eliciting feedback from his bosses. Still, "I didn't go to college to become a cook," says Floyd, who considered opening a coffee shop. Before he could quit, his homebrewing experience bore fruit: He was offered a position in Steelhead's brewing department. "I got involved, fell in love with brewing and never looked back," says Floyd.
He began by pulling double duty as cook and brewer and eventually segued into full-time brewing, but after a decade at Steelhead, he was ready to move on. His thoughts turned to opening a staunchly local production brewery, one that could become ingrained in the city's social and cultural fabric. He thumbed through his Rolodex, met with potential partners and started planning.
Finally, in June 2006, he and partner Nikos Ridge launched Ninkasi—named after the Sumerian beer goddess—with rented equipment at a Bavarian-style brewpub. Within six months, they reached their annual 1,600-barrel production capacity, owing to heavy demand for their rich, caramel-nuanced Believer Double Red and the floral, citrusy Total Domination IPA. "He's now the local community brewer," says Brian Butenschoen, executive director of the Oregon Brewers Guild.
To handle demand, Floyd and Ridge retrofitted an old plumbing company into Ninkasi headquarters. They cranked up production, adding seasonal lagers and stouts. Then, soon after opening, Ninkasi started bottling—and, for the first time in years, Floyd starting sleeping eight hours a night. "We accomplished our five-year plan in two years," Floyd says. "It was the perfect storm of everything that could go right—hard work, skill and lots of luck. It took 10 years to create the independence, but now I'm living my dream."
CLICK ON THIS
Here are some resources to help you become a better brewer:
Informative podcasts make beer-centric radio station the Brewing Network a must-stop. thebrewingnetwork.com
Exchange recipes and tips on social network Home Brew Talk. homebrewtalk.com
Read Rate Beer's insightful reviews on most suds brewed in the world. ratebeer.com
Design your recipes ahead of time with software from Beer Smith. beersmith.com
Really Simple Beer Syndication aggregates the day's best beer news. beerinator.com/beerfeeds2
The Brewers Association includes numerous recipes and information on American Homebrewers Association events. beertown.org/homebrewing
TOOLS OF THE TRADE
Malt and Hops: Grab your preferred barley and give your brew a bitter boost with American Cascade or English Fuggle Hops. northernbrewer.com
Carboy: Condition your beer in carboys both glass and plastic. homebrewery.com
Thermometer: Keep tabs on the beer's fermentation temperature with a thermometer. homebrewheaven.com
Hydrometer: Deduce your beer's specific gravity with a hydrometer. morebeer.com
Kettle: A brewer's best friend is a sturdy, stainless steel kettle. midwestsupplies.com