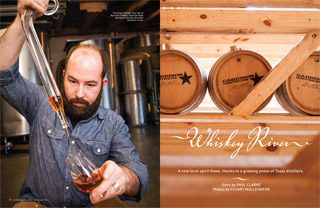 Whiskey tastes like stubbornness, and good conversation and possibilities. It tastes of grass and earth and spice, and of leather and smoke and char. And, increasingly, whiskey is starting to taste like Texas. "It seems natural in the Texas ethos to have whiskey," says Chip Tate, the president and head distiller at Balcones Distillery in Waco, which introduced the first Texas-made whiskey since Prohibition in 2009. "We're trying to make Texas whiskey, not just make whiskey in Texas. We're still trying to define what that is; we're using a lot of the traditional ingredients and flavor profiles, but we're also trying to make something new. It's based on tradition, but we're trying to reinvent whiskey from a Texas standpoint."
Texas and whiskey might seem like a perfect match, but the state's drinkers have long had to look outside its borders for supplies of the spirit. Mild-tasting Canadian whisky is the biggest-selling style in the state, but homegrown distillers are eyeing the opportunities to create an array of different styles. The whiskey taps have only just opened, and it may be several years before older expressions of the aged spirit reach full maturity. Texas whiskey may be a work in progress, but many Lone Star whiskey drinkers are already thirsty to taste the results. "Texas has a whole lot of regional pride," says Ryan Baird, a partner at Yellow Rose Distilling near Houston, which introduced its first bourbon last summer. "We knew that if we could make whiskey in Texas, and make a good-quality product, people would want it. I've lived in the Houston area all my life; Texans are a different group of folks, and a local whiskey catches on really well here."
First Run
From trail-driving cowboys to Cadillac-driving oilmen, Texas is a state of icons. But today's Texas is a complicated place, a massive state with some of the nation's most populous and diverse cities, and some of its most remote regions—and, in places such as Austin and North Texas' Silicon Prairie, software engineers and venture capitalists are picking up the proverbial reins where the state's iconic cowboys left off.
Texas is also cementing its place as one of the country's culinary capitols, with homegrown cuisine such as Hill Country barbecue and San Antonio Tex-Mex earning a place on the table alongside preparations from Texas chefs comfortable with a globalizing palate. This breadth of range and depth of culinary character is reflected in the state's whiskey distilleries, which are producing spirits ranging from rugged Texas bourbons to delicate Lone Star single malts, and are pushing the parameters of what traditional whiskeys can offer.
When Chip Tate and his partner, Stephen Germer, began making Balcones' first whiskey, following the safe route of mimicking an established style wasn't what they had in mind. Tate chose to make corn whiskey, a venerable though long-ignored style, and applied a 21st-century locavore spin by using a full-flavored, Texas-grown Hopi blue corn. "Hopi blue corn is like wine grapes—it's a pain to grow, it has low yield, but it provides a really nice base note and fullness of flavor," Tate says. "It seemed like a logical place to start to make a corn whiskey that has some character to it."
Balcones released its first batch of Baby Blue Corn Whisky in 2009; the "baby" in the name comes from the whiskey's relative youth: the spirit is blended from a selection of small barrels of assorted ages, and the overall age of Baby Blue is typically calculated in months, rather than years. For scotch and bourbon drinkers, this may seem exceptionally young, but Tate says the flavor inspiration for Baby Blue came less from the whiskeys from Scotland or Kentucky, and more from the agave spirits from nearby Mexico, which are typically aged in oak for only a few months before bottling. "Baby Blue is kind of the reposado tequila of the corn-whiskey world," he says. "We're trying to emphasize the fresh-corn character, and the rich oiliness of the spirit, like you would with tequila."
In addition to Baby Blue, Balcones produces True Blue—an expression of Baby Blue typically composed of older, deeper-flavored whiskeys—a barley-based Texas Single Malt, and Brimstone, a corn whiskey evocative of the smoky scotches from Islay, but produced using the smoke from Texas scrub oak. By using multiple sizes and styles of barrels, and by carefully traversing the boundary between tradition and innovation, Balcones is creating an opening for Texas whiskey to be considered on its own merits, outside the shadow of long-established styles.
Other distillers are defining their own approaches to Texas whiskey. In San Antonio, Rebecca Creek Distillery is making a barley-based single malt that they hope to release later this year. While the distillers wait for the spirit to reach maturity, they're blending some of the young whiskey with Kentucky bourbon and the distillery's neutral grain spirit to make Rebecca Creek Fine Texas Spirit Whiskey. Fort Worth-based Firestone & Robertson is also maturing bourbon, with an anticipated release in 2014; and Houston's Yellow Rose Distillery debuted its small barrel-aged Outlaw Bourbon last summer.
In San Antonio, Ranger Creek Brewing & Distilling introduced its first small-barrel bourbon in 2011, which co-founder Mark McDavid says provided a sneak peek of what Ranger Creek's straight bourbon—which is currently aging in larger barrels for a longer period—will eventually taste like. McDavid says the use of Texas-grown corn, and the impact of aging the spirit in the Texas climate, has the potential to create a bourbon much different from those made in Kentucky—and for McDavid, that's a good thing. "We believe that as a craft distillery, you should use local ingredients and the local climate to produce something with local flavor," he says. "If every one of the 50 states has a bourbon, and they all use local ingredients and are aged in the local climate, I'll have 50 really interesting bourbons that will all be different—and that makes me excited as a bourbon drinker."
In the Hill Country town of Hye, between Austin and San Antonio, Garrison Brothers Distillery is also tinkering with bourbon tradition, aiming to make a range of whiskeys that pay homage to the venerable spirit of Kentucky but that retain a distinctive touch of Texas. "The real magic behind bourbon is its authenticity," says Dan Garrison, noting that the rules covering bourbon's production and aging bar the use of additives or flavorings, leaving the full responsibility for the spirit's quality with the craft of the distiller, and the quality of the grain. Garrison buys corn for his whiskey from farmers in the Texas Panhandle, and the wheat in the mash comes from his own farm. "The reason bourbon is sacred in Hye is because it's handmade, from scratch," he says. "We have volunteers from all over the state who come help us bottle; they'll park their RVs and their trucks and pitch a tent on my ranch, and everyone is involved in the process."
Garrison released his first bourbon in 2010 and continues to introduce two bottlings each year. The whiskey for each release is chosen by Garrison from barrels that share similar characteristics; unlike major distilleries that require a consistent flavor in their bourbons, Garrison approaches whiskey more like a winemaker, emphasizing the distinctive properties in each batch of bourbon. "Our spring release tastes totally different from our fall release, and that's intentional," he says. "We think consistency is boring as hell."
Taste of Place
Many factors come into play when determining a whiskey's terroir. The provenance of the grain is one; water, yeast and weather are others. In particular, Texas distillers have to take into account the nuances in climate afforded by the state's more than quarter-million-square-mile area when determining how to make and age their whiskey. "The Texas maturation climate is brutal," Garrison says. His barrel barn reaches a temperature of 135 degrees in the summer, which can be both good and bad for the whiskey. Shifts in temperature force the whiskey to interact with the wood of the barrel, picking up sugars and other substances that give whiskey its amber color and much of its flavor. Intense heat, however, causes barrels to swell and occasionally burst, and a prolonged period of dry, scorching weather—what's known in Texas as "summer"—can oversaturate the whiskey with the wood's character, making the spirit acrid and astringent. "It's like making tea: You can steep it for a couple of days at room temperature, or you can boil it for one minute," Tate says. "What you don't want to do is boil it for two days."
Another climate concern is that heat exacerbates the evaporation of whiskey from the porous barrel; In the spirits industry at large, this loss is referred to as the "angel's share." "The angels are greedy in Texas, that's for sure," says Mike Cameron, co-founder and owner of Rebecca Creek Distillery. Cameron says Texas distillers face a higher loss than do distillers in other parts of the country, or in Scotland; on the other hand, the intense maturation environment means the whiskeys can pick up more character from wood in a shorter time.
Texas distillers are learning how to use these challenges to their advantage—by closely monitoring and adjusting the maturation process, and by using barrels of different sizes and styles that will not only help reduce the evaporation rate, but will moderate the interplay between oak and whiskey. "The angel's share losses are more than welcome, because it means we have a richer, heartier style of whiskey, that drinks more like a Cognac than like a Kentucky bourbon," Garrison says.
The three essential ingredients in whiskey are grain, yeast and water. Many Texas distillers rely on local growers for their corn and wheat (as cold-climate crops, barley and rye are mostly sourced from out of state), and at Rebecca Creek, Mike Cameron emphasizes the importance of the limestone-filtered water from the Edwards aquifer—which contains more water than all the surface lakes in Texas.
In Fort Worth, distillers at Firestone & Robertson have closed the local loop by sourcing a variety of Texas yeast for fermenting the mash for its bourbon. Head distiller Rob Arnold used a lab at Texas Christian University to identify a yeast strain suitable for making whiskey; the final candidate was a strain taken from a pecan tree in North Texas—pecan is the state's official tree—which is now in use at the distillery. "The yeast will affect the taste of a spirit by about 25 percent," says Leonard Firestone, the distillery's co-founder and co-owner. "It's so influential, and we love the fact that we incorporated a historical and traditional effort in developing the yeast, as Kentucky distillers did a century ago."
Uncharted Territory
The notion of "Texas whiskey" is still developing, and the spirits on the shelf are only the start of a coming flood. Dan Garrison introduced his first whiskey in 2010, but he has around two dozen experimental whiskeys in the works. Several distilleries, while waiting for their own spirits to mature, are releasing custom-sourced and blended whiskeys to prime the pump (and to create a source of revenue), such as Firestone & Robertson's TX Blended Whiskey and the blended spirit from Rebecca Creek.
As a combination brewery and distillery, Ranger Creek is taking advantage of its opportunity to experiment, with promising results released as part of its "Small Caliber" series. This winter, the distillery released Rimfire Mesquite, a smoky single malt whiskey that originated as the brewery's smoked porter; rather than use peat to smoke the grain, as in Scotland, Ranger Creek used Texas mesquite. This spring, the distillery plans to debut a whiskey called La Beste Unamiable—"the unfriendly beast"—which is distilled from the brewery's Belgian-style strong ale, La Beste Amiable. McDavid describes the whiskey as the beer's "evil twin" and says they plan to sell the products together, with similar packaging, so customers can experience both sides of the brewing/distilling equation.
McDavid says these beer-based spirits started out as "what if" experiments that seemed to offer promise. As more Texas distillers start trying their hand at making whiskey, and as maturing stocks of the spirit begin to move onto store shelves, the question of "What is Texas whiskey?" may turn out to have many answers. "Texas whiskey is, we believe, a big concept, and it's bigger than us," McDavid says. "We view our role as facilitating the conversation with consumers, so we can try different things and let them tell us what they like and what they don't. Together, we'll figure out what Texas whiskey can be, and should be."