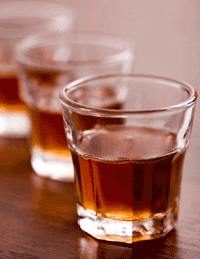 My first contact with Southern Comfort came via one of my mother's favorite cautionary tales: a parable involving her younger self, my father, a riotous football game and a very long walk home—minus one shoe—through the snow. Later, when I was a fledgling drinker, that rough impression was only confirmed. After all, wasn't it what Janis Joplin famously swigged between wails onstage? I assumed the stuff was just the déclassé cousin to real whiskey—too fruity, too sweet: a pleasant mind eraser for hapless co-eds, but not discerning drinkers.
Imagine my surprise, then, when at a recent party I learned that the hostess was pouring at cocktail containing a considerable dose of my mother's old foe. The Lazone's Martini, a recipe created Dale DeGroff as a riff on the classic Colony cocktail, was served up and cut with ice-cold vodka, brightened with a whisper of Herbsaint, and finished with a dash of Peychaud's bitters. The mellow, juicy sweetness of Southern Comfort smoothed out the edges and warmed my throat. I wondered: had snobbishness blinded me all these years? Were creative bartenders suddenly giving SoCo another shot?
Turns out, as with many Southern icons, the story of Southern Comfort gets more compelling the deeper you dig. Though the specifics of today's recipe are closely guarded, the brand's creation myth is certainly a winning one. By all accounts, Southern Comfort was invented in New Orleans in the years following the Civil War by journeyman bartender Martin Wilkes Heron, who concocted the spirit out of uncut American whiskey steeped with sugar, fresh peaches, citrus and a blend of pungent spices. He designed it to be a smoother, more palatable alternative to the rough, unrefined hooch that was the standard of the day. With a nod to a similar liqueur named "Hat and Tails," Heron originally christened his mixture "Cuffs and Buttons," and it was such an immediate sensation that in 1889 he began bottling the stuff, signing each label with a flourish and the promise: "None Genuine but Mine."
Appreciative chatter about Heron's creation spread in the manner of most things at the time: on riverboats piloted up and down the Mississippi. Heron followed the buzz, setting up shop in St. Louis, where he sold fifths of his liqueur for $2.50 and took home a gold medal at the 1902 World's Fair. "As a bartender,  I'm sure Heron originally batched and bottled Cuffs and Buttons so he could be sure of getting his ideal flavor profile every time, the same way today's craft bars do when they make their own bitters or cordials," says James Hensley, bartender at Nashville's Patterson House.
Hensley explains that because of Southern Comfort's juicy stone fruit and orange notes, it can easily substitute in recipes calling for peach brandy. Indeed, at the Holland House Bar & Refuge, also in Nashville, Terry Raley uses Southern Comfort prominently in his Saint Phillip Cocktail, an update of the Peach Melba that also includes Tennessee whiskey, blackberry cordial and lime juice.
In Charleston, the rotating roster of punches offered at the Gin Joint often includes a SoCo-spiked Fish House Punch. And when the weather turns warm in Chattanooga, Tennessee, bartender Nathan Lindley of the Public House stirs up a subtle summer sangria that begins with a base of Southern Comfort. "It's very well-received," he says. And with local peaches and white wine in the mix, even my mother might approve.