America's drinks scene has never been better, but behind every beer, wine, coffee or cocktail is an inspired imbiber pushing things to even higher levels of deliciousness. We feature a number of these tastemakers in our inaugural "Imbibe 75" January/February 2013 issue, but wanted to know more about what makes them tick, so we asked a several of them to take five minutes to answer a few questions—here's what they had to say.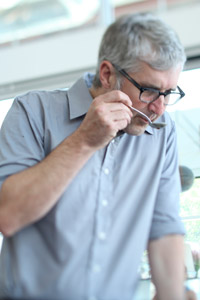 Imbibe 75: Coffee Person of the Year
James Freeman
CEO, Blue Bottle Coffee Company
James Freeman has quickly become a household name among coffee drinkers on both coasts, with five Blue Bottle Coffee locations in New York City, seven locations in the San Francisco Bay Area, and a new book, The Blue Bottle Craft of Coffee. The famously meticulous roaster first attracted the national spotlight in 2008, when he installed a $20,000 Japanese siphon bar in his Mint Plaza café in San Francisco. Already a Japanophile, having been dazzled by Tokyo as a touring classical clarinetist when he was a teen, Freeman became fascinated with Japan's commitment to siphon and pour-over coffee brewing during a trip there in 2007. Freeman has helped popularize siphon and pour-over brewing in America, and with a cadre of new investors that joined Blue Bottle late last year, he's just getting started. This year the company will begin rolling out two versions of its bottled cold-brew—one black and one made New Orleans–style, with milk, chicory and sugar. A new cookbook by Freeman's wife and Blue Bottle pastry chef Caitlin is set to be published in April, and he plans to expand Blue Bottle's Oakland roasting facility to include a restaurant. It's one of several possibilities for expansion that Freeman's exploring, and one particularly close to his heart—the Oakland resident began experimenting with roasting and opened his first coffee stand there a decade ago. "I figure we should look in our own backyard," he says.
Favorite flavor: Umm, coffee.
Theme song: Tie between "Stockholm Sweetnin'" by Quincy Jones (as performed by Tadd Dameron/Clifford Brown) and J.S. Bach's Well-Tempered Clavier Book 1: C Major Prelude (as performed by Glenn Gould).
Guilty pleasure: Barbecue potato chips washed down with Vinho Verde.
Biggest inspiration: The people I work with every day.
Biggest challenge: Studying for my Japanese lessons.
Can't live without: Coffee!
Proudest accomplishment: Getting my son to school on time in the morning.
Desert-island drink: Just a pour-over. It's perfect—anytime, anywhere.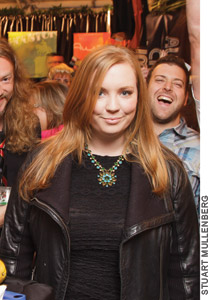 Imbibe 75: Person to Watch
Lindsey Johnson
CEO of Lush Life Productions & Co-founder of Portland Cocktail Week and Camp Runamok
This bi-coastal experiential marketer is quickly becoming the person to call if you want to get a new cocktail event off the ground. Her firm Lush Life Productions has had a hand in some of the most viral happenings in the drinks world as of late—Camp Runamok, the Kentucky summer camp for bartenders that will see its second year this September; Portland Cocktail Week, which after just three years has become a major national draw for drink pros; Tales of the Cocktail tweetups like Happy Houred; and the web video series Shaker Faces and 12-Second Cocktails. Watch for more Lush Life events at cocktail fests nationwide this year. "The national cocktail community is something I've seen grow from a few dedicated and passionate people to one of the most vibrant communities in any industry," says Johnson, who bartended early on before she turned her gaze to marketing and videography. "It might be trite, but this group feels like a family. I'm so honored to get to work with some of the brightest and most creative minds I've ever encountered."
Favorite flavor: I'm known to order my cocktails brown, bitter and stirred.
Theme song: "To Live is to Fly" by Townes Van Zandt
Guilty pleasure: A Lonestar Beer, neon green jello shot and $5 for the jukebox at Lily's in Lockhart, TX.
Biggest inspiration: I truly have the best family in the world, and they have set such an incredible example for me. My mother is basically a saint, and I've tried to channel all of her good deeds into my work wherever I can. My dad is the most creative person I know. Whenever a problem arises, I do my best to tackle it the way I think he would. And don't even get me started on my brother. His work ethic is remarkable.
Biggest challenge: Closing my laptop. Every day.
Can't live without: Coffee. The good kind. When I land in a new city, finding the good coffee shop is always my first priority.
Proudest accomplishment: Lush Life. I built this thing from scratch (with Leo Borovskiy, of course) and couldn't be prouder of how we've grown over the last six years. My work here has allowed us to not only create opportunities for my crew, but also for bartenders all over the U.S. We've helped grow small brands and revive established ones all while doing right by the bar community.
Desert-island drink: For practicality's sake, Topo Chico (Mexican sparkling water) is my first choice. But I'd be lying if I said I didn't want a bottle of Lagavulin to supplement all that water drinking. And while I'm making requests, can you send along a barista from Water Avenue coffee as well?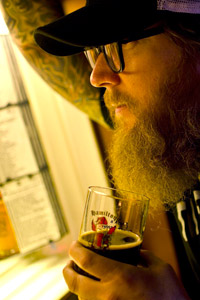 Imbibe 75: Beer Person of the Year
Scot Blair
Owner of Hamilton's Tavern, Small Bar and Monkey Pub
San Diego is a beer city to its core, and serial entrepreneur Scot Blair might be the scene's greatest champion. Blair's four beer bars have played a vital role in educating and strengthening the San Diego beer community—each celebrates local breweries with rotating tap space and an approachability designed to draw new consumers to craft beer. His first venue, Hamilton's Tavern, transformed a long-standing dive bar into a haven for serious beer drinkers. Its focus on hospitality and beer education, plus a carefully curated, rotating list of locally made beers paved the way for Blair's subsequent projects, the beer and cocktail den Small Bar, live music venue Eleven, and the brewpub Monkey Paw, which has won three medals and brewed more than 25 styles of beer since it opened in 2011. Next up for Blair? He's penning a book and developing a restaurant concept. The ever-bold entrepreneur is also eyeing the Pacific Northwest for a Monkey Paw expansion—his first project outside San Diego.
Favorite flavor: Vanilla.
Theme song: "My Morning Song" by the Black Crowes.
Guilty pleasure: Dateline NBC.
Biggest inspiration: The resiliency of the human spirit.
Biggest challenge: Keeping my beer lineup interesting.
Can't live without: Music, wife, dogs and beer!
Proudest accomplishment: Serving as a United States marine.
Desert-island drink: Old Fashioned.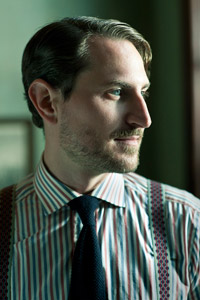 Imbibe 75: Cocktail Bar of the Year
Joaquin Simo
Bartender and co-owner at Pouring Ribbons in New York City; partner in Alchemy Consulting
Manhattan's East Village isn't exactly hurting for cocktail bars. So when the Alchemy Consulting team opened Pouring Ribbons in September, it had to be good. The foursome behind Alchemy—bartenders Joaquín Simó, Toby Maloney, Troy Sidle and Jason Cott—didn't disappoint. They debuted a handsome, homey cocktail bar in a second-floor space above a run-of-the-mill liquor store on Avenue B. The impeccable cocktail menu defines the American cocktail movement of today—high-reaching yet approachable, inventive yet familiar, and drop-dead delicious. But the clencher is the service. With Pouring Ribbons, the Alchemy team—past projects include Chicago's The Violet Hour and Nashville's Patterson House—proves it has hospitality down to a T. Even the menu is designed to be user-friendly. Drinks are plotted on a grid with four quadrants: "refreshing," "spirituous," "comforting" and "adventurous." With a winning combination of world-class service, drinks and atmosphere, we can't think of a more deserving bar of the year.
Favorite flavor: Tonkotsu broth. It's the distilled essence of my favorite animal (pig) and the key to a transcendent bowl of my favorite meal (ramen).
Theme song: "You're So Gangsta" by Chromeo. I was raised in Miami in the mid-'80s, so gloriously cheesy synth-pop is totally my jam, much to my wife's chagrin.
Guilty pleasure: Vanilla vodka & ginger ale—tastes like grown-up cream soda, and you can get it in any bar, from an airport to a dive. A boozy relic of my happily misspent youth.
Biggest inspiration: Mainly food. I try to read a lot of cookbooks and books on flavors and culinary science (I'm a huge Harold McGee fan) and am fortunate enough to call plenty of local chefs my friends. We're always talking about new and interesting flavor combinations and I love the challenge of trying to recreate the basic flavor profile of dishes that have wowed me into liquid form.
Biggest challenge: Adjusting to my new role as a manager/owner while still being a member of the working staff. I have always prided myself on being an unselfish and motivated coworker, but that's a totally different skill set than what is required from an effective manager or an owner. I have a lot to learn about keeping my staff motivated, enthusiastic, feeling appreciated, and gaining a sense of pride and ownership in the program we have put together at Pouring Ribbons. Fortunately, my wife is a rock star executive director for a non-profit, so we have fantastic dinnertime conversations about management theory and hiring practices. Who says romance is dead?
Can't live without: Yank Sing chili sauce (or their XO sauce)—it's like an umami bomb went off in anything you add to it.
http://yanksing.com/to-order/sauces.html
Proudest accomplishment: It's tough to top your peers across the country voting for you in a prestigious award, but since I never got into this business for accolades, winning American Bartender of the Year still manages to fall just short of the joy I feel each time a regular walks through the door. With so many choices in a saturated market like NYC, to have guests whom you have had the privilege of serving for years continue to come see you is something that I cannot emphasize enough as a source of personal pride. I have regulars who come in from other boroughs, counties, states, and even other countries, and their continued patronage and support (and tolerance of my good-natured teasing of them) is what keeps me behind the stick. Hospitality is my passion and that they keep coming back for more serves as a constant motivator to get better at my craft.
Desert-island drink: Daiquiri. I'm half-Cuban so there's really no question about that. On a hot, sandy beach, what could possibly be more appealing than a frosty Daiquiri?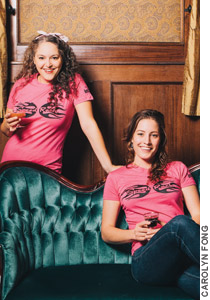 Imbibe 75: Drink Ambassadors of the Year
Lynnette Marrero & Ivy Mix
Bartenders and founders of Speed Rack
When New York City bartenders Ivy Mix and Lynnette Marrero met while working the same shift at Mayahuel in 2009, they formed a fast friendship that would go on to enrich not just their own lives, but those of women nationwide. In 2011, they co-founded Speed Rack, a multi-city bartending competition that celebrates female bartenders and raises funds for breast cancer education, prevention and research. Instead of inviting competitors to create one creative cocktail, like many cocktail competitions do, Speed Rack is designed to test bartenders in real-life situations. They're judged on their ability to make cocktails chosen randomly from a list of 50 industry standards, with accuracy and speed. It's the first competition to highlight serious, quality-minded female bartenders, and for the women who compete, it's a chance to break into the national spotlight and launch careers as brand ambassadors or bar owners. It's caught on like wildfire, with new competitions added in cities like St. Louis and Seattle this year. In its first season, the circuit raised more than $69,000 for the National Breast Cancer Foundation and the SHARE cancer-help organization.
Favorite flavor:
Lynnette: Cinnamon.
Ivy: Smoke and roses.
Theme song:
Lynnette: "She Works Hard for the Money" by Donna Summer.
Ivy: "212" by Azealia Banks.
Guilty pleasure:
Lynnette: Television shows about singing/cooking competition shows.
Ivy: Grey's Anatomy.
Biggest inspiration:
Lynnette: Culinary, cookbooks.
Ivy: My friends and what they do. But is that competitiveness or inspiration? Who's to say?
Biggest challenge:
Lynnette: Subtlety.
Ivy: No wi-fi on airplanes.
Can't live without:
Lynnette: My incredibly supportive husband.
Ivy: My sissy.
Proudest accomplishment:
Lynnette: 2009 honoree James Beard women in mixology. It totally combines my love of food and drink.
Ivy: Jumping hurdles—on ponies and in life.
Desert-island drink:
Lynnette: Rum and lime in a fresh coconut.
Ivy: A Negroni, made by Jon Santer.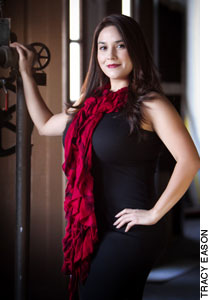 Imbibe 75: Person to Watch

Alba Huerta
Owner/operator of Julep Bar in Houston, Texas
This Texas bartender is a lot of things—president of the Houston chapter of the United States Bartenders' Guild, founder of her city's chapter of LUPEC (Ladies United for the Preservation of Endangered Cocktails) and general manager at the Lone Star State's top cocktail den, Anvil Bar & Refuge, among them—and this year she'll add "bar owner" to the list. Her long-awaited cocktail spot, Julep, is set to open in March in Houston's Sixth Ward, in partnership with owners of Anvil and its sibling The Hay Merchant. "It feels like I've been waiting a lifetime for this to happen, and I'm ready," Huerta says. "I'm fortunate to have found a historic building with beautiful features and charm. I plan to pour my heart and soul into Julep."
Favorite flavor: Fresh-baked agave.
Theme song: "I Did It My Way" by Frank Sinatra.
Guilty pleasure: I love driving the company box truck. When I get to an event with a truck full of booze, sets and bar equipment; it's the most gratifying feeling to know that I brought the party on wheels.
Biggest inspiration: My family. Not just my immediate family, but everyone that works with me. They've become my family and wholeheartedly support my every endeavor.
Biggest challenge: Finding time to sleep.
Can't live without: I have a small wooden box behind the bar that I stand on during service to add a few inches to my 5'2″ height. I use it to reach across the bar and sometimes I use as a soapbox.
Proudest accomplishment: I'm a self-taught individual. Everything I know about craft cocktails, spirits and my trade I've taught myself.
Desert-island drink: If I'm on an island there has to be some fruit to ferment and eventually distill. I won't know the drink until I get there.