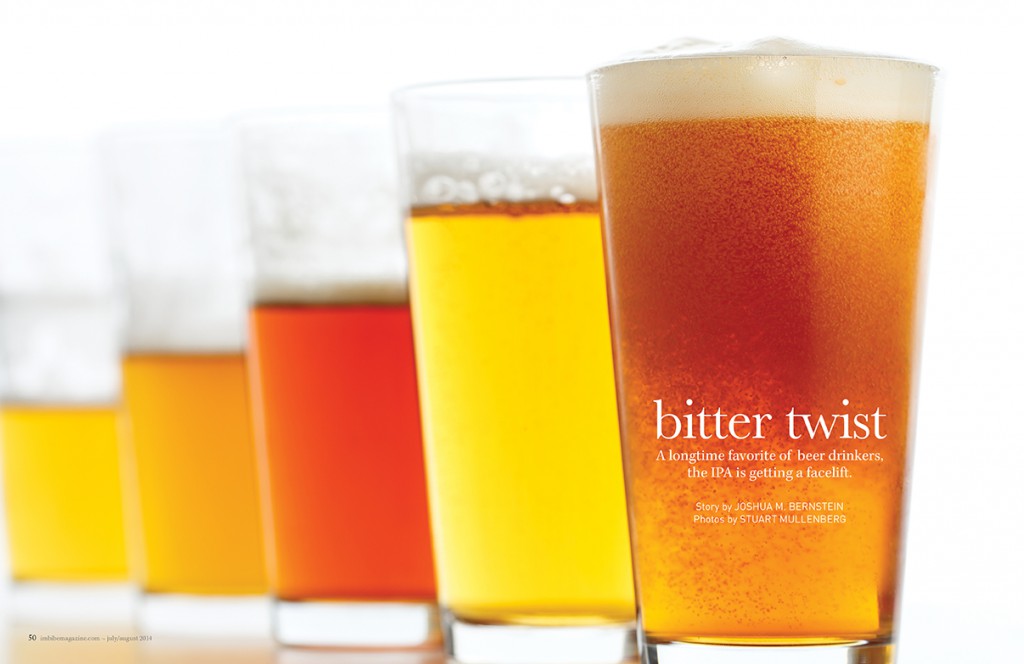 For a while, Mike Stevens and his fellow Founders Brewing employees were facing a predicament common to beer-industry professionals. "As we travel around the country doing promotional events, we have to drink," explains Stevens, the Grand Rapids, Michigan, brewery's cofounder and CEO. It sounds like an enviable complaint, but Founders built its brand on potent India Pale Ales, or IPAs, such as Centennial and Devil Dancer, not to mention the boozy KBS imperial stout. Extreme beers can make anyone, even brewery owners, extremely buzzed.
Stevens approached his brewing team with a challenge: Could they craft a great-tasting, low-alcohol hoppy beer? It was a tall order. Generally speaking, as more hops are used in a beer, more sweetness (which goes hand-in-hand with alcohol level) is required for balance. That's why double IPAs regularly climb to 8 or 9 percent ABV (alcohol by volume): the sweet platform is sturdy enough to withstand a hop avalanche. Could Stevens' brewers retain an IPA's core qualities while cutting the alcohol content in half?
Brewers spent the better part of three years fiddling with ratios, perfecting the teeter-totter balance of bitterness, flavor and booze. Founders' taproom turned into a testing ground for experiments with names like Endurance, Solid Gold and Super Gold, before the brewery hit the jackpot: the snappy and aromatic All Day IPA, registering a restrained 4.7 percent ABV. Released in 2012 as a warm-weather seasonal, All Day "turned into a monster right away," Stevens says of the beer, which went year-round in 2013. "The industry was waiting for a beer like this to be made."
If there's an archetype of American craft brewing, it's the IPA. The cult of the bitter beer grew quickly, and brewers responded by cranking IPAs to 11, devising increasingly intense and pungent brews that, in equal measures, both pleasured and punished palates. But things are starting to change. "There was a period where putting 300 calculated IBUs [international bittering units, an estimated measure of bitterness] into a beer was the thing," says Stone Brewing brewmaster Mitch Steele. "Now, brewers are exploring more nuanced ways to use hops."
As America's craft-beer scene has evolved, so has its approach to the IPA. Breweries such as Sierra Nevada, Victory and New Belgium are turning to newfangled, heavily juicy, tropical American hop cultivars such as Mosaic, El Dorado and Citra, as well as German—yes, German—varieties such as the honeydew-like Hull Melon and Bavarian Mandarina. Freshness initiatives and education are rising, helping drinkers enjoy IPAs as bright and aromatic as the day they were bottled. And brewers are packing low-alcohol beers full of hop aroma and flavor, birthing summer's hottest trend: the session IPA, as exemplified by Stone Go To, Drake's Alpha Session and Easy Jack from Firestone Walker.
Scents and Sensibility
If you've sipped an American pale ale or IPA in the last decade, the beer was likely brewed with "C hops," shorthand for the Centennial, Chinook, Columbus and Cascade varieties of hops. These U.S.-grown cultivars pack the citrusy, piney, woody and floral flavors and aromas that, coupled with a bitter charge, have defined the modern American IPA—which is now a global phenomenon, brewed everywhere from San Diego to London to Melbourne.
To stand apart, brewers need novel hops of the sort bred in the Pacific Northwest—but the demand is running into the reality that new hops strains require a minimum of 10 years before being market-ready. "I'm always joking that breeding is a pretty depressing job," says Jason Perrault, the vice president of research and development at Washington's Select Botanicals Group. "You're always looking for negatives." A new strain could be susceptible to mildew, have low yields or possess an unappealing flavor or scent. Then, you must rip out acreage and start from scratch—again.
"If we start with 40,000 seedlings and have one successful hop, then we are happy," Perrault says of the process. And lately, Perrault has been very happy. He helped devise Citra, which supplies mango, guava and lychee characteristics to such lusted-after beers as Three Floyds Zombie Dust and Kern River Citra Double IPA. In 2012, the tropical, fruity Mosaic strain reached brew kettles, making Great Lakes' Chillwave Double IPA, Deschutes' Fresh Squeezed IPA (it also contains Citra) and New Belgium's Accumulation White IPA quick hits. And this spring, the breeder uncorked Equinox, which has a floral, Caribbean complexity with notes of lime, papaya and green pepper.
The fever to create new aroma hops geared toward American-style craft brewing has spread to hop-breeding programs around the world. New Zealand and Australia have burgeoning stars such as the fruity Vic Secret, and German farmers have developed the zesty, tangerine-like Bavarian Mandarina, passionfruit-focused Hallertau Blanc and honeydew-like Hull Melon. "In the hops world, Germany is nipping at our heels," says Firestone Walker brewmaster Matt Brynildson, who uses both cultivars in the Easy Jack session IPA, along with Mosaic and a New Zealand hop medley.
Let's pause for a minute—did you notice these hops' descriptors? There was plenty of "tropical" and "fruity," but little "piney" and "pungent." This new spice cabinet makes Steve Dresler excited. "I love to explore new flavors and aromas," says Dresler, Sierra Nevada's brewmaster. "That's what put the brewery on the map 30 years ago." Back then, Sierra Nevada heavily utilized then-radical Cascade hops in Pale Ale and Celebration, "a very drinkable beer that just happens to have  almost 70 IBUs," Dresler says.
With Cascade now commonplace, Sierra is aggressively seeking new hop varieties. It helped fund the development of Citra, a key component in Torpedo Extra IPA, and Snow Wit white IPA features seven varieties of dwarf hops—a tongue-in-cheek play on Snow White and her seven dwarfs. Moreover, this year's five-bottle Harvest series features hops from New Zealand, a wild hop discovered in New Mexico, Equinox and Yakima #291, which smells like Maine blueberries.
"Traditional American IPAs have changed because of the development of so many boutique hops," Dresler says. "The breeders and growers are feeding the appetite of craft brewers."
Class Is in Session
As America's craft-beer movement enters its fourth decade, the industry and its consumers have matured. While the thrill to sip imperial IPAs remains, there's a growing desire for hop flavor and aroma in a lower-alcohol format.
The proof is in the pint. At Founders, All Day IPA has sped past Centennial IPA to become the brewery's best-selling beer, and the list of brewers rolling out session IPAs could fill up a hard drive. In Indiana, Upland offers Campside Session IPA, while Kansas City's Boulevard sells Pop-Up Session IPA. Sierra Nevada slings Nooner Session IPA, while San Diego's Ballast Point serves up Even Keel, and New Zealand's 8 Wired designed its Semiconductor to be "drunk by the gallon, if you are that thirsty." And then there's Stone Go To IPA, which might be the surest sign of the category's ascendance.
While the brewery is known for brawny hop bombs, Stone sought a subtler impact for its newest year-round beer. "Many people who work on the brewing team live 30 miles away," Steele explains—an inadvisable drive after drinking high-octane beer. "It's great to get that full hop blast without the alcohol." Go To's seeds were planted in 2010, when Steele collaborated with homebrewer Kelsey McNair on San Diego County Session Ale. Tipping the scales at 4.2 percent ABV, the ale served up IPA aroma minus the abundance of alcohol. "It was like drinking a double IPA without having to worry about what you were doing when you were done drinking," Steele says.
To create Go To IPA, Steele turned to what's called "hop-bursting." To infuse beer with bitterness, brewers typically add hops early in the process of boiling wort (the sugar-rich grain broth); hops added toward the boil's end impart flavor and aroma. By "hop-bursting," or back-loading hop additions, and dry-hopping—putting hops in beer after it has finished fermenting—you'll create intense aromatics. "The bitterness isn't harsh, lingering or rough around the edges," Steele says of the technique, which was complemented by a lengthy dry-hopping with Citra and Mosaic hops. The finished product packs a peachy, melony punch, a bit of taste bud–perking bitterness and just 4.5 percent ABV.
It's too soon to proclaim this as the 7 percent IPA's death knell. While many brewers are seeing how low they can go, others are doubling down on double and triple IPAs. At California's Knee Deep Brewing, founder and brewmaster Jeremy Warren just uncorked his third year-round triple IPA, Hoparillo, and recently bottled the Hopoholic "quad IPA." And fellow Californians Green Flash Brewing reformulated their flagship West Coast IPA and Hop Head Red to be stronger and more aromatic, with both brews goosed to 8.1 percent ABV. In April, Green Flash introduced Road Warrior, which it proclaims is an "intentionally unseasonal" rye imperial IPA that weighs in at a mighty 9 percent ABV. "We're clearly defining ourselves as a double and triple IPA house," says brewmaster Chuck Silva.
So Fresh, So Green
IPAs are undeniably on fire. They're craft beer's best-selling style, and brewers are rapidly spinning through the color wheel to create red, white, black and (why not?) blood orange IPAs, as well as funky IPAs fermented with wild yeast. Despite the tulip-craze mentality, utilizing those three letters does not guarantee success. For example, Anheuser-Busch InBev's ballyhooed Shock Top Wheat IPA flopped so hard that Widmer Brothers (partly owned by ABI) avoided mentioning the grain when releasing its excellent, wheat-driven Upheaval IPA.
Instead of branding, IPA brewers' most pressing concern might be freshness. Like most child actors, IPAs age badly. As days and weeks pass, aromas rapidly fade, a vanishing act hastened by warm storage; after four or five months, that fragrant oomph is a memory. "You never want people to drink a beer that wasn't what you intended it to be," says Stone's Steele.
To minimize such detrimental effects, Stone, like many IPA-focused breweries, ships beer on refrigerated trucks. To empower consumers and shop and bar owners, the brewery date-codes bottles, assigns a milk-like freshness limit (90 days for most IPAs) and encourages customers to report expired beer on its website. (Firestone Walker and Sixpoint also utilize submission forms.) Moreover, in late 2012 Stone debuted Enjoy By IPA, which incorporates the expiration date—just 35 days from packaging—directly on the label.
"Too many consumers don't know that a beer could go bad," says Maine Beer founder Dan Kleban, who date-codes bottles of his aromatically charged, minimally bitter pale ales and IPAs such as Peeper and Lunch. The underlying issue, he says, is lack of education. With breweries growing so quickly, "a focus on freshness too often takes a backseat to growth," says Kleban, who is launching a campaign to educate retailers, consumers and distributors on the importance of drinking hoppy beers ASAP. "It's not fair that consumers spend a premium on craft beer but don't get to enjoy the same beer as brewers." To test his influence, Kleban ran an experiment with the recent brewery-only release of Dinner, a double IPA. The label commanded: drink fresh. do not age at all. And you know what? "They read the label, listened and did what we asked," Kleban says. "You just have to let people know what to do."
Awareness is spreading. Cultish double IPAs like Russian River's Pliny the Elder and the Alchemist's Heady Topper also instruct drinkers to consume their ales ASAP, and easy-to-read bottling dates, such as those introduced in April by Sierra Nevada, are increasingly common. (Freshbeeronly.com is also a great consumer resource.) "Beer drinkers are starting to understand that IPAs should be drunk fresh," says Steele, who notes that consumers are increasingly checking date codes.
Still, education will not solve the issue of supply and demand. No matter if it's a session or imperial IPA, hops—and heaps of them—are essential. "In four or five years, I don't think everyone will get the hops they need," says Sierra Nevada's Dresler. Perrault seconds that sentiment. "We're talking 110, 120 or even 200 percent growth" for brands like Citra, he says, "and it's not like flipping a switch." Farmers plant acreage in the spring, then pray Mother Nature cooperates. But he's up to task, eager to give brewers the building blocks to create the next generation of bitter, or not-so-bitter, beers. "It's up to us to provide hops with more complexity and nuance," he says. "If we can update brewers' palettes, then we give them the tools to create something unique."