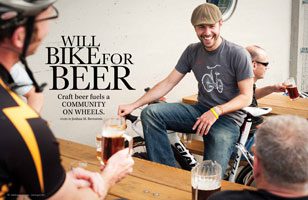 One warm spring afternoon in April 2009, friends Sara Morrisson and Tracy Montigny were picnicking in Brooklyn's lush, rolling Prospect Park. Idle chitchat turned to talk of bikes and beer, two of the women's twin interests. Morrison mused that she'd love to bicycle across America. Montigny's ears perked up. She'd completed one cross-country ride and was itching to try a second. But the homebrewing enthusiast also had a hankering to visit breweries. Biking. Beer. The idea was irresistible: pedal from New York to Seattle, camping and visiting craft breweries along the way. "I turned to her and said, 'Let's do it,'" recalls Montigny, now 28. "It was a perfect storm."
Morrisson and Montigny quit their jobs. They corralled a couple of friends, visited Beermapping.com to plan a brewery-heavy route and, on August 31, bid New York goodbye—and headed east to Long Island. "For the first week of the trip, we went the wrong direction," Montigny laughs about the riders' initial stops at New York's Blue Point Brewing and Greenport Harbor. From Long Island, they caught a ferry to Connecticut and wound westward through some of Canada and America's finest brewers. Michigan's Bell's Brewery. Colorado's Oskar Blues. California's Sierra Nevada. Portland, Oregon's Cascade Brewing.
Though the bikers sampled beers at every stop, grueling daily rides made the journey anything but a rolling bash. "We fell asleep by 8 p.m. every day," Montigny says. "We'd have half a beer and be like, 'We're ready for bed.' There were even days when we'd turn down beer." But coffee-fueled breakfasts kept the crew cruising, and in mid-November, 74 days after departing, the weary travelers reached Seattle. They celebrated with Champagne atop the Space Needle and—how else?—by visiting Pyramid Brewery. They received bike jerseys touting the brewery's Haywire Hefeweizen and plenty of wheaty brew. "Beer always tastes better if you work for it," says Montigny. "We want to promote a healthy beer lifestyle."
Over the last several years, America has entered a golden age of bicycling and craft beer. Each year, just as throngs of new bicyclists fill roads both urban and suburban, swelling numbers of brewers fill tap lines with increasingly innovative and flavorful IPAs, stouts and sour ales. These pursuits may seem separate or at odds—excessive drinking and driving is a disastrous recipe, whether it's on two wheels or four. But dig beneath the chain grease and you'll discover how pedals and pints overlap.
Fort Collins, Colorado's eco-conscious New Belgium Brewing bestows bicycles to its employees, hosts a Bike-in Cinema on its front lawn and takes its annual circus-like Tour de Fat bicycle festival countrywide. In Cooperstown, New York, Brewery Ommegang hosts bike races on its property, while Pennsylvania's Victory Brewing and California's Lost Coast Brewery sponsor bicycle teams. Portland, Oregon's Hopworks Urban Brewery orchestrates the annual Biketobeerfest and even outfitted a custom-constructed bicycle with dual kegs. Upping the ante, the city of Bend, Oregon, recently welcomed the Cycle Pub, a traveling bike-powered bar that can seat 16.
Cruising and Brewing
Whenever I suffer writer's block, I climb aboard my bicycle. Pedaling clears my cluttered head, and my brain simultaneously wanders and sharpens: a state conducive to creativity. One epic ride inspired Colorado homebrewer Jeff Lebesch to alter his life's course. Back in 1989, he rode a fat-tired mountain bike through Belgium, sampling ales crafted with quirky yeasts, spices and fruits—a lightbulb-lighting revelation. Upon flying home, Lebesch laid the groundwork for Fort Collins' New Belgium Brewing, launching in 1991 with two Belgian-inspired ales: the subtly fruity Abbey and the biscuity amber ale he dubbed Fat Tire. "The bike trip to Belgium is the underpinning of New Belgium," says media relations director Bryan Simpson, 44. "Culturally, we've kept bicycling as part of what we hold dear."
New Belgium's bicycle commitment begins with its employees, who are encouraged to cycle to work and are given cruiser-style bikes to commemorate their first anniversary with the brewery. But perhaps the brewery's most impressive achievement is the annual Tour de Fat. Touching down in 13 cities across the U.S., this circus-flavored stew incorporates a costumed bicycle parade, death-defying bike tricks (watch out for the fire!) and vaudeville acts, all washed down with plenty of Fat Tire and environmentalism: At each stop, New Belgium makes a trade with an attendee: a tricked-out commuter bike in exchange for their car, which is donated to charity. "We're turning folks onto things beyond the bottle," says Simpson.
New Belgium isn't the only brewery with a bicycling devotion. San Antonio, Texas' Blue Star Brewing runs an adjoining bicycle shop. At Portland, Oregon's Hopworks Urban Brewery—a.k.a. HUB, a bike component—visitors to the brewpub will find covered bicycle parking and a repair stand, including tools and a pump to plump tires. Blow one? Belly up to the copper bar—suspended overhead are 42 bicycle frames—and buy a tube. HUB even serves the low-alcohol Totally Radler cocktail modeled after the classic German Radler (bicyclist) cocktail. It's a blend of snappy lager and tart lemonade that slakes thirst and, for lagging riders, provides a carb-packed energy boost.
"There's a reason why I have two water-bottle holders on my bike," jokes owner and brewmaster Christian Ettinger. The dedicated cyclist's decision to focus on bikes and beer was due to a common thread: shared passion between consumer and creator. "Bikers love riding their bikes, and people love building and fixing them," says Ettinger, 38. "It's the same thing with beer: Drinkers love their beer, and people love making it."
Encapsulating that passion, HUB hosts the annual Biketobeerfest bash, with a bicycle showcase, trick BMX riders and a "Huffy toss" in which competitors launch a kid's bike through the air. Moreover, Ettinger recently opened a second HUB location, dubbed Bikebar for its position alongside a busy bicycle corridor. "We're pushing the envelope with what we can do with integrating bicycles into the pub," Ettinger says of the new location that shares a wall with the United Bicycle Institute, which trains mechanics and frame builders. At Bikebar, you'll find stationary bicycles linked to power generators, a mid-air gallery of Oregon-built bikes and dual water-bottle filling stations outside the front door. But in this town, the riders do not subsist by water alone. "The bikes in Portland are powered by hops," Ettinger says.
Work Hard, Play Hard
In the world of competitive racing and organized group rides, craft beer is almost as commonplace as a Clif Bar. This may seem counterintuitive, but you can't overlook the carrot-on-the-stick factor. "You work hard, play hard and want to be rewarded by a beer with flavor," says Jason Randles, 37, the digital marketing manager for Deschutes Brewery. "There's something to be said about celebration."
Based in biking-mad Bend, Oregon, Deschutes sponsors regional races, such as the Cascade Cycling Classic, and brews the Phil's Trail Pale Ale for the Central Oregon Trail Alliance spring fund-raiser. Most notably, Deschutes serves as a site of madcap cyclo-cross races, an off-road European sport in which bikers (some in costume) portage their bikes past a series of natural and man-made obstacles. Beer is consumed before racing, after racing and, occasionally, while racing. W
ith cyclo-cross, "it's an excuse to drink beer and get out on your bike," says Randles, who helped start the Deschutes Dirt Riders Club, which finishes its Tuesday rides with cold ones served tailgate-style.
Countrywide, breweries have incorporated cyclo-cross races and recreational rides into their DNA. In Middleton, Wisconsin, the Capital Brewery Cycling Club's rides depart from the brewery, while Pittsburgh's East End Brewing has the annual Pedal Pale Ale Keg Ride: Hundreds of cyclists pedal together as the brewery delivers its summer seasonal to a local bar. Cooperstown, New York's Brewery Ommegang runs an annual cyclo-cross race on its grounds (and sponsors a Central New York cycling team), while Team Lost Coast Brewery is composed of Northern California mountain-bike racers.
Victory's support of cycling makes sense when you meet its cofounder and brewmaster, Bill Covaleski. He's a fervent cyclist, steering his road bike across the rolling Pennsylvania hills near his home. "My business partner Ron has no concerns when I show up late for meetings," says Covaleski, 48. "He knows I've just been on the road, and I'll come back with three or four great ideas." Along with sponsoring Philadelphia's Tri-State Velo cycling team and serving beer at cyclo-cross events, Victory's Downington, Pennsylvania, brewery doubles as an unofficial headquarters for local cyclists. On Wednesday nights, mountain bikers depart from the brewery—and return to knock back beers. "Cycling burns a lot of calories, and riders are not compelled to restrain themselves," Covaleski says of the bikers, who favor snappy Prima Pils and lemony Whirlwind Witbier. "Bikers are not shy about partaking in beer."
Pedal Up to the Bar
Perhaps the surest sign of the ascendancy of bicycling and craft beer are bars and businesses that serve both constituencies. Last year, St. Louis' Tatyana Telnikova was tossing around concepts for a bar. A committed bicycle commuter, she often spins around town on her custom, double-decker bike. Over time, Telnikova, 27, noticed growing ranks of riders, so many that "you can't go outside without seeing bicyclists, no matter the weather," she says. But where could cyclists congregate after a ride?
"I was part of a niche group that wasn't being catered to," says Telnikova, who created her own bicycling clubhouse, HandleBar. It serves quality regional craft beer (Schlafly, O'Fallon, Boulevard) in a quirky, bike-first atmosphere. "The bicycle is a metaphor for community, sustainability and locality," says Telnikova of her saloon, where cycling-themed murals share wall space alongside a kinetic sculpture powered by a bike crank. There's also a repair station, volunteer-run bicycle-education classes and prizes for cycling customers, such as a free beer or a T-shirt. "I also have a box of sticky mustaches," she says.
Nationwide, HandleBar has tons of two-wheeled company, right down to the catchy name: Chicago's Handlebar serves brews and veggie grub with a side of bicycle advocacy. Located near a riverfront trail, Pittsburgh's OTB Bicycle Café (it stands for over the bar) greets riders with local brews from Full Pint and decorations hewn from old bike parts. Though not bicycle-themed, the sprawling patio at Portland, Oregon's Amnesia Brewing attracts droves of cyclists, as does San Francisco's divey Zeitgeist. But why pedal to a bar when a bike could double as one?
February marked the unveiling of Bend, Oregon's Cycle Pub, a trolley car–shaped traveling bar. Up to 12 beer lovers can plop at the glossy wooden bar and pump their legs (the company provides a non-imbibing driver), while an additional three non-pedalers sit on a plush bench and sip brewskis. "We even have a sound system and the roof comes off, if we want to go into convertible mode," founder James Watts, 43, says of the rolling revelry. Not to be outdone, HUB's Ettinger often rolls to events on his custom-built Bar Bike, which has two taps to dispense HUB's hop-forward beer. "It's like riding an 80-pound work of art that handles like a battleship," Ettinger jokes.
Still, the real battle is bringing bicycling and craft beer to the mainstream. Despite the boosterism, they both remain marginalized. Instead of proselytizing, spreading the gospel requires unusual tactics. When New Belgium's distributors come to Fort Collins for training, they're not shuttled around in a van. Instead, the distributors are given a bike and everyone rides together to lunch. "Some of these guys haven't been on a bike in 15 or 20 years, but they put a cigarette in their mouth, light up and ride off," says Simpson. "When they return, people are popping wheelies and having a good time." Afterward, Simpson says, no fewer than four or five of them have written to reveal that they bought their own bicycle. "Bike riding is universal," Simpson says. "At one time, almost everyone learned to ride a bike."