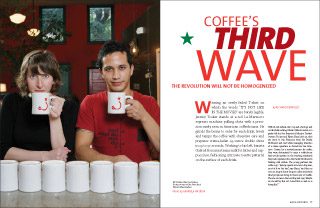 Wearing an overly faded T-shirt on which the words "IT'S NOT LIKE IN THE MOVIES" are barely legible, Jeremy Tooker stands at a red La Marzocco espresso machine pulling shots with a precision rarely seen in American coffeehouses. He grinds the beans to order for each drink, levels and tamps the coffee with obsessive care and prepares crema-laden 1.5-ounce double shots in 25 to 30 seconds. Working to his left, barista Gabriel Boscana steams milk for lattes and cappuccinos, fashioning intricate rosette patterns on the surface of each drink.
With its red radical-chic cup-and-star logo and comfortable setting, Ritual Coffee Roasters is a perfect fit for San Francisco's Mission District. Owners Tooker and Eileen Hassi (he's 27, she's 28) came to San Francisco from the Pacific Northwest and met while managing branches of a chain operation in downtown San Francisco. Driven by a mutual passion for coffee, they were determined to open a coffeehouse that would operate on the exacting standards they had experienced in the Pacific Northwest's thriving café culture. The young partners live coffee 24/7. "Jeremy spends 18 hours a day here, most of it on the bar," says Hassi, "and then as soon as he gets home he goes online and reads what people are doing in Vancouver or Seattle. Then he comes in the next day and says, 'Maybe we should try this out. I read that so-and-so is doing this.' "
Ritual's espresso is mild and sweet, with subtle citrus and berry high notes that can only be attained through the combination of fresh, skillfully roasted beans and impeccable preparation. Ritual will soon be roasting on site, but since the café opened last spring, Tooker and Hassi have used beans from Portland, Ore.'s Stumptown Coffee Roasters, known for sourcing some of the best coffees in the world. Stumptown owner Duane Sorenson and two staff members spent three days teaching the Ritual crew how to work with their Hair Bender espresso blend before opening day. And in December, Sorenson loaned them a Probat roaster, personally drove it down from Portland and began teaching Tooker to roast.
Sorenson's generosity toward Ritual has been extraordinary, yet it typifies the quiet revolution taking hold in the American coffee scene, a movement Trish Skeie of Seattle's Zoka Coffee Roaster & Tea Co. has dubbed the "third wave." The idea is that the first wave represented the spread of coffee around the planet, culminating with the convenient but poor-quality freeze-dried coffee of the post- World War II era. The second wave, exemplified by Starbucks, saw the mass marketing of higher-quality arabica coffees and espresso beverages. The third wave is a response to the homogenization of the second, and its leaders are putting every assumption about coffee to the test. As Nick Cho of Murky Coffee in Washington, D.C., says, "It's about letting the coffee speak for itself."
When you buy a bottle of wine, observes Cho, "you know the vintage year, the winery, what kind of grape it is. In coffee it's as if you walked into a wine shop and all it said was 'Australian wine.' We need to be able to walk into a store and see coffee with 'roasted-on' dating. The labels should not only give us the country of origin and degree of roast, but the actual farm or estate that it comes from."
For American coffee lovers, the third wave is producing a slow spread of cutting-edge cafés. In the Seattle area, Batdorf & Bronson, Espresso Vivace, Victrola Coffee Roasters and Zoka are among those competing for discerning coffee enthusiasts. In Portland, Stumptown has become a staple, and in the San Francisco Bay Area, Taylor Maid, Blue Bottle Coffee Co. and Ecco Caffè preceded Ritual. Kansas City's The Roasterie and Chicago's Intelligentsia Coffee brought first-rate coffee to the Midwest, while Murky Coffee, New York's Gimme! Coffee and North Carolina's Counter Culture Coffee are just a few keeping the dream alive on the East Coast.
Though owners Chris Sharp and Jen Strongin aren't eager to embrace the term, Seattle's Victrola Coffee is the very model of a third wave café. The Victrola staff cups coffees together regularly, and customers are invited to observe. Their haunting Streamline espresso blend combines six coffees, with the blueberry notes of Ethiopian Harrar predominating.
Many roasters jealously guard their blend recipes, but the third wave is all about transparency. Victrola's 33-year-old roastmaster Tony Konecny, who glides around the roastery on wheels recessed in the heels of his sneakers, says he's happy to list the six beans that go into Streamline: "We have a lot more to gain from revealing to people the care put into it than from presenting them with some branded product with mystery ingredients."
Victrola customers can also order singleorigin espressos made with unusual coffees like Rwanda Gatare or Ethiopian MAO Horse Harrar. And for brewed coffee customers, Victrola prepares exquisite coffees in a French press. B ut for all the attention to the finished product, third wavers always turn the conversation to "origin"—the farmers who grow and process the beans. Roasters like Batdorf & Bronson, Intelligentsia and Stumptown regularly travel to remote corners of the world to source beans and connect with farmers directly, often teaching them to cup coffees. "Most farmers don't even drink their own coffee," Sorenson says. "So we're encouraging farmers to taste coffee, learn flavors, so they can track down a certain flavor in a particular area of their farm."
Intelligentsia's Geoff Watts describes the Tres Santos project in Colombia's Cauca Valley, where Intelligentsia provides training and rewards farmers who produce the best coffee. All of the farmers whose beans are used in Intelligentsia's Tres Santos Colombian receive a premium. But those who produce the three best lots fetch a significant premium, and their coffees are roasted and marketed as micro-lots at $15.95 a pound. It's a simple equation, says Watts. Producing a fine coffee "is dependent on some very meticulous steps on the ground, and there's no reason a farmer would devote double or triple the time to improving quality if there's not a clear reason to do so."
In Portland, Stumptown recently opened the Annex, a whole-bean coffee shop that draws inspiration from the classic wine merchant model. This unique showcase of fine coffees invites customers to order individual cups of any of the 20 or so varieties in stock on a typical day (including some you won't find anywhere else in the country). And to maximize the experience of tasting these coffees, Stumptown has just installed the first Clover in the country. A high-tech device that will brew an impeccable cup of coffee in less than a minute, the Clover can be preset to maximize the best qualities of the many coffees offered at the Annex.
Annex manager Lucas Adams has been particularly excited about Panama Esmeralda Especial, winner of the Best of Panama competition in 2004 and 2005. "The cup characteristics are really unique," he says. "It's spicy, with bergamot, allspice and musk, but it's also really floral and fruity, with candied pineapple and orange marmalade." The price: $22 a pound.
Asked how Annex customers have responded to the opportunity to sample such exquisite coffees, Adams cites a fireman down the street who, upon his first sip of a Kenya coffee, gushed, "Oh my God! Where have you been all my life?" Now he stops by every day, "yearning for his baby," says Adams.
The gourmet world is full of consumers who have become sophisticated about—and willing to pay top dollar for—everything from fine wine and spirits to aged balsamic and dayboat scallops. But third wavers see public perception of coffee lagging behind. Indeed, if one looks at the business from a purely economic perspective, it's much easier (and more profitable) to operate on what Blue Bottle owner James Freeman ca
lls the "chair rental" model: The customer pays $3 for "something totally harsh" and buys the right to spend a couple of hours in the café. Third wavers are betting discerning Americans will want to switch to something utterly sublime.