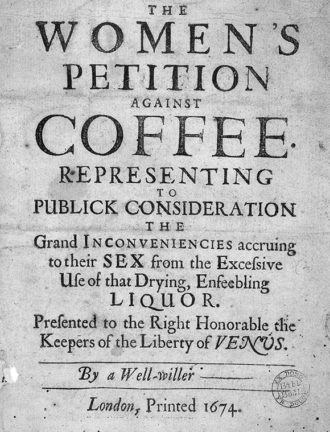 Coffee, tea and chocolate are three of the world's most beloved—and consumed—caffeinated products around the world, but just a few centuries ago, all three were surprisingly polarizing subjects. Author and historian Melanie King explains, "they were blamed for virtually every bodily and political ailment—and yet they were also trumpeted by their champions (usually their importers) as panaceas for exactly the same things."
In her new book Tea, Coffee & Chocolate: How we fell in love with caffeine, King traces the history of these products, tracking their arrival on the shores of Britain back in the 17th century and exploring the frenzy that followed, from claims that tea made men unfit to do business and women unattractive, to outright petitions against coffee from women who claimed it made their husbands incapable of certain marital duties. In the spirit of learning a lesson from history, we asked her to share the five most surprising facts she uncovered in the research of her book. Here's what she had to say:
Johanne Sebastian Bach wrote a comic opera in 1737 called "Coffee Cantata" about a father who thought his daughter drank too much coffee. It was performed in a coffee house in Leipzig.
When the French aristocrat, the Marquis de Sade, was in prison he made his wife bring him chocolate cake that was as "black inside from chocolate as the devil's ass is black from smoke."
Sir Kenelm Digby, naval officer and courtier, invented the first "ready meal," drinking his tea by pouring it over scrambled eggs with sugar. The hot tea cooked the eggs.
The Italians were ingenious using chocolate in recipes, adding it to pasta, polenta, soup and even liver dipped in chocolate. However, in France it was believed that a woman who drank too much chocolate risked having a baby born with black skin.
Coffee was believed to prevent the bubonic plague.
Tea, Coffee & Chocolate: How we fell in love with caffeine is published by the Bodleian Library and distributed by the University of Chicago Press, copyright 2015.