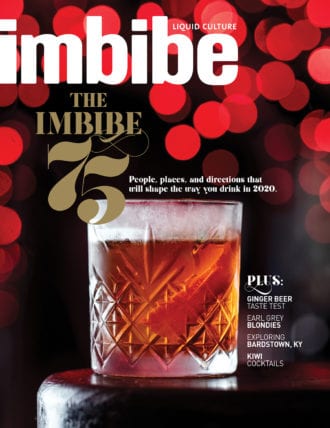 January is always the start of a new year, but January 1920 kicked off something else, as well: 13 years of national Prohibition. Almost overnight, civilized drinking was stamped out in the United States, along with generations of history and institutional knowledge among brewers, winemakers, and distillers across the country. In their place came corruption, crime, violence, and a breakdown of faith in the law. Repeal hit the reset button in 1933, but as we meet the century mark for the start of the Great Experiment, Prohibition's aftereffects are still visible in our world of drinks today.
Every January, we bring you the Imbibe 75—people, places, destinations, and directions that we think will influence how you drink in the coming year. This year, coinciding with Prohibition's 100th anniversary, the Imbibe 75 not only recognizes those who are making waves in today's drinks world, it also celebrates those who are working to make our larger culture a better, more supportive and inclusive place. There's our Beer Person of the Year, Dr. J. Nikol Jackson-Beckham, the diversity ambassador for the Brewer's Association who's working to demonstrate that everyone is welcome in the beer world. Our Wine Person of the Year, Mimi Casteel, sees the effects of habitat loss and the onset of climate change and is encouraging her fellow winemakers to change accordingly. Natasha David, our Bartender of the Year, is a visible voice for working moms behind the bar, and Bambi Semroc, our Coffee Person of the Year, is bringing players throughout the coffee industry together with the goal of making it a truly sustainable crop.
And you know where you're drinking this year, right? How about places such as Ghost Donkey in New York City, our Cocktail Bar of the Year, with its celebration of all things agave, or Ungrafted in San Francisco, our Wine Bar of the Year, with its refreshingly balanced approach to wine. The Grand Delancey, our Beer Bar of the Year, is expanding the conversation about craft beer again, and Dark Matter Coffee in Chicago, our Coffee Bar of the Year, is showing what it means for a business to truly benefit its local community.
We've also got the perspectives of contributing editor Wayne Curtis and cocktail historian David Wondrich on what the centennial of Prohibition means today, along with a look at bourbon's home base of Bardstown, Kentucky, a great place to discover more about America's native spirit.
Kickstart your Imbibe 75 adventures with these fun web extras, and be sure to pick up a copy of the print edition for the full celebration. Prohibition was a dark phase in American history, but today, the drinks landscape is a much more hopeful place. Here's to brighter days ahead in 2020.