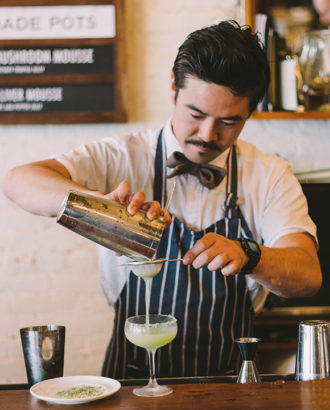 It's easy to think of Russia as a subzero landscape where stone-faced citizens sip vodka to stave off the cold, but in the massive metropolis of Moscow (one of our 2016 Imbibe 75 destinations to watch), the gastronomic hub welcomes a more diverse beverage landscape, where dark spirits and American-style cocktails are greeted with warmth and adventurous inclinations. But where to start? Few American bars have European counterparts, making the answer an easy one: the Russian outpost of Saxon + Parole, where a crew of mostly local barkeeps (trained by New York's Masa Urushido) serve stellar seasonal cocktails. From there, we asked Urushido where he frequents when he's visiting the city. In his own words, these are his favorite places to drink cocktails in Moscow.
Delicatessen
This is easily one of the best cocktail bars in Moscow. Run by a Russian legend, Slava Lankin, the bar is welcoming and charming with a crackling fireplace, a piano which sometimes gets played and eye-catching wallpaper. But everyone—including other local bartenders—come for the cocktails. Classics are the way to go here, but they can mix up anything with skill. I recommend going with a drink that plays to their two specialties: barrel-aging cocktails and drinks made with house infusions, like the Cherry Bourbon Manhattan. They have great food, including one of the best steak tartares I've ever had. Go when you can see Lizzy Evdokimova in action, she's Moscow's leading female bartender, and is so much fun to watch behind the stick.
Suzuran
Owned by my friend Misha Petrosyan, this bar has great ambiance, with brick walls, dim Edison-style lights, candles, a piano and soft music. The beverage program offers a lot of very unique offerings including a house special Whiskey Sour with sesame oil and Nori as a garnish. Sounds unusual, but it's really tasty. They also offer boozy milkshakes, incorporating ingredients like basil and Snickers bars. The food is also something to write home about and, bonus: they offer it late night. I came in one night very hungry from a long day of developing drinks and tending bar, and Misha ran into the back and made me one of the best ribeye steaks I've ever had in my life. Some of the best food in Moscow with a unique drinks program to boot! They also offer hookah, which is apparently very high end.
Mendeleev Bar
The idea of the speakeasy is still very popular in Moscow, and this has one of the best entrances. You enter through an operating Chinese noodle shop called "Lucky Noodles," a concept inspired by NYC's Chinatown. When you get inside, you'll see off to the right, there's a security guard waiting to let guests in to the basement cocktail bar. There's strict door control but once inside there's always live entertainment (jazz on weekdays; DJs on weekends) and a good selection of cocktails.
Noor Bar
Run by my friend Marat Saddarov, the bar has been recently renovated and features globe chandeliers, cloud-effect lights and a striking blue ceiling. It also is an art gallery space, so it's a favorite among Moscow-based artists. The bar is known for their knowledge in malt whiskies, but bartenders can mix up a wide range of inventive cocktails as well. They also have live music, rather than a loud DJ, which makes it a great spot to have a quieter, yet fun, evening.
Moskovsky Bar at the Four Seasons Hotel
Situated right across the street from the Red Square and the Kremlin, the location of this bar cannot be beat. The design is a modern twist on the bars from the 1930s—decadent and a bit seductive. The cocktail list is known for its quirky riffs on classics highlighting some purely Russian ingredients like kvass, birch sap, and a variety of Siberian honeys. Owners Bek Narzi and Tiago Castro are known for their off-the-charts hospitality, but they don't hog the spotlight; they also welcome a rotating list of guest bartenders from around the world to work behind the bar on a regular basis. Plenty of Champagnes and a long spirits list including some traditional Russian offerings are on tap.
Chainaya Tea & Cocktails
One of the first speakeasies in Russia, Chainaya is located in Moscow's Chinatown. The space was originally a traditional Russian teahouse, located below a Chinese restaurant and tucked into a dead end, so it's a bit tricky to find. The design is inspired by Chinese opium dens. In many dens, tea was also a classic item that was served, so Chainaya serves both tea and cocktails and sometimes the tea is incorporated into the cocktails. The cocktail menu showcases eight classic cocktails and eight signature drinks that rotate to keep the guests coming back.