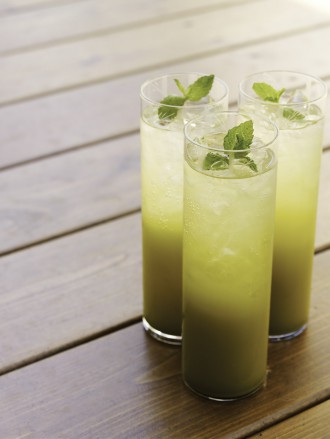 In this series, we look at a classic cocktail recipe and swap out one of the ingredients for a new and novel spin. This week: Rum doesn't have to take center stage in the minty-fresh Mojito. Try one of these base ingredients instead. 
Sherry
Sherry may be best known for its place in the classic cobbler recipe, but today's bartenders are using the fortified wine in all sorts of inventive ways. Consider this Mojito spin made with a fino sherry in place of rum. Just muddle a few mint leaves with about half an ounce of simple syrup, add a few ounces of sherry and garnish with a few mint leaves.
Branca Menta
Taking the mint component to the max, the folks at Drink.Well in Austin use Italy's Branca Menta as the foundation for their take on the Mojito. Sparkling lemon soda helps soften the bold dose of bitters, and brown sugar mint syrup binds the two together beautifully. Check out the recipe.
Chartreuse
For an extra-herbal twist on the Mojito, try subbing in green Chartreuse for the standard rum in the simple and super-freshing Garden Party recipe.
Matcha
Skip the booze altogether and add a pinch of Japanese matcha powder for an earthy, alcohol-free version of the classic cocktail. Here's the recipe.