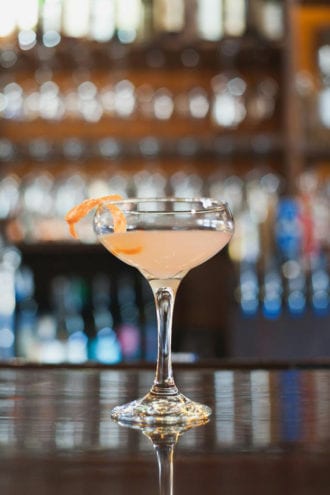 Portland-based distiller House Spirits' Aviation "American" gin has become a staple in many cocktail bars across the country thanks to its unique botanical bouquet, which shies away from a more traditional juniper-forward profile and instead favors bright elements that reflect its PNW origins like lavender, sarsaparilla and cardamom. Here, it's paired with a juicy grapefruit cordial and floral St. Germain.
1 1/2 oz. Aviation gin
3/4 oz. grapefruit cordial (recipe below)
1/2 oz. St. Germain liqueur
1/4 oz. fresh lemon juice
Tools: shaker tin, strainer
Glass: coupe
Garnish: grapefruit peel
Combine ingredients in a shaker and shake with ice.  Strain into a chilled coupe and garnish.

Grapefruit Cordial
4 grapefruits
1 cup granulated sugar
Peel the grapefruits and set the peels aside.  Try to get as little of the white pith as possible when you're peeling as it will make the cordial bitter. Juice the grapefruits. Add the sugar to the grapefruit juice.  Stir to dissolve. Add the peels to the juice. Let sit in a covered container for four days, stirring once a day. Strain and bottle.
Patrick Chizeck, The Farm Café, Portland, OR