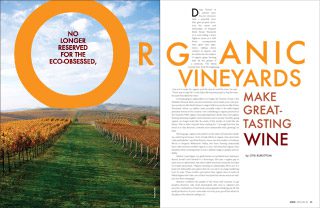 Doug Tunnel is a patient man. Barrel-chested, with a powerful voice that gets people's attention, the owner and winemaker of Oregon's Brick House Vineyards is at ease telling a story. Eighteen years as a CBS News correspondent have given him experience talking about matters of import, and he settles into the subject of organic grape farming with all the gravity of a newscast. "The whole concept here, from the beginning, was not to make the organic part the way we sold the wine," he says. "There was no big 'OG' on the label. We wanted people to buy the wine because they liked the wine."
Growing grapes organically is no longer the frontier of just a few idealistic farmers. More and more wineries—from small 3,000-case-peryear producers like Brick House to large California producers like Fetzer Vineyards, whose 3.5 million cases annually make it the sixth-largest premium winery in the country—are committing to organic practices in the vineyard. With organic wines getting better all the time, and organic farming showing tangible environmental and economic benefits, going organic no longer looks like the realm of the wacky—it looks like the future. This is what Tunnel's been waiting for. "I strongly feel that the trend is in this direction, towards more sustainable wine growing," he says.
Not long ago, organic wine wasn't on the radar of many wine drinkers, and for good reason. "A lot of early efforts at organic wine were basically undrinkable," says Russ Rainey, owner and winemaker at Evesham Wood in Oregon's Willamette Valley. He's been farming sustainably since 1986 and was certified organic in 2000. He's watched organic wine stumble before reaching what is now a definite surge in quality and visibility. Neither crazy hippie nor gritty farmer nor polished wine salesman, Rainey doesn't lend himself to a stereotype. He's just a regular guy in jeans and an oxford shirt. But when asked about his vineyards, he takes on boyish excitement. "Organic farming is a philosophy. We're not at a point yet with public perception that we can use it as a huge marketing tool," he says. "There is still a perception that organic wine is made by folksy hippies who take care of their vineyards but whose wines are subpar, but that's changing."
Rainey's confident the quality of the wines will continue to get people's attention. Like most winemakers who turn to organics, he's seen the combination of hard work and progressive thinking pay off. His small production of 3,600 cases sells out every year, proof that what's in the glass is the ultimate selling tool.
What is Organic?
For wine to be labeled organic, it must be made only from grapes grown in certified-organic vineyards and contain few sulfites. While sulfites may be added by winemakers to help guard against oxidization and heat spoilage, they are also a natural byproduct of fermentation, so all wines have them to some degree. Sulfur is allowed as an additive in vineyards farmed organically, but not as a chemical addition to organic wine. For wine to be called "organic" (under USDA standards) it must use only organically approved additives. Most wines from organic producers carry the phrase "Made with organically grown grapes," meaning the fruit is organic, but the wines might have sulfur added.
The list of domestic vineyards employing organic practices, fully certified or not, reads like a Who's Who of serious wine. Araujo Estate, Brick House, Chappellet, Elk Cove, Evesham Wood, Fetzer, Frog's Leap, Honig, King Estate, Morgan, Preston, Robert Sinskey, Turley and Staglin Family are just some of those exploring and committing to organic farming.
The number of California vineyard acres certified as organic rose by 83 percent in 2004. While that's still only 7,771 acres out of over 500,000, it's a serious increase. And it's bound to continue. "Our desire to go organic was motivated by more than just wine quality," Rainey says. "We were concerned with our workers, and ourselves, in the vineyard, and we were also trying to restore Western bluebirds to our property, which had been driven out by invasive species." Birds are natural predators for a host of common vineyard pests, and creating healthy environments for them helps protect the crops. The health of a vineyard shows in its wines, yielding more complete, complex offerings. As Rainey says, "It doesn't matter how altruistic you are if people don't like your wines."

Why Organic?
Starting in the 1950s, many wineries began growing grapes with a cycle of chemical additives. Marketed as miracle cures for all vineyard problems, the chemicals created a deadly cycle of depletion. Powerful herbicides and chemical fertilizers killed off soil microbes and bacteria, critical elements for healthy vineyards.
Grapes were ripe and plump but lacked depth of flavor and complexity, and vineyards were prone to erosion. Rain carried pesticides and fertilizers, along with topsoil, into creeks and rivers, poisoning fish and wildlife as well as local water supplies. As the cycle continued, plants became less resistant to disease and produced lower-quality fruit. Enter the organic approach. For every vineyard challenge, organic farming can offer less harmful, non-synthetic solutions. Planting naturally occurring cover crops—like clover, oats and wildflowers— adds nutrients to the soil and reduces erosion. Beehives and birds nests encourage natural pest predators in place of toxic sprays. Tractors with wider tires reduce soil compaction, and those that run on biodiesel contribute minimal air pollution.
It was a desire for better, more distinctive wine and a healthier environment for his family and workers that compelled Rob Sinskey to look at organic options. With his goatee, hipster eyeglasses and a business card that reads "Daydream Believer," Sinskey looks the part of artsy bohemian, and he is, having studied with legendary music and fashion photographer Art Kane. But Sinskey's commitment to farming organically is no idle pastime. A standout producer in the Napa Valley, Robert Sinskey Vineyards has been organic since 1991. Kirk Grace, vineyard manager, says Sinskey and winemaker Jeff Virnig came to organics as a solution to disturbing wine quality issues on a prime vineyard destroyed by years of conventional farming.
"The more research we did on the vineyards, the more we realized that the soil structure had been negatively impacted over time, microbial life and organisms were gone—earthworms in particular, which are kind of the canary in the coalmine," Grace says. They stopped adding chemicals to the vineyards and started planting cover crops and adding compost to rejuvenate depleted soils. "Success just followed success," Grace says, "We started seeing better acid levels in the grapes and better flavor, as well as less erratic crop loads and more consistent fermentations. Organics offered us a farming-based solution to problems we were encountering in the winery."
Can You Taste the Difference?
A grape is a product of the soil, rainfall and temperature of its immediate area, as well as specific vineyard conditions—what the French call terroir. The less manipulated through chemicals these things are, the more they can be expressed in the wine. Across the board, organic vineyards are yielding naturally balanced wines with more intense flavor and complexity. Syrah might be deeper and richer, cabernet sauvignon better balanced, merlot more complex, sauvignon blanc subtler without losing its trademark acidity and chardonnay more distinctive and layered. What you taste in the glass is, as Tunnel says, "wine that is truly expressive of the varietal, the vintage and the place it was grown."
As the wine market becomes increasingly global, more producers are viewing wine simply as product. Organic producers are turning in the other direction, making wine that is born
out of a commitment to both the environment and wine lovers. The result is great wine. "It's not just a way of selling wine. It's not a sound bite," Tunnel says. "It has to do with the way we live on our land, which is about as intimate as it gets."

Biodynamic: A Step Beyond
The trend toward a more intimate connection to the land does not stop at organic. Biodynamic farming is based on a mixture of agrarian traditions, lunar cycles and organic regimens introduced in 1924 by Waldorf School founder and philosopher/agronomist Rudolf Steiner.
While some elements of biodynamic farming are simple and fall under the definitions of organic, like the elimination of manmade chemicals in the vineyard, key tenets are inherently spiritual. The idea that there is a natural flow of energy in the vineyard that must be maintained and nurtured is central to biodynamic farming, as is the lunar calendar used to determine when certain tasks, from canopy management to bottling wine, should be undertaken, and the presence of animals and other crops, like fruit trees, is critical.
The U.S. government does not have regulations for use of the term biodynamic, but it's generally accepted that wines may only carry that label if they are made with grapes grown in vineyards that have been certified by the biodynamic organization Demeter International, or its regional affiliates. Along with Kirk Grace, Doug Tunnel and Russ Rainey, winemakers around the world have seen the value of incorporating some elements of biodynamic farming in their vineyards. Standouts like Nicolas Joly in the Loire Valley, Olivier Humbrecht in Alsace, Domaine Leflaive in Burgundy, Alvaro Palacios in Spain, and Bonterra and Araujo Estate in California have embraced the tenets of biodynamics. No longer just the realm of the idealist or activist, biodynamic wine is becoming a contender where it counts: in the glass.
Story by Otis Rubottom.