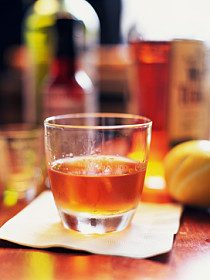 Celebrating Mardi Gras? Here are five cocktails that'll give you taste of the Big Easy, even if you can't be there for the festivities.
Brandy Milk Punch
Popular throughout New Orleans where many bars offer their own variation on the recipe, this 19th century classic is traditionally sipped after a rich meal … and again in the morning alongside breakfast.
The Hurricane
The South gets a taste of tiki with this Zombie-inspired combination of light and dark rum, Galliano and loads of fresh fruit juice. Popularized in the 1930s by New Orleans barkeep Pat O'Brien, this heady concoction is named for the hurricane lamp-like glass it's served in, and has since become a staple of Mardi Gras celebrations.

Ramos Gin Fizz
Also called the New Orleans Fizz, this ethereal mix of gin, citrus juice, egg white and heavy cream was invented in 1888 by New Orleans bar owner Henry C. Ramos.
Sazerac
The official drink of New Orleans (literally—legislation passed in June 2008 naming it so), the Sazerac can trace its origins back to early 19th-century druggist and freemason, Antoine Peychaud, who would host freemason meetings at his pharmacy and serve a mix of Sazerac de Forge Cognac, absinthe and his proprietary bitters.
Vieux Carré
Invented by Walter Bergeron during the 1930s at what would later become the Carousel Bar in the Monteleone Hotel, this spirits-driven mix of rye, Cognac, vermouth, bitters and Bénédictine is named for New Orleans' old French Quarter.