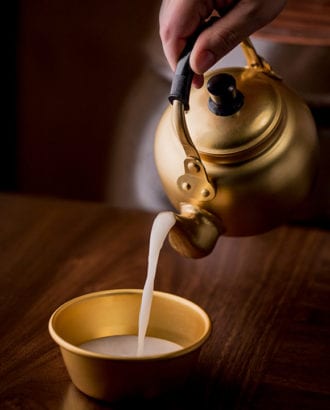 Girin Steak House & Ssam Bar in Seattle's Pioneer Square is one of the only places in the U.S. where you'll find fresh-brewed batches of makgeolli on the menu. Milky, opaque and lively with crisp carbonation, makgeolli is made from sweet rice, fermented into an unfiltered, low-ABV beverage reminiscent of saké. "Recipes date back in written records almost 2,000 years, and makgeolli was the most widely consumed alcoholic beverage in Korea up until the 1970s, when soju took over," says Girin co-owner Cody Burns. "It has always been something the farmers, grandparents or parents used to drink, but now you can find small bars and restaurants that are making their own, so it's becoming popular in Korea again at the same time that we're starting to see a hint of it in the Western markets."
When Burns and partner Steven Han decided to open the Seattle steakhouse, they wanted to stick to traditional Korean offerings, which inspired a few research trips to the country. "When I had real makeolli for the first time it blew my mind. It was so perfectly symbiotic with the cuisine," Burns says. Makgeolli can be hard to find in the U.S., because most imported brands are pasteurized for shelf stability, which diminishes the flavors that can be found in fresh-brewed versions. So Burns had no choice but to learn how to make the drink himself. "On a whim I decided that we should make it for the restaurant. Being bold or foolish or both, I didn't let [a lack of experience] stop me."
After eight months of learning to brew, and a subsequent year and a half getting properly certified, Burns debuted the first batch of his homebrew to customers. Makgeolli can be made from dozens of different recipes, but Burns follows one called dangyangju and brews a "cask-strength" version called samjoko (11.5-13.5% ABV), and a diluted version called Lunar Brew (6.5-8.5% ABV).
At the bar, beverage director Benjamin Chew mixes with makgeolli as a cocktail ingredient, swapping in the milky-textured liquid as a substitute for egg whites in a classic whiskey sour, or to add intrigue to a coconut cream-based rum punch, but the drink is more widely consumed alone as an accompaniment to the cuisine. "Traditional consumption of makgeolli is rapid and hearty, akin to enjoying pitchers of beer, and it goes down like beer," Burns says. "It has a natural high acidity and a lactose content that has a really nice palate-cleansing effect, especially with rich, sauce-heavy foods that are common in Korean cuisine."
Are American drinkers ready for more makgeolli? Burns thinks so. "I thought I enjoyed it because I already have a good palate for saké, so I expected the public to have a learning curve, but that hasn't been the case. Ninety percent of people who try it immediately talk about how good it is," he says.
---
Like what you see? Get more of the best of liquid culture when you sign up for our bi-monthly magazine. Subscribe now and save up to 59%—it's just $21.95 for one year or $32.95 for two years. Click here for details.