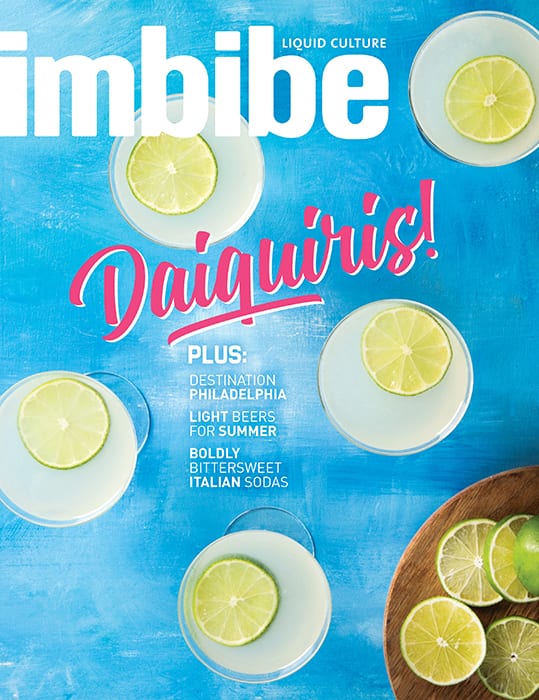 Recipes

Drinks

Mezcali Me Banana, Grapefruit Collins, Brother Drapers, Perennials & Poison, Blue Hawaii, Sno-Cone, Suomi 100, "Blue Lagoon", Strawberry Daiquiri ( JL Remix), Cardamom, Daiquiri de Plata, Daiquiri Menta, Roho, Carrot Daiquiri, Three Dots *daq, Mulata

Food

Beer Mustard, Cherries in Wine with Cardamom Cream and Rose Pistachio Shortbread
Features

Rum's the Word

In the height of summer, nothing beats the cooling comfort of a Daiquiri. Read More »

Seeing the Light

Craft breweries embrace low-calorie and alcohol-free beers.

No Sugar, Please

Bubbly goes dry with Brut Nature Champagne.

Ciao, Bella

America finally embraces boldly bittersweet Italian sodas.

City of Brotherly Suds

Philadelphia is America's original beer capital.
Departments

Uncorked

Jamaican rum, cold-pressed juices, prickly pear cocktails, the Tom Collins three ways, the anatomy of the Blue Hawaii, textile makers Dot and Army, and siblings André and Tenaya Darlington on the parallels between cocktails and albums.

Mixopedia

What's with the cocktail parasol, anyway?

Taste Test

Cooling canned wines made for warm-weather lifestyles.

Gear

Flasks that offer tasteful sipping to-go.

Elements

Once declassé and then ironic, blue curaçao is finally respectable.

Characters

Misty Kalkofen and Kirsten Amann push back against the patriarchy.

Mix it Up

A summer pantry staple, beer mustard is a snap to make at home.

Scene Scout

Chef Kris Komori on where to drink in Boise, Idaho.

Cravings

Wine-simmered cherries tie together a sweet summertime spread.

Quench

Some of summer's best drinking is done in the dark.
Bonus Articles

Choosing the Right Rum for a Daiquiri

Experts weigh in on the most important element of the cocktail. Read More »

A Summer Playlist from André and Tenaya Darlington

Bring good vibes to your next cocktail party. Read More »

Misty Kalkofen and Kirsten Amann on Women Who Inspire

The authors of new Drinking Like Ladies shine a spotlight on women in the bar industry and beyond. Read More »

Craft Beer Pays Homage To Mexican Lagers

Imitation is the highest form of flattery. Read More »