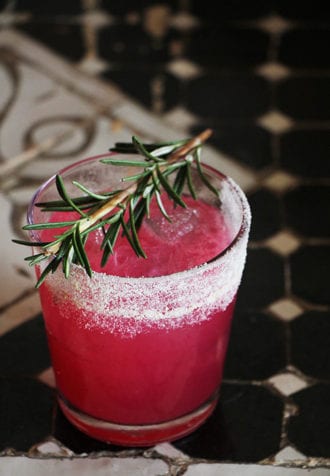 The prickly pear is a natural match for the earthy flavors of agave spirits, and at Melrose Umbrella Co., Dave Purcell combines the fruit with mezcal, banana liqueur and fresh citrus to create this Mezcali Me Banana cocktail. "The part that really hooks people is the banana, prickly pear and grapefruit combo," he says. "These flavors complement and pull forward the earthy tones of an agave spirit and accent creamy textured notes without being exceedingly fruit-forward."
1½ oz. mezcal
1 oz. fresh grapefruit juice
½ oz. fresh lime juice
½ oz. prickly pear purée
¼ oz. light agave nectar
¼ oz. banana liqueur (Melrose uses Giffard Banane du Bresil)
Tools: shaker, strainer
Glass: rocks
Garnish: serrano-habanero salt rim, charred rosemary sprig
Prepare a rocks glass by rubbing the rim with the cut edge of a fresh lime, then dip the rim into a dish filled with serrano-habanero salt, shaking to discard excess; fill the glass with ice. Add all the ingredients to an ice-filled shaker and shake to chill. Strain into the prepared glass, then garnish.
Prickly Pear Purée: If you're buying prickly pear fruit from the store, the small spines may already be removed. If not, or if picking fruit yourself, handle them with gloves and either burn the spines off over a gas burner using tongs, or blanch the fruit in boiling water to dissolve them. Slice the fruit and scoop out the flesh, blending until the fruit is puréed. Press the purée through a sieve to remove the seeds. Store in the refrigerator for up to 1 week, or freeze the remainder. Depending on size, 2 to 4 fruit should yield about 3 ounces of purée. Optionally, you can use a packaged prickly pear purée, such as Perfect Purée's.
Serrano-Habanero Salt: Dice 1 serrano pepper and 1 habanero pepper, removing the seeds. Combine the peppers with 100 grams of salt (about of a cup) and pulse in a food processor, then spread the paste on a baking sheet and dry in a 135-degree oven for 1½ hours. Once dry, re-pulse in the food processor or a spice grinder to granulate the salt.
Dave Purcell, Melrose Umbrella Co., Los Angeles 
---
Did you enjoy this recipe? Sign up for our newsletter and get our favorite drink recipes of the moment in your inbox every month.