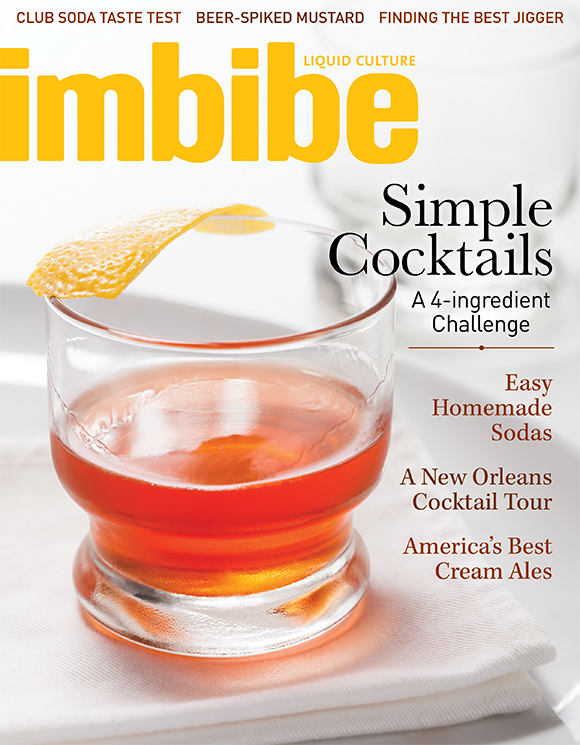 RECIPES

Cocktails

The Red Velvet, Apricot Fizz, Blue Moon Cocktail, Détente, Spring Pimm's Cup, A Walk in the Weeds, Patricia Anne, Django Reinhardt, High Noon, The Graduate, Gin Smasher, Dead Man's Wallet, The Gent and the Jackass, The Rust Belt

Alcohol-Free

Coffee & Tonic, Cereal-Milk Cold-Brew Coffee, Vietnamese Coffee, Pomegranate Ginger Ale, Cocoa Nib Cream Soda, Cardamom Cola, Earl Grey Orange Pop, Red Hot Sparkler, Almond Milk

Food

Spicy Whole-Grain Pub Mustard
FEATURES

Simple Cocktails

A Four-Ingredient Challenge. Read More »

Cream of the Crop

Crisp, clean and lightly fruity, America's homegrown cream ales are on the rise. Read More »

Pop Science

Homemade sodas are fast, fresh and bursting with flavor.

Playing the Odds

In Central California, antique and international varietals are giving King Cabernet some competition.

A City Built on Yesterday

The past and the future find common ground in New Orleans cocktails Read More »
DEPARTMENTS

Uncorked

An alluringly bitter Italian soda, iced coffee three ways, and New Orleans chef Donald Link of Cochon on his Cajun roots, the staples that stock his home bar and which guilty pleasures top his road-trip checklist.

Old Fashioned

David Wondrich explores the extravagant origins of the Blue Moon Cocktail. Read More »

Taste Test

Which club sodas shine brightest?

Gear

We find out which jiggers offer mixing precision.

Elements

Celery lends an earthy zest to springtime cocktails. Read More »

Characters

For Father Bill Dailey, hospitality is the key to success in both priesthood and bartending.

Mix It Up

A simple DIY almond milk might be your coffee's new main squeeze.

Scene Scout

Where to drink in Cleveland's Ohio City district.

Cravings

From pretzels to hot dogs, this beer-spiked condiment cuts the mustard.

Quench

Connecting to family roots through winemaking.