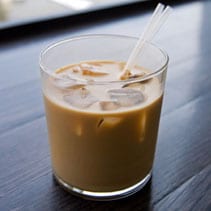 Spice up a regular cup of joe with this cinnamon-flecked cooler.
8 oz. coffee
2 oz. milk
1 oz. cinnamon syrup (recipe below)
Pour hot- or cold-brewed coffee into an ice-filled tall glass. Add syrup and milk, stir and serve.
Cinnamon syrup: In a small saucepan, bring 1 cup granulated sugar and 1 cup water to a simmer over medium heat, and stir until sugar dissolves. Add 4 cinnamon sticks to the pan, and continue to simmer for 1-2 minutes.Remove from heat and let infuse overnight, then strain into a clean glass jar. Store refrigerated for up to 2 weeks.