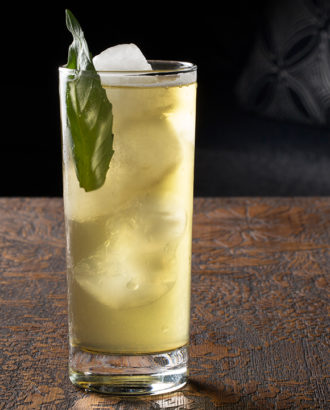 Citric acid, the same acid found in lemon juice, is one of those ubiquitous ingredients on food and drink labels, and lately, it's also been popping up in cocktails as bartenders use it to mimic the flavor of citrus. At Otaku Ramen in Nashville, bartender and partner Ben Clemons says citric acid is especially useful in batched cocktails. "Punches and large-format cocktails are only good for a few hours because fresh juice, just like anything else 'living,' begins to go bad the moment it's juiced," he says. "Citric acid allows you to balance sour with sweet without using organic, shelf-unstable ingredients."
In fresh juices, however, citric acid (as well as malic acid) can be used to adjust the acidity level while preserving the flavor. Picture pineapple juice but with the tangy zip of lemon, or fresh orange juice that can balance a cocktail with the acidity levels of lime juice. "The addition of citric or malic acids aids in ensuring consistent flavor and pH," says Gaby Mlynarczyk, Los Angeles-based bartender and menu consultant at spots like Accomplice and Vacation. "It does maintain flavor [of the juice], but it needs to be used sooner rather than later, as it tends to lose its zip."
In addition to lengthening the life of large-format cocktails, bartenders have found a variety of other uses for citric acid. Darwin Pornel, lead bartender at Faith & Flower in Los Angeles, makes a syrup with the ingredient, combining a teaspoon of the powder with sugar, water, chili flakes, anise, lemon zest and salt. When mixed with club soda or into a cocktail like the Rye With Me (below), the syrup adds the same brightness of real juice. Meanwhile, Gia St. George at Estrella uses citric acid to add an edge to the bar's house tonic syrup, and Chicago's Presidio uses it in their tropical Jungle Bird riff, the Stirred Byrd (below).
In powder form, you can easily buy citric acid online or in grocery stores, and once you do, try mixing it into these cocktails.
Stirred Byrd
¾ oz. cruzan blackstrap rum
¾ oz. Plantation Stiggins Fancy Pineapple Rum
½ oz. Campari
½ oz. simple syrup
2 dashes citric acid solution (3:1)
Tools: mixing glass, barspoon
Glass: rocks
Garnish: grate lime zest
Combine ingredients in a mixing glass with ice and stir to chill. Strain into a rocks glass over a large ice cube. Garnish.
The Dogma Group for Presidio, Chicago
Rye With Me
1½ oz. rye whiskey
¾ oz. chili-anise syrup
2 dashes orange bitters
2-4 oz club soda
Tools: shaker, strainer
Glass: Collins
Garnish: lemon wheel
In a shaker, add all ingredients except the club soda. Shake and strain over fresh ice in a highball or Collins glass. Top with soda and garnish with a wheel of lemon.
Chili Anise Syrup
8 star anise pods
1 tsp. red chili flake
2 cups white sugar
2 cups water
1 tsp. citric acid
1 tsp. salt
2 lemons
In a medium pot, toast the chili flakse and star anise over medium-high heat. Add the water to the pot and simmer for 5 minutes over medium-high heat. Once the spices and water have fully blended, turn off the heat, add the sugar and salt. Whisk until the sugar and salt are dissolved. Using a microplane, add the zest of 2 lemons to the syrup. Add the contents to a blender and blend on high. Strain the syrup through a fine chinois and paper filter. Add the citric acid. Whisk until the citric acid is dissolved.
Darwin Pornel, Faith & Flower, Los Angeles
Laurel Canyon (pictured) 
1½ oz. gin
¾ oz. tonic syrup
3 oz. soda water
Tools: barspoon
Glass: highball
Combine the gin and tonic syrup in a highball and stir to combine. Add ice and top with soda water.
Estrella Tonic Syrup
3½ cups of water
3½ cups of sugar
¼ cup chopped cinchona bark
¼ cup citric acid
3 limes (peels only)
3 lemons (peels only)
2 oranges (peels only)
1 stalk lemongrass (chopped)
4 whole allspice berries
3 cardamom pods
1 tablespoon dried lavender
Put all ingredients in a saucepan and bring to a simmer. Allow the liquid to simmer until it thickens to a syrup consistency. Remove from the heat and let cool before straining the syrup into a container. Keep refrigerated for up to 2 weeks.
Gia St. George, Estrella, Los Angeles