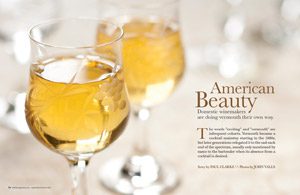 The words "exciting" and "vermouth" are infrequent cohorts. Vermouth became a cocktail mainstay starting in the 1880s, but later generations relegated it to the sad-sack end of the spectrum, usually only mentioned by name to the bartender when its absence from a cocktail is desired.
But the cocktail boom has sparked renewed interest in vermouth, and in recent years, the fortified and aromatized wine has regained its swagger. Today, while most vermouth is still made in Italy and France, a handful of American winemakers and bartenders are taking a DIY approach. These upstart New World vermouths still account for less than a drop in the global bucket, but they represent the first stirrings of an evolutionary shift in the long-dormant vermouth category, with the potential to grow in exciting new directions.
Exciting? Vermouth? With these kinds of changes afoot, the answer is, absolutely. "I think vermouth is going through a crisis of identity," says Martin Doudoroff, publisher of the website Vermouth101.com. Doudoroff says that while these nouveau vermouths may be unorthodox, they have two distinct benefits: they taste good, and they're interesting—though it's uncertain if or how the larger realm of vermouth, dominated for centuries by classic European styles, will make room for these New World newcomers. "Vermouth started out as something fairly limited and specific, and while it diversified early on, it settled down for a long time," he says. "Now, it's on the move again, and it begins to challenge what the word 'vermouth' even means."
Ten years ago, vermouth didn't exactly seem ripe for reinvention. Typically made from a neutral wine, fortified with unaged brandy, and aromatized with a blend of botanicals to create a complex character, vermouth has a heritage that dates to the Middle Ages. The two predominant styles of vermouth—the red, Italian rosso and the dry, white vermouth from France—were created and commercialized more than two centuries ago. While there have been a few changes and spinoffs along the way, this narrow category of aperitifs seemed about as suitable for 21st-century innovation as the Tesla coil and the high-wheel velocipede.
Today, American vermouth producers are tinkering with vermouth's identity, tweaking its basic elements and giving it a fresh perspective. In so doing, they're not only helping to blow the dust off a long-stagnant, newly revitalized world of aperitif wines, but they're adding a distinctly American spin to a longstanding European category. "It seems like all of a sudden, Americans are becoming curious about aperitifs, experimenting with them as a before-dinner drink, and vermouth is a part of that," says Andrew Quady, a California winemaker who in 1999 helped get the artisanal vermouth ball rolling when he introduced Vya Extra Dry and Sweet vermouths. "Even five years ago, vermouth was considered something you didn't want in your drink. Then, the craft-cocktail thing took off, and we had people looking for interesting new ingredients; now, it's morphing into an interest in vermouth on its own, and that's just incredible."
By fiddling with classic formulas, American vermouth producers have caused consternation in parts of the drinks world, where some question if these new aperitifs truly qualify as vermouth. Doudoroff says that while the purists have a point, it's somewhat obscured by vermouth's own mysterious nature, and that these innovators may have room for exploration. "These guys are making a product that historically has been secret about its formulations," he says. "You don't really know what you're buying anymore when you buy vermouth, and perhaps that's a redeeming characteristic. It's become a real loosey-goosey thing, and as it goes on, the more differentiated these new vermouths are going to become."
Western Swing
The first commercial vermouths emerged in Italy in the late 18th century; the French soon followed suit, and in these countries, as well as in Spain, a vibrant aperitif culture remains, with glasses of vermouth easing the passage between the rigors of the work day and the calm of the evening meal. Enjoyed in this fashion, vermouth is an inherently social drink—so it's appropriate that the conception of today's innovative vermouths began at social occasions.
Vya began with a conversation between Quady and a restaurateur friend, who noted a toxic attitude toward vermouth among many of his customers, which contrasted with Quady's experiences in Italy. Quady had studied winemaking at the University of California under pioneering wine researcher Maynard Amerine; Quady says Amerine had been teaching since the 1940s, and recalled a time when vermouth was an important part of the California wine industry. "A lot of wineries in the Central Valley made vermouth, and Amerine gave a lecture devoted to vermouth," Quady says. "I took notes on how it was done, and I hadn't looked at them since 1973; but after my conversation with my restaurant friend, I started thinking it was something I should be doing."
Rather than follow traditional recipes to the letter, Quady chose to create his own style that would still hew to a conventional format, but would have a more pronounced character that drinkers could appreciate on its own. "I wanted our vermouth to be treated more like a wine, in the respect it would get from drinkers," Quady says. "You'd pour a glass of it, look at it, smell it, taste it, and think about it the way you think about other wines. That was the vision I had—of a new era of vermouth." Vya's dry vermouth and a sweeter, rosso-style offering, made with a rich Muscat wine and a mix of warming spices were both released in 1999.
By following an established format but free-styling with the choice of ingredients, Quady introduced Vya as a sort of hybrid between Old World characteristics and New World expressiveness. Other vermouth producers have continued to tweak the formula, pushing their vermouths into relatively untrodden terrain.
For Neil Kopplin, Imbue Bittersweet Vermouth was a sort of belated birthday present. In 2010, Kopplin was celebrating his birthday with winemaker friends in Oregon's Willamette Valley. "The question came up over dinner, 'Why isn't there any Oregon vermouth?' " Kopplin says. As a bartender then working at Clyde Common, one of Portland's hallmark cocktail bars, Kopplin was familiar with the intricacies of vermouth and the subtle character it lends to cocktails; for his hosts (and now business partners) Derek Einberger and Jennifer Kilfoil, the idea of doing something new and interesting with Oregon wine was appealing. "We started talking about the kinds of things that grow in Oregon, and the wines made here and the distillers in the area, and we realized we had all the components of establishing a business to make vermouth, right there at the table," Kopplin says. "We could take the model of European vermouths and apply those same principles to the Northwest countryside, and create something cool and unique—a brand in a market that has very few brands."
Imbue's producers use a base of Pinot Gris—which has a buttery character balanced with a crisp acidity—and macerate it with a mix of ingredients including elderflower, orange peel, cloves and bitter herbs. "We wanted to create something designed for palate Americana," Kopplin says. "Younger drinkers are into this: it has flavors that are big; and there's a little bit of bitter, so you have all the aspects of a modern cocktail."
Vermouth's expressiveness also appealed to Carl Sutton, a San Francisco–based winemaker who had been tinkering at home with infusions of flowers and herbs, hoping to re-create an Italian-style amaro. During an anniversary party for the San Francisco restaurant Nopa, Sutton served Nopa's then-bar manager Neyah White some of his fortified dessert wine; White suggested using it in cocktails in place of vermouth. "A light bulb went on—as a winemaker, I didn't need an additional license to make vermouth, and while there are some great vermouths out there, there's still a niche to fill," Sutton says.
Sutton engineered a new approach, using a neutral-character white wine from Sonoma and a fruity, floral mix of botanicals including chamomile, orange peel and rosemary. "There's a California style that emphasizes freshness and innovative flavor in a classic framework; that's where I was headed," Sutton says, noting that the time was ripe for creating a full-flavored drink that's still low in alcohol. "The American palate is maturing, and that allows people to do two things," he says. "They move toward complex, bitter flavors; and they don't need the same punch of alcohol."
For vermouth's trace of bitterness, European producers traditionally employ one or more varieties of wormwood—vermouth's name is derived from the Old High German vermud, or wormwood, and the wine was originally made as a medicinal vermifuge—a practice that these contemporary American producers have eschewed (though each experimented with wormwood while developing their vermouths, and Kopplin says future styles from Imbue may include it as an ingredient). Part of this decision was due to regulatory barriers: The U.S. government restricts the use of wormwood due to toxicity concerns, and the rigors of lab testing and navigating bureaucratic obstacles pose a challenge to these small businesses. Then there's the question of wormwood's current significance in vermouth, and if this standard is obsolete. "There's so little wormwood in many continental vermouths that, as far as I can tell, it's a formality—it's not like they taste of wormwood in most cases," Doudoroff says.
While European regulators and according-to-Hoyle purists may quibble, these wines meet the definition of vermouth under U.S. law, and that's enough for these producers. "We're in the New World—we get a little creative license because of that," Sutton says. Kopplin agrees: "At the end of the day, the important questions are, 'Is it delicious?' and 'Does it fit the category?' "
Strength in Numbers
Andrew Quady introduced Vya Extra Dry Vermouth in 1999; Sutton Cellars Brown Label Vermouth appeared a decade later, and Imbue Bittersweet Vermouth a couple of years after that (California-made King Eider, a contemporary of Vya, ceased production in 2004). New World vermouth seems very young to be starting a revolution, but new recruits are already signing up.
This year will likely see the debut of a vermouth from Oregon winemaker Patrick Taylor, who previously created a Barolo chinato–style aromatized wine for Cana's Feast. Taylor is designing his vermouth to be dark and earthy, using a base of red wine and a proprietary blend of botanicals that will include traditional ingredients as well as spices from Africa and South America. Taylor hopes to have his vermouth in stores by the holidays and plans to follow with a bianco and a dry-style vermouth. Also in the Northwest, Seattle-based Gnostalgic Spirits plans to introduce traditional-style sweet and dry vermouths using 19th-century recipes, perhaps as early as next year.
Not all of the country's vermouth innovation is taking place on the West Coast. New York attorney Adam Ford plans to introduce two expressions of Atsby Vermouth starting this fall, both made with a base of Long Island Chardonnay and fortified with New York apple brandy: Amber Thorn, a dry, white vermouth that includes damiana, chervil and grapefruit peel among its botanicals; and Armadillo Cake, a sweet, red vermouth flavored with nigella seed and shiitake mushrooms, along with more conventional vermouth botanicals. And Brooklyn-based bar and cocktail consultant Max Messier also plans to release four different vermouths under the Bespoke Vermouth label later this winter. Also in New York, the team behind the Bittermens line of craft bitters and liqueurs are developing two new vermouths inspired by traditional European styles, for possible release later this year: an amber vermouth similar to those found in southern France, and a sweet vermouth that Bittermens co-owner Avery Glasser describes as a hybrid between a classic rosso from Turin and a Spanish tap-poured vermouth.
Meanwhile, the established producers are aiming at expansion: Sutton's vermouth, previously available only in California and from online retailers, will soon be available in other select states; and this summer, Vya introduced a new vermouth, Vya Whisper Dry, and Imbue released Petal & Thorn, a richer, more robust rosé wine inspired by bitter Italian aperitifs. For these producers, the potential combinations are limitless, and they're prepared to continue pushing vermouth's boundaries. "Once you break it down into the components of herbs, wine and brandy, the variations on those are almost infinite," Kopplin says. "We could make a red wine–based, apple brandy-fortified aperitif infused with 50 herbs in the next 10 years; we don't know, but all the components are there to play with it."
As New World vermouths venture further from the European baseline, they present challenges, and opportunities, to bartenders. Vya Sweet Vermouth hews close enough to the rosso tradition to work well in Manhattans and similar robust, dark-spirit drinks, and has developed a dedicated fan base at bars around the country. Imbue Bittersweet has also found its calling in cocktails, appearing in drinks at restaurants including Ada Street in Chicago and Le Bernardin in New York, as well as at bars such as Rum Club in Portland, Ore., which uses it in a variation on a classic Chrysanthemum cocktail, mixed with aged cachaça and Bénédictine.
At Maverick in San Francisco, owner Michael Pierce has created more than 100 cocktails using Sutton Cellars vermouth, including the Freedom 75, which uses a Meyer lemon and juniper syrup to mimic the flavor of gin. Pierce says distinctive vermouths like these give bartenders a new set of creative opportunities. "People want to enjoy cocktails but not get hammered; they can have these before dinner, and it livens up the palate without deadening it," he says. "That trends nicely with where people are right now, where they want to try a bunch of things but not destroy their palates, or their sensibilities."
Perhaps the truest test of the changing attitudes toward vermouth can be seen in the way drinkers are consuming it. Once relegated almost entirely to cocktails in the U.S., vermouth is starting to be appreciated on its own. Quady says he's had requests from restaurants to serve his vermouth on tap, similar to the way Sutton Cellars vermouth is served at Alembic in San Francisco. "I don't think they'd be doing that if they were only thinking of putting it in cocktails," Quady says. "This is kind of mind-boggling to me."
For Quady, the shifts in vermouth's fortunes are obviously welcome, but still surprising. This spring, Quady took his vermouths to a wine festival in London and was astounded at what he saw. "Everybody wanted to try the vermouth, and they were drinking it straight, just chilled—that never used to happen," he says. "Even professionals in the wine industry didn't really know what it was, and now they're seeking it out. The ground has really changed."