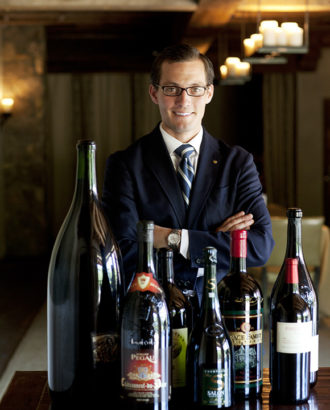 As fall weather settles in, we're starting to look toward cool-weather wines with a little extra oomph, and to get some tips on choosing the best seasonal bottles, we checked in with Andy Chabot, wine director at Blackberry Farm. Fall is when Chabot turns his attention to the white wines of Alsace, where he's especially drawn to Gewürztraminer. "The flavors that hit our table in autumn are those of squashes, late-season peppers, dark spices and game, and Gewürztraminer has floral, spicy and rich elements that make it intense enough for these strong foods—it's like the grape is made for fall!" His pick? "Look for Domaine Weinbach's bottlings, which are always stellar."
Chabot also leans toward  red wines from the Southern Rhone this time of year, especially those with lots of Grenache. And while Châteauneuf du Pape rules the Rhone, Chabot says that by expanding the scope to include the Cotes du Rhone as a whole, you can score some incredible wines. "The wines that I'm finding now from the vintages of 2011 through 2013 seem fresh, vibrant, spicy and really drinkable with so many different flavors—I think they work beautifully with the fall table."
Inspired by Chabot's advice, we made a few picks of our own:
Domaine Weinbach "Cuvee Theo" Gewürztraminer 2013
Established by monks in the early 17th century, this French estate earned its biodynamic certification in 2010. It's "Cuvee Theo" Gewürztraminer is round and robust with notes of candied citrus and ginger met by an aperitif-ready sweep of dry minerals and earth.
Jean-Baptiste Adam "les Natures" Gewürztraminer 2013
Another long-standing Alsatian estate (it dates back four centuries!), the "les Natures" line of wines from Jean-Baptiste Adam follow organic farming principles to lovely results. His Gewürztraminer strikes an autumnal balance of stone fruit and spice, making it a great option to seasonal soups and roasts.
Domaine le Garrigon Cotes du Rhone 2013
The $15 price tag isn't the only thing we love about this fall-ready red. A blend of Grenache, Syrah and Carignan, it's full of dark fruit flavors and earthy notes of leather and spice. Pair with late-season burgers and meaty roasts.
Catherine Le Goeuil Cotes du Rhone 2013
Hand-harvested and fermented on native yeasts, this organically grown mix of Grenache, Syrah and Carignan is lush and elegant—expect flavors of rich red berries and savory garden herbs to carry you from first sip to last.