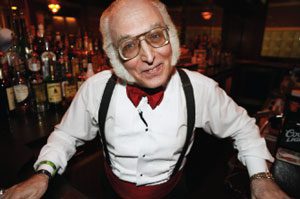 "The existential imperative creative hyper-personal protocol," Pete was apt to say as a salutation, always followed by the standard "How's everything, José?" One look at the white-haired, cummerbund-donning, red bowtie-wearing Pete, a Brooklyn original, and everything was indeed all right. How could it not be? He was a loving man with a smile on his wrinkled mug and a sparkle in his bright eyes. Pete was ready to serve and always ready to impart advice.
I would take my cracked vinyl stool at the bar within Melody Lanes, a bowling alley in my neighborhood of Sunset Park, Brooklyn, and dear old, gravel-voiced Pete would grab my neck, pulling me forward until our foreheads touched lightly. "What'll ya' have?" My answer was always: "A beer and whatever you're pouring, Petey."
This was my refuge. I needed a neighborhood bar, a place where my day job as the editor of a neuropsychiatry journal and my moonlighting as a food-and-beverage scribe dribbled away and I was just José, one of the guys in Sunset Park. I was having a tough time adjusting to the idea of fatherhood, and Pete was a great comfort. He would say, "If your son decides that the wall really needs a bunch of crayon and marker, leave it for a little while. Then, clean it up. Creativity! Beauty!"
Our laugh-choked chats were punctuated by the cracks of bowling balls against pins and the gruff barks of the announcer, Theresa, behind the main desk. Crater-faced, pinkie-ring–wearing Tommy would regale us with tales of gunfights at local restaurants. Pete would pull out his manila envelope of philosophical brainstorms, which were often sketched on napkins or aging sheets of graph paper. The man with his endless soliloquies was a force of positive energy, even if there were topics better left alone in Sunset Park.
The neighborhood's dark, seedy days were a touchy subject. "I've lived here a long time, my friend," Pete would say. "Decades as a bartender have shown me things I don't want to share." Sometimes, there would be conversations that trailed off. "I know a guy … there was a knife … toss this back with me." Our foreheads would meet. Liquor would flow.
But Pete was elusive about some things. His age, for one. Sixty, maybe. His living situation was another. He lived in Bay Ridge and, from the clues he dropped, his was a cluttered apartment. And the world's sweetest bartender may or may not have lived with his mother—there wasn't a straight answer for that. But Pete was always completely upfront about his day-to-day mantra: "Feel good and you will be good; do good and good will grow."
Shortly after becoming parents, my wife and I moved to Dallas to be closer to family. I have yet to find a neighborhood bar where "good grows" as organically as it does at Pete's, but memories of cheap alcohol and hours of guffaws at Petey's bar remain, as do his clear eyes, magnified by thick spectacles, that moistened when I told him my family would be leaving Brooklyn. "Adventure is love," he imparted. "But don't forget: You'll always have a home here."