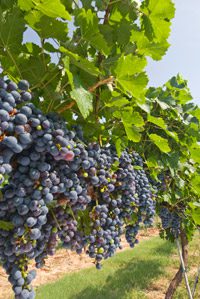 In our March/April 2013 issue, we explore what makes Texas wine so special. With more than a dozen mapped wine trails that twist through Texas' countryside like a gnarled grapevine, there's a route for every Lone Star wine lover. Here's a starter guide to touring the various wine trails around the state.
From Austin
Looking to explore Texas' largest AVA (and the second-largest AVA in the U.S.)? Then head west from Austin and take in the more than 9 million acres that make up Texas Hill Country. While you could spend a lifetime drinking in everything this region has to offer, those with only a day or so should look toward the Texas Hill Country Wine Trail as a guide. It zigzags through the region stopping at more than 30 wineries along the way. Three local favorites include Becker Vineyards, Pedernales Cellars and Solaro Estate. About 30 minutes north of Austin, a quick detour off I-35 will lead you to the half-dozen wineries and tasting rooms along the San Gabriel Wine Trail, including Texas meadery Dancing Bee Winery, fruit wine-producer Lakeview Winery and winery and cheesery Rising Star Vineyards on Main Street in Salado.
From Dallas/Fort Worth
The more than 1 million people who call Dallas home can fill their glasses within city limits at the four urban wineries along the Dallas Wine Trail. Making a 20-mile loop around the city, the trail includes Calais Winery, Inwood Estates, Fuqua Winery and Ten Times Cellars. About 20 minutes northwest of the Dallas-Fort Worth metroplex, the Grapevine Wine Trail features six wineries mostly centered around Main Street in the town of Grapevine. An hour east of Dallas, the Piney Woods Wine Trail hopscotches the rural landscape stopping off at close to 20 wineries from Rusk to Naples. And to the west of the metroplex, the Cross Timbers Wine Trail covers close to 26,000 square miles and highlights seven smaller-production wineries like Lost Oak, Sunset Winery and Brushy Creek Vineyards, who has been crafting wine in the region for more than two decades.
From Houston
An hour northwest of Houston, the Texas Bluebonnet Wine Trail meanders mostly along state highway 105 between I-45 and Highway 290 with nine stops including Bernhard Winery (try their Sherry- and Port-inspired wines), the palatial Messina Hof Winery & Resort, and easy-to-spot Saddlehorn Winery (just look for the big red barn). Plan a trip during one of the trail's coordinated events like April's Wine and Cheese Trail, June's Harvest Trail and December's Wine & Chocolate Trail for the best chance to taste from all the vintners at once.
For more info on Texas wine country, head to gotexaswine.org.
TAGS: {cptags}