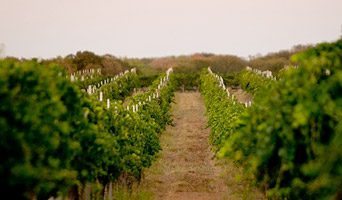 In our March/April 2013 issue, we explore Texas' fast-growing wine scene—a contemporary viticulture landscape that set root nearly four decades ago and continues to grow with each new vintage, thanks to both long-term key players and boundary-pushing newbies alike.
Ed and Susan Auler, parents of vodka entrepreneur Chad Auler, were some of the first to plant wine grapes in the heart of the Texas Hill Country outside of Austin, with their Fall Creek Vineyards planted in 1975. They are also to thank for lobbying for the Hill Country wine region's appellation designation—the first in the state of Texas. Fall Creek Vineyards was soon joined by a handful of other vineyards across the region—including Becker Vineyards—in kick-starting the story of Texas wine. Today, the Texas Hill Country AVA, just west of Austin, is the largest designated viticultural area in Texas and the second largest in the States.
Austin-based Jim and Karen Johnson of Alamosa Wine Cellars were the first to stumble on what has become the signature grape of Texas, Tempranillo. The Johnsons first planted Tempranillo in the late-'90s at their Hill Country vineyard. Their gamble on the dark red grape yielded one of their more popular Tempranillo blends, the "El Guapo"—easily recognized by the historic Texas Horned Toad on the label. In recent years, Texas has seen an abundance of Tempranillo from wineries across the state, with monumental success.
Less than 40 miles west of Austin, wine enthusiasts will find Spicewood Vineyards, where owner Ron Yates has quickly gained notoriety. After the Yates family purchased Spicewood from founders Ed and Madeleine Manigold in 2007, Ron Yates quickly planted more Sauvignon Blanc and Tempranillo with the intent to produce the two grapes as his flagship wines. But he's also branched out with a few other varietals including Viognier, Albariño, Muscat and Graciano in hopes his harvest will yield an array of different flavor profiles to work with.
"Texas gives you such different grapes every harvest," says Yates. "Our biggest challenge is the weather. We have some basics that we know we're going to make every year, but in the end, we have to take what Mother Nature gives us. It's a limitation in some ways, but it's also a fun challenge because we get to change it up every year and deal with what the harvest season brings."
We feature 15 of Texas' top wines in the March/April issue—here are five more to try:
Alamosa "El Guapo" 2010
Spanish for "the handsome one," this supple, estate-grown blend of Tempranillo, Graciano and Garnacha offers notes of fresh blueberries with an underlying masculinity of savory leather and juniper. Pair alongside grilled meats and veggies.
$19, alamosawinecellars.com
Becker Vineyards Viognier 2011
Located about an hour and a half west of Austin, this German-inspired estate is one to behold, both for its striking 10,000-square-foot stone winery and for its opulent Viognier (one of the estate's more than 20 different offerings). Floral aromatics and ripe stone fruit flavors make this a winning accompaniment to spicy Asian dishes.
$15, beckervineyards.com
Fall Creek Meritus 2008
Produced in only the best vintages, this Bordeaux-inspired blend of Cabernet Sauvignon, Merlot and Syrah is rich and concentrated, with ripe cherry and dark berry flavors and a trace of oak-flecked spice on the finish. It's approachable and food-friendly, but also sturdy enough to withstand a few extra years tucked away.
$40, fcv.com
Flat Creek Estate Super Texan 2010
A Sangiovese crafted from the estate's first plantings at their "Helen's Block" site more than a decade ago, this Italian-inspired wine is meaty with cranberry, plum and tobacco flavors.
$20, flatcreek.com
Spicewood Semillon 2010
About 30 minutes northwest of Austin city limits you'll find this opulent 100% Semillon, which has its extended lees aging to thank for the plump, creamy flavors of vanilla, figs and citrus.
$17, spicewoodvineyards.com
TAGS: {cptags}