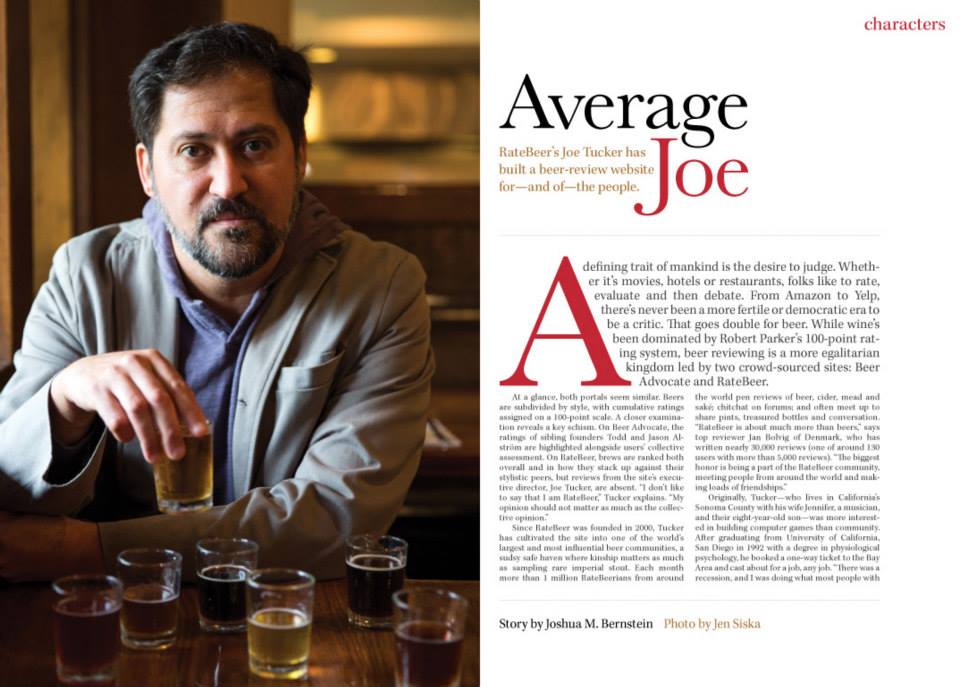 A defining trait of mankind is the desire to judge. Whether it's movies, hotels or restaurants, folks like to rate, evaluate and then debate. From Amazon to Yelp, there's never been a more fertile or democratic era to be a critic. That goes double for beer. While wine's been dominated by Robert Parker's 100-point rating system, beer reviewing is a more egalitarian kingdom led by two crowd-sourced sites: Beer Advocate and RateBeer.
At a glance, both portals seem similar. Beers are subdivided by style, with cumulative ratings assigned on a 100-point scale. A closer examination reveals a key schism. On Beer Advocate, the ratings of sibling founders Todd and Jason Alström are highlighted alongside users' collective assessment. On RateBeer, brews are ranked both overall and in how they stack up against their stylistic peers, but reviews from the site's executive director, Joe Tucker, are absent. "I don't like to say that I am RateBeer," Tucker explains. "My opinion should not matter as much as the collective opinion."
Since RateBeer was founded in 2000, Tucker has cultivated the site into one of the world's largest and most influential beer communities, a sudsy safe haven where kinship matters as much as sampling rare imperial stout. Each month more than 1 million RateBeerians from around the world pen reviews of beer, cider, mead and saké; chitchat on forums; and often meet up to share pints, treasured bottles and conversation. "RateBeer is about much more than beers," says top reviewer Jan Bolvig of Denmark, who has written nearly 30,000 reviews (one of around 130 users with more than 5,000 reviews). "The biggest honor is being a part of the RateBeer community, meeting people from around the world and making loads of friendships."
Originally, Tucker—who lives in California's Sonoma County with his wife Jennifer, a musician, and their eight-year-old son—was more interested in building computer games than community. After graduating from University of California, San Diego in 1992 with a degree in physiological psychology, he booked a one-way ticket to the Bay Area and cast about for a job, any job. "There was a recession, and I was doing what most people with a college degree did back then: working at a bagel shop," Tucker recalls, laughing.
Eventually, he landed a game-developer gig at Oregon's Trilobyte Software and settled in southern Oregon's Ashland, which was serendipitously home to Rogue Ales. "I was within walking distance of the brewery," Tucker says. In between designing computer games such as horror title The 11th Hour, Tucker would ferment and bottle homebrew in the Trilobyte break room, then bend elbows at a local English pub. Oregon was ideal for continuing a beer education that commenced in college, when his roommate introduced Tucker to both Chimay and homebrewing. "There was so much great beer everywhere in Oregon," he says. "I was sold."
Following a stint in Germany developing websites for Sony and Deutsche Telekom—and drinking boatloads of Bavarian hefeweizens—Tucker returned to the Bay Area to work for Internet start-up Comedy World. "It was a $53 million fiasco," Tucker says of the ahead-of-its-time streaming radio and video site. "That fizzled out in a bad way."
It was 2001. His dot-com bubble had burst, and Tucker had free time to assess his future. A few weeks later he stumbled across RateBeer, a fledgling site that Atlanta's Bill Buchanan had founded the previous year. Its ambitious mission—"to serve the craft beer community as the premier resource for unbiased, consumer-driven information about beer"—was marred by clunky design. Tucker volunteered his services, creating an appealing interface that soon generated users, enthusiasm and problems.
"We kept crashing servers," Tucker says. "It's impossible to host a popular website without a lot of money." Buchanan wanted to hand RateBeer's reins to Tucker. He refused. RateBeer was founded on an ideal, not a business plan. Besides, Tucker had just watched a website implode. He consulted site users, who suggested offering premium memberships and running advertising. He gave it a shot. "Within the next three days, we had enough money to run the site for a year," he says.
By November 2001, Tucker controlled RateBeer, keeping it a hobby until the site grew large enough that he could ditch his day job doing "dry, terrible" web work for real estate investors. "It was an easy decision," he says. "There was a stark contrast between that kind of living and a business where people are happy and are happy to be working with one another."
As craft beer flourished in America and globally, drinkers flocked online to share discoveries of IPAs, sour ales and barrel-aged stouts. No matter if you lived in California or Croatia, the beer revolution was a click away. Craft beer grew interconnected, with users' multilingual reviews creating a composite snapshot of a global beer awakening. It was equally eye-opening for Tucker. Prior to RateBeer, he'd never taken notes on beer. Now he was an eager rater, with the steady torrent of reviews honing and enriching his beer vocabulary. "You get to see how people uniquely interpret beer," he says.
Taste is subjective, Tucker says, and one person's pleasure is another's drain pour. To ensure fair ratings, he employs the Internet Movie Database's formula. (In a nutshell, it normalizes scores so they're not skewed by overly enthusiastic or negative reviews. Furthermore, the more reviews a beer receives, the more accurate the average score will be.) "We encourage people to seek new experiences and review everything," he adds. The end sum is a massive data set filled with fewer polarizing reviews—an approach that many believe generates more useful­ and accurate ratings than review sites where hotheaded passions can be the norm.
To further foil bias, Tucker utilizes watchdog programs that he affectionately calls "the Troll Buster 3000." Furthermore, RateBeer's 122 volunteer regional administrators keep forum discourse civil, comb through data, ensure info is factual and serve as both social and beer experts. This fail-safe integrity steers the site's Top 50 list (Belgium's cultish Westvleteren 12 is currently No. 1) and annual RateBeer Best awards. "These are huge honors," Tucker says of the contest, which in 2013 tabulated more than 180,000 beers from more than 13,000 brewers. "To be new brewer of the year, it's the same odds as winning the Great American Beer Festival two years in a row."
Which makes Hill Farmstead's success astounding. In 2012, the hop-focused Vermont brewery was named best new brewer, then anointed the world's best brewer in 2013. "In 13 years of RateBeer, no one has had that dominance," Tucker says. "Being recognized by this online community as a quality producer of beer has provided our staff with a sense of pride and validation," says brewmaster Shaun Hill.
A less scrupulous man might see the RateBeer awards as an opportunity to earn a quick buck. Not Tucker. "He could easily cash out, but he doesn't care about that," says veteran RateBeerian and journalist Ken Weaver, who writes the site's weekly newsletter. "He deeply cares about the trajectory of RateBeer and tries to cultivate a community." The tight-knit group was rocked earlier this year when longtime administrator Walt Powell suddenly passed away. The outpouring of grief was immense, with a RateBeer thread stretching more than 40 pages and impromptu meet-ups in memoriam. "Walt's enthusiasm and generosity was infectious," Tucker says. "RateBeer is a unique place that allows many people to appreciate members like Walt. People really care about each other on RateBeer."
To deepen bonds, RateBeer hosts biannual gatherings in America and Europe—a sort of beer-soaked family reunion. However, unlike Beer Advocate, which runs several beer festivals, RateBeer has so far shied away from fests. This is partly due to Tucker's personality. "I'm a geek, not an events guy," he says. As the site's sole full-time employee (there's a part-time ad salesman), his day-to-day is often spent hunkered over a computer, updating code and handling customer-service requests.
However, Tucker does not encase himself in a digital cocoon. "It's important that we share our knowledge with the broader world," he says. To that end, RateBeer has begun hosting beer dinners and curating event such as Gallery, an art exhibition and beer-tasting salon in San Francisco. Introducing craft beer to the world at large is not without its headaches. "The term 'dumb down' often comes up," Tucker says. "It's always like a trump card. [Some RateBeer members] say, 'We don't want to dumb down what we have.' "
Such is the nature of a family. Intense squabbles are matched by intense love. For RateBeerians that is beer, a complex beverage of which Tucker never tires. He loves seeking out saisons, filling his fridge with dry, hoppy beers such as Drake's Alpha Session and finding new breweries such as Santa Cruz's Sante Adairius and Oklahoma's Prairie. Then it's back online to share his finds, tweak the site and communicate in forums with friends both new and old. "Beer is a wonderful way to meet people," Tucker says. "For eons, people have built social networks around beer."