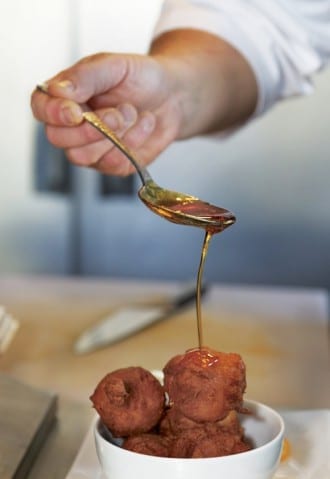 Savor the apple three ways in these fried, pillowy puffs from Michael Sanders, author of Fresh From Maine 2nd Edition: Recipes and Stories from the State's Best Chefs. They're perfect for a holiday spread or even a special brunch once apple season rolls around.
Fritters
2 cups flour
1 Tbsp. baking powder
½ tsp. salt
¼ cup granulated sugar
2 whole eggs
1 cup milk
4 Tbsp. unsalted butter, melted
1 tsp. vanilla extract
2 apples, cored, peeled and cut into ¼ inch cubes (Sanders uses honeycrisps)
1-1 ½ quarts peanut oil for frying
Cider Caramel
1 cup granulated sugar
½ cup water
1 cup fresh apple cider
Sabayon
5 egg yolks
¼ cup granulated sugar
⅛ tsp. cinnamon
1 oz. applejack, or other apple brandy
1 cup heavy cream
For the fritters: Sift the baking powder and salt together in a large mixing bowl. In another bowl, whisk the eggs and add the milk, butter, vanilla and sugar. Add the wet ingredients and apple pieces to the dry, mixing gently until just combined.
For the caramel: Combine the sugar and water in a saucepan over medium heat and bring to a boil without stirring. When the sugar is completely dissolved, raise the heat to high and cook until the mixture is a medium golden brown. Add the cider to the caramel mixture (taking caution as it will rapidly boil). Once the boiling has subsided, whisk the mixture on high until it reaches 225 degrees F on a candy thermometer. Set aside.
Reprinted with permission from Fresh From Maine 2nd Edition: Recipes and Stories from the State's Best Chefs by Michael S. Sanders. Published by Table Arts Media, 2012