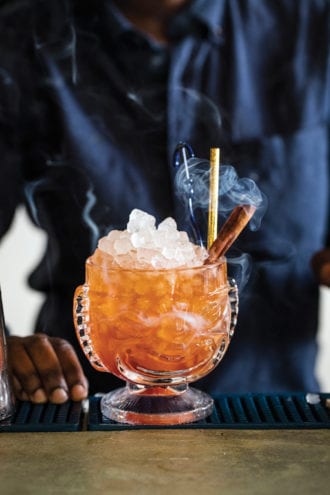 For this Zombie riff, 2019 Imbibe 75 Person to Watch Shannon Mustipher tweaks the classic formula by incorporating the complex flavor of Jägermeister.
1½ oz. aged rum (Mustipher suggests Flor de Cana 7 year old)
½ oz. 151-proof Demerara rum (such as Hamilton)
¾ oz. Jägermeister
¾ oz. Don's Mix
¾ oz. fresh lime juice
Tools: Shaker, strainer
Glass: skull mug or double rocks glass
Garnish: cinnamon sticks, edible flower
Shake all the ingredients with ice to chill, then strain into a mug or glass filled with crushed ice. Garnish.
Don's Mix: Combine 4 oz. of fresh grapefruit juice with 2 oz. of cinnamon syrup and shake to combine. Refrigerate the unused portion for up to 2 weeks.
Shannon Mustipher, Glady's, Brooklyn, New York
---
Did you enjoy this recipe? Sign up for our newsletter and get our favorite drink recipes of the moment in your inbox every month.