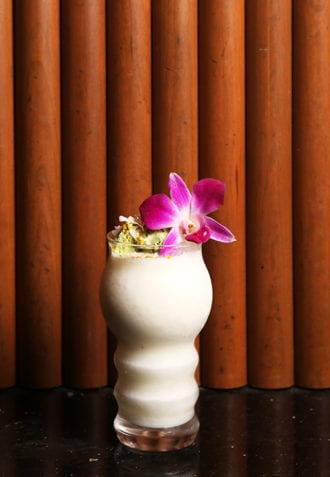 In this sublimely smooth Grasshopper cocktail variation, Yael Vengroff brings an unexpected umami quality to the mix by adding a scoop of green tea ice cream.
1 oz. white crème de cacao
1 oz. crème de menthe (Yengroff uses Giffard Menthe de Pastille)
1 oz. unaged rum (Vengroff uses Don Q)
1 oz. heavy cream
1 scoop green tea ice cream, to top
Tools: blender
Glass: hurricane
Garnish: toasted coconut flakes, orchid (or other edible flower)
Blend the first 4 ingredients with crushed ice. Pour into a glass, then add a float of green tea ice cream. Garnish.
Yael Vengroff, Genghis Cohen, Los Angeles
---
Did you enjoy this recipe? Sign up for our newsletter and get weekly recipes and articles in your inbox.