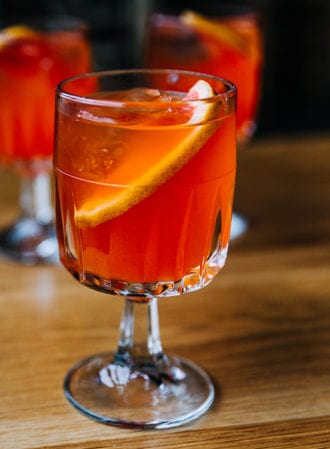 Take the stress out of this year's party planning with this simple wine-based punch from Yellowbelly in St. Louis. It's especially perfect for fans of the Aperol Spritz.
15 oz. gin
7 oz. Aperol
7 oz. fresh lemon juice
7 oz. grapefruit juice
7 oz. simple syrup (1:1 sugar)
10 oz. dry Spanish white wine
Tools: punch bowl, ladle
Glass: stemmed punch glass
Garnish: grapefruit slices
Combine all of the ingredients in a punch bowl. Add ice to chill. You can make the punch the night before a party and simply store in the fridge. Just save the sparkling to add right before you serve the punch, then stir it again with ice before serving.
Tim Wiggins, Yellowbelly, St. Louis
---
Did you enjoy this recipe? Sign up for our newsletter and get weekly recipes and articles in your inbox.