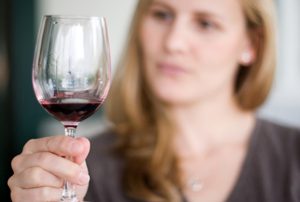 From California's Napa Valley to Spain's Atlantic Coast, women winemakers are carving out a niche with wines that not only speak to the character of the grapes and terroir, but to the disposition of the winemakers themselves. From subtle and subdued to big and bold, these women, and their wines, are making a statement all their own.
Casa Marin Cipreses Sauvignon Blanc 2008, $25
This Chilean white's cheery explosion of tropical fruits—think kiwi, mango and passion fruit—delight from aroma to finish. Crisp and balanced, this Sauvignon Blanc from Maria Luz Marin is a perfect summer sipper. Pair with grilled salmon and mango salsa, or sea scallops marinated in citrus.
MacMurray Sonoma Coast Pinot Gris 2007, $18
Tasmania-raised Susan Doyle pressed her fruit whole clusters (meaning stems and all) to craft this concentrated and elegant Pinot Gris. Aromas of white peaches and fresh pears give way to tangy acidity and a tart yet creamy finish. Try it with a chicken pesto alfredo or a linguine with clam sauce.
Martín Códax Albariño 2007, $15
Katia Alvarez coaxes notes of honeydew, cantaloupe and tangy pineapple from Spain's most popular white grape, Albariño. Medium-bodied and with bright acidity, it's perfect with fresh guacamole or shrimp ceviche.
Penner-Ash Oregon Syrah 2006, $32
After several decades spent working in the wine industry, Lynn Penner-Ash launched her own label in 1998 and today produces rich and robust wines from Oregon- and Washington-grown grapes. Aged 15 months in French oak barrels, this Syrah shows supple aromas of cassis and blackberries and finishes with black-pepper spice and toasty vanilla. Perfect alongside a wood-fired pizza topped with proscuitto and arugula.
Foradori Teroldego Rotaliano 2006, $23
Native to Italy's Alto Adige region, the Teroldego grape, a cousin to Syrah, is made both complex and compelling by winemaker Elisabetta Foradori. Look for notes of black plums and cherries integrated with herbal undertones and a hint of dark chocolate. Try it with balsamic-marinated portobello mushrooms topped with chèvre and grilled shallots.