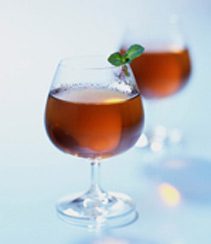 This cocktail from Atlanta bartender Lara Creasy is a cinch to make and makes for the ultimate winter warmer.
1½ oz. bourbon
¾ oz. brown sugar syrup
1 tsp. peppermint tea
Hot water
Glass: Irish coffee or brandy snifter
Tools: tea infuser, spoon
Garnish: mint sprig
Warm a glass with hot water. Pour water out of glass. Brew the tea in 5 oz. of fresh boiling water for 4 minutes. Remove the infuser. Add the bourbon and brown sugar syrup; stir to combine. Garnish. To make brown sugar syrup, combine equal parts dark brown sugar and boiling water, and allow to cool.
Lara Creasy, Atlanta