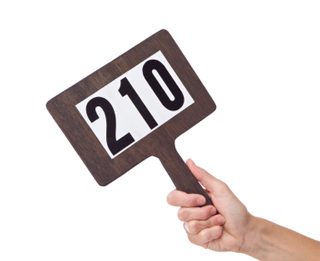 Wine auctions tend to get a bum rap for being uptight, snooty affairs that aren't comfortable places for the average wine enthusiast. Truth is, many wine auctions are just the opposite—fun, laid-back events where people of all walks gather to talk shop while finding some great deals on wine. Even better, they're often free and open to the public with lots of food and wine available to enjoy while you watch or participate in the bidding action. But in case you're worried that you'll look—and act—like a bumbling neophyte at your first live wine auction, we have some tips for navigating your way through the process.
Be prepared. "Everything leading up to a live auction is the info-gathering stage," says Jason Boland, president of Spectrum Wine Auctions. Look through the catalogue carefully to determine what lots you might want to bid on, then research them. Most auction houses offer free downloads of their catalogs on their websites, and a digital version of the catalog makes searching for what you want easier. Spectrum's site even offers 360-degree views of the bottles so you can inspect their condition, fill levels, labels, etc. "The catalogues are also a learning tool," says Kris Briggs, Spectrum's marketing manager. "There are tasting notes and articles written by well-known food and wine industry professionals."
What not to wear. Perfume and cologne are no-no's at wine auctions because they interfere with the smell of the wine, but otherwise, unless an auction stipulates a dress code, feel free to dress casually. "I've seen everything from shorts and Hawaiian shirts to slacks," says Amanda Keston, auctioneer and director of client services at Spectrum.
Be prompt. Spectrum's experts recommend arriving early so you can get familiar with the location. Besides, there's a check-in process that requires you to provide your contact information, picture I.D. and payment information. Once you're checked-in, you'll get your paddle.
Don't be intimidated. There are usually plenty of staff members on hand at auctions to answer questions, so don't be afraid to seek them out—they're there to help make the process easy and stress-free.
Take a seat. Be sure to park yourself in a spot where you know the auctioneer will notice you. The center of the room is usually best. And once you start bidding on an item, stay put. If you get up and walk around, you'll make it harder for the auctioneer to keep track of you—and it'll be harder for your bids to be seen.
Use your paddle. "Some bidders have their own distinctive way of bidding," says Boland. They may simply raise their pen, or a finger. But that doesn't mean any random movement will be misconstrued as bidding. "If you scratch your nose or move your elbow, you're not automatically bidding," adds Keston. And if you happen to wave to a friend and the auctioneer thinks you're bidding, just speak up and make it clear you're not. In the end, if you want to bid, you want to get noticed, and that's where the paddle comes in. Besides giving the auctioneer your bidder number, a paddle is eye-catching. "It's always best to hold something up so you get seen," Boland says. "A lot of times, if someone isn't distinctive enough, they might lose out." That said, waving your paddle around wildly will surely make you look like a newbie. Once you get noticed with your paddle, a raised hand is fine. If the bidding surpasses your limit, shake your head or turn away from the auctioneer to let him or her know you're not interested in bidding higher.
Pay attention to bid increments. Auction houses set their own bidding increments, meaning the amounts in which bids are accepted. They are usually published in the back of the current auction catalog, and it's somewhat intuitive. For example, bids for lots in the $0 to $1,000 range will likely go up in $50 increments. Lots between $1,000 and $2,000 would then go up in $100 increments, and those between $2,000 and $3,000 would go up in $200 increments, and so on. You can try to finagle a little price-cutting, but do so with caution. "A cut bid allows you to bid half of an increment," says Boland. So, if the lot you're interested in is at $300, and the next bid is $350, you can ask for a cut bid of $325. The international symbol for this is to hold your hand at a right angle, which means half. But keep in mind that cut bids should only be used when you're sure no one will outbid you. "It's a very strategic move," says Boland. "You can only do it one time (while bidding on a particular lot)." If you ask for a cut bid, and someone outbids you, you can't bid on that lot again. "The person who offered the cut bid is out."
Settle up. Prompt payment isn't only a courtesy, it's practical. If you delay paying for your purchases, you could incur attorney's fees. And remember that the hammer price isn't usually the sale price. The sale price will likely include a commission or "buyer's premium" —usually a percentage of the sale price—as well as any applicable tax. Not only that, you don't typically take your wine home with you the same day. "We can offer pickups for people," says Boland. "But typically most people want their wine shipped to them." And shipping charges are nothing to sneeze at.
A Few Pointers for Online Auctions

Do your research. If you have any questions about an item, e-mail seller before placing a bid. And make sure you read the terms of sale carefully, which will spell out shipping and payment details and any fees. It's very bad form to bid on something and win it, then have to retract your bid when you realize the seller can't legally ship the item to you.
Pay promptly. The sooner you pay for your wine, the sooner you'll get it. Plus, it gives the seller peace of mind. Try to settle up within five days.
Provide constructive feedback. Some online auctions, like eBay, allow you to leave feedback, which is not only useful for the seller, it's useful for other potential bidders, too. But keep in mind that negative feedback can really hurt, so if you have a problem, contact the seller first to try to see if they can work something out with you.
Ship smart. Shipping on your bottle can cost almost as much as the bottle itself. However, buying more wine usually makes the shipping a better deal. For example, shipping on one bottle might be $13, but shipping for a case might be $48, or $4 per bottle. But what if there's only one bottle of the wine you want? Some online wine auctions will agree to hold your winnings for a short while—from a week to a month—allowing you to bid more and consolidate your winnings into one shipment.